The "Singing Vegan Mum"
  interview by Christina Ewe
JB Rose is an accomplished singer-writer and director.  J B Rose's singing highlights include being the warm-up act for Chaka  Khan and Freddie Jackson at Hammersmith Apollo; singing with James Hardway on BET TV, and being signed to Sony Records with the drum and Base act Maximum Style.
As a mother of two young boys, I love cooking for my boys and their friends. I particularly like seeing their friends enjoying healthy Vegan foods, they love the color taste and smell of the food. Children eat with their eyes!  There is nothing better than seeing my boys and their friends excitedly waiting for the cookies to come out of the oven. Spreading the word about vegan foods is a passion. I share vegan meal plans with other parents, as it's a good way to get children to improve their intake of vegetables.
JB Rose is currently completing her album 'Jubilee' which is being produced by Beverley Knight dream team 2B3. Her Jubilee album will be available in the winter of 2018. The mother of two little boys, baking and cooking healthy vegan meals is JB's passion.
If you are Vegan, lactose intolerant or simply want to try a range of tasty vegan recipes, We at Nu Origins will be featuring exciting new recipes from J B   Rose better know as the "Singing Vegan Mum."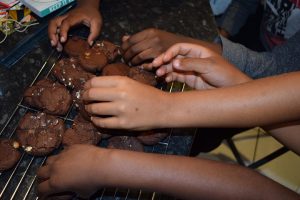 Recipe Vegan Chocolate Chip Cookies
 1/2 cup (112g) Vegan Butter
1/2 cup (100g) White Sugar
1/2 cup (100g) Brown Sugar
1 tsp Vanilla Extract
1 cup (125g) All-Purpose Flour
2/3 cup (56g) Unsweetened Cocoa Powder
1 tsp Baking Soda
1/4 tsp Salt
1 Tbsp Soy Milk (or other non-dairy milk)
3.5 oz (100g) Vegan Dark Chocolate + more for topping (chopped into
small chunks)*
INSTRUCTIONS
Preheat the oven to 350°F (180°C).
Add the vegan butter, vanilla and  brown and white sugar to a
bowl and cream together using an electric mixer
Sift the flour and cocoa powder into a mixing bowl and mix in the baking
soda and salt.
Add the dry ingredients to the wet,
mixing in by hand until crumbly.
Add 1 Tbsp soy milk or other non-dairy milk and mix into a thick
cookie dough.
Add the chocolate chunks and mix in. Your cookie dough will be very
thick, but sticky enough to easily roll into balls.
Roll into small balls and space evenly on a parchment lined baking tray.
Bake for 10 minutes. The edges will be firm but the cookies will be 
deliciously soft in the middle. This is fine, they will become firmer as they cool.
Press in a few more chocolate chunks to the top of the cookies as they
come out of the oven if you like (this is optional).
Cookies will become firm as they cool