For vegans the holiday time can be one of isolation, temptation, and guilt for those trying to avoid their old less-than-healthy eating habits. As people of African descent we thrive off of bonding over our food; whether we're prepping it, cooking it, or eating it.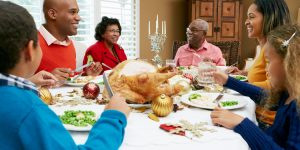 Vegan and other health conscious people often feel left out at family gatherings because of their refusal to eat meat-based foods. They are virtually left out of the, "Isn't the Mac N Cheese Bangin?" "Or Did you taste the collard greens and neck bone" conversations. For the vegans who didn't eat before the family gathering or pack their vegan dinner to go, they often fall into the trap of cheating on their diet restrictions.  
NuOrigins is here to tell you there is still hope to enjoy the holidays with your family while bonding over good food. The solution lies in using the right tools. You just need bring delicious dishes made from plant-based alternative recipes to your family gatherings. Serve Veggie Lasagna, Alkaline Stuffing, Vegan Mac N Cheese, Ice Cream, and Oyster Fried Chk'n as a taste of plant-based heaven. Surprise your family with savory tastes minus the meat and dairy and witness how quickly you will be apart of the family conversations. Get excited about the idea of the "It taste so much like real meat" or "I Can't believe their is no milk in this mac n cheese" or the "what your secret" conversations.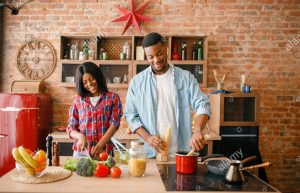 NuOrigins took the liberty of researching the Top 3 Black Vegan Chefs with the most soulful and delectable recipes. All 3 chefs are inspired by Dr. Sebi's and follow his methodology. These recipes embody the spirit of the holidays with a delicious soul food vibe. The chosen 3 have dedicated their time to create tasty alkaline holiday themed recipes for the African Diaspora and the world. Today we will share with you more about the 3 Vegan Chefs, with 3 Vegan Holiday Recipes, and 3 Alkaline Holiday Cookbooks with recipes you can download and try today for Christmas, Kwanzaa, Hannukah, and New Years!
Let's Get Right To It.
First Up…

Ty's Conscious Kitchen is a website and invaluable resource for Black Vegans who love comfort of soul food with an Alkaline Sebi Twist. Below we have shared with you Ty's Alkaline Lasagna and Electric Stuffing recipes for the holidays.
Who is Ty?

Tyrone Pendland II learned to cook at an early age by watching his father in the kitchen. After discovering Dr. Sebi and learning of his African Bio Mineral Balance methodology, Ty realized he was being mis-educated on what it took for a African in America to be healthy. Ty chose to detoxify and follow the Sebian lifestyle; however the available recipe options always left him and others struggling to leave the western diet behind. 
Ty has since combined his passion for good food and cooking with the recommended items found on Dr. Sebi's Nutritional Guide. He now shares the Alkaline Electric Recipes he creates on this website and also teaches others how to prepare each meal, step by step, on his YouTube channel.
 Ty removes the guesswork for those choosing to transition to an Alkaline Vegan or Alkaline Electric lifestyle and enjoys preparing some of the most familiar foods that many feel they can't do without, like pizzas, burgers, spring rolls and desserts. 
His latest Vol. 5 cookbook also contains gluten-free recipes using only Sebi recommended ingredients!
In His cookbooks you can create delicious vegan recipes such as Mushroom ribs, Apple pie, 'Meat' Loaf, Potato Salad, Mashed Butternut Squash, Mac & Cheese and more!
Without further ado, Below are the Alkaline Electric Stuffing & Veggie Lasagna Recipes.
Click The Link for full access to the recipes and view a Video Tutorial on Ty's Youtube Page:
Next Up….
A HEALTHY CRUSH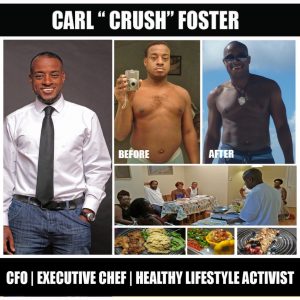 What is "A Healthy Crush?"
A Healthy Crush  was founded by Carl Foster. Carl revealed on his website that he "was considered "fat" 8 years ago…Like many out there, I was addicted to sugar. While visiting a friend, I was introduced to juicing and after that first cup, I was hooked. Freeing my body of toxins and creating juices for my friends and family was just the kick I needed to drop the pounds of fat..and sorrow. I put fear aside and jumped on a plane to New York in 2009 to start A Healthy Crush with my childhood sweetheart. 8 years later and almost 60 pounds lighter I feel an overwhelming sense of gratitude every time someone tells me how much A Healthy Crush changed their lives."
We are inspired and empowered by your testimony Carl, especially after finishing all that sweet potato pie and ice cream last Thanksgiving. But what if you could enjoy ice cream without all the guilt attached to it? Well, thankfully A Healthy Crush has provided a vegan ice-cream recipe for us to enjoy for free this holiday.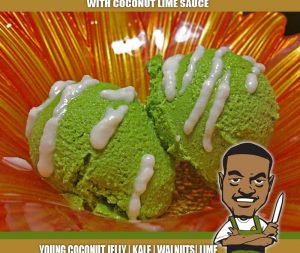 Click The Link to Satisfy your cravings with Peanot Butter Ice Cream or Coconut Kale Ice Cream Recipes on A Healthy Crush's website:  Alkaline Ice Cream Recipes.
Want more tasty vegan options? 
According to their website, It is the 2nd eBook in their cookbook series that shows you how to cook using healing foods that fuel the body and provide it the proper balanced alkaline environment to aid in self repair. All of the recipes in this cookbook take traditional foods and modify them using ingredients from Dr. Sebi's Nutritional Guide.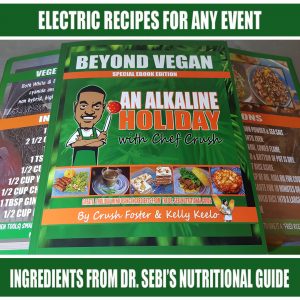 This cookbook provides tasty meals that the whole family can enjoy. Being conscious of what you eat does not mean that you have to give up flavors and textures that you love. 
The cook book includes step by step meal instruction. Color pictures of important steps in the cooking process. The primary kitchen tools that you will need to create each dish. And a tip that may help you take your menu to the next level. These recipes are straight forward. Let them be the basis for additional ideas that you may have to make your event or feast uniquely its own.
Click Here to download your copy of The Alkaline Holiday with Chef Crush Cookbook TODAY!
Last but never least…
Who is Alkaline Mama?
"Alkaline Mama" is a Dr. Sebi-enthusiast, chef, healing expert, and entrepreneur. After learning the Black family was in need of physical, spiritual, & financial healing it became AlkalineMama's mission to create the highest quality of products & experiences, that would aid them in being able to do so, while enjoying life & empowering one another!
Black Thanksgiving Cookbook that you can download and use for the Kwanzaa and Christmas Holidays!
SHARE ON YOUR FAVORITE SOCIAL MEDIA
& HIT THE 💓 LIKE
Written & Edited
by 
Shantel Nubia