It's officially occasion wear season; whether it's attending a wedding, graduation, or prom. Occasion wear can be fun to wear but tricky because if you're the guest to a wedding you don't want to upstage the bride, but you also want to be eye-catching. If you're graduating, you want to polish, but remain true to your style. You also want to not wear something too tight for the turn up afterwards. If you're attending your friend's graduation just like being a wedding guest, you don't necessarily want to take away from your friend's shine. Yet, for prom you want to be the main attraction and basic is not an option. There is no need to look further because for each occasion I have four options for the: wedding guest, the graduate, the graduate's friend, and the prom head turner.
You have been cordially invited: Being a wedding guest is a true honor, the lucky couple trust and enjoy your company that much to invite you to take part in their special day. The best way to return the bride and groom on their investment for entertaining you for the evening is to look your absolute best. Light makeup and a comfortable shoe is the only option you have so you can really party at the reception because if we're being honest that is the only reason you RSVP'd. From RACHEL Rachel Roy is this beautiful high-low ruffled midi dress. You could swap the lace up oxfords for a silver sling back pump or an open toe silver sandal. Pair with light accessories such as bracelets and drop silver earrings with a messy bun to really let the dress speak for itself. The dress is $139.00.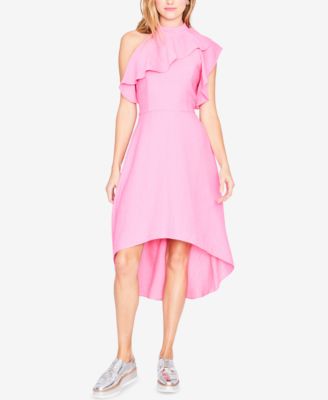 Baby, you made it: Because I will soon be in the same boat as you all in this category, why not, from one college graduate to another share a dress from my saved list for the special day? High school graduate you can relish in the loved dress as well. Am I the only one who goes on a liking spree while online browsing? For all the graduates this year, once the gown comes off it's our duty to let by standers know that we just did that! So, from me to you from Asos. http://us.asos.com/prd/9169439?CTARef=Saved+Items+Image A satin one shoulder midi dress with a subtle slit. If you're lucky enough to snag Fenty's Body Lava definitely put it on your graduation and set with setting spray so it doesn't ruin your graduation gown. You can copy Asos's styling because it is spot on and the drop earrings will still look great with a barrel curl.
Designated Cheerleader for the day: We're bouncing back to RACHEL Rachel Roy for the supportive friend screaming from the stands. If you're like my bestie and are into stripes this is going to be right up your street. It's colorful, it's fun, it's ready to be the mischievous friend to make sure your bestie gets as lit as a lightbulb after she/he walks. The dress is $74.39 and will be great with cork wedge heel. Make sure to take some of your friend's Fenty Body Lava also!
Prom Night: Prom night is the biggest night in your high school career. You want to turn heads all the while dancing all night. There is no picture because there is no picture that I can place that will make you feel like "this is my dress". But I do have suggestions that will make you stand out: form fitting with a low back, 3D art, or a eye catching color low cut suit pant set.