LAKIKA WORLDWIDE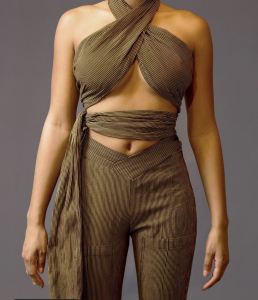 Let's start with the home page of the website because that's where the magic starts for this brand. Textiles and garments handmade in Mali, the homepage reveals a richly colored Black man – his eyes following you through your first scroll. Heading down the page, black skin is embossed in dark blue pants reading clothing. Everything about the experience is captivating. Once we reach clothing, the screen is lacquered with opaque and earthy-toned garments. The piece that caught my attention first, Sangare Wrap Top, a rusted olive wrap top embellished with complimenting ribbing. With a top as such, there is freedom in how it's wrapped around the silhouette, creating a unique frame per individual. The homage lends to Africa's Saharan environment with colors and the appreciation of the body noted by Mali's culture. Beautiful pieces with even better execution.
 IG: lakikaworldwide


 

www.lakikaworldwide.com
Anikaleila
The young designer is continuing fashion's new fight for sustainability with her absurd but tantalizing garments.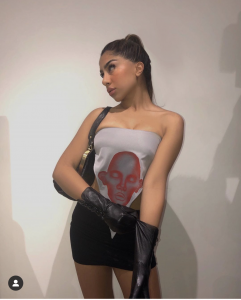 How might you ask? The self-named brand Anikaleila uses discarded and expired make-up to create the prints on her cloth
ing. Amazing, right? This started with her hunger for fashion and concerns for the environment meeting in her interest in fashion printing, knowing the vast amount of waste caused by fast fashion. Going more in-depth, she stated "The fabrics I use are 'wastage' fabrics or fabrics with mistakes /marks, etc. that are thrown away by larger companies. Sustainability and the future of fashion have always been a huge priority for me." Her limited drops feature halter and crop tops with an unmistakable face on the front. The face, the print mentioned earlier, is the star of the show. Usually shaded with heavy contrast to illude inverse coloring, these pieces are few and go quickly. Her sustainability and edge are enough to make any girl go wild.
 IG: anikaleila


 anikaleila.com
Vinai
Straps, buckles, soft satins are only a few highlights of this brand. Vinai was created by Vickie Vee and named after the Thailand refugee camp, 'Ban Vinai', where she was born. Her powerful story builds the foundation for what she wanted her garments to do for women. She wanted women to be allowed to embrace their femininity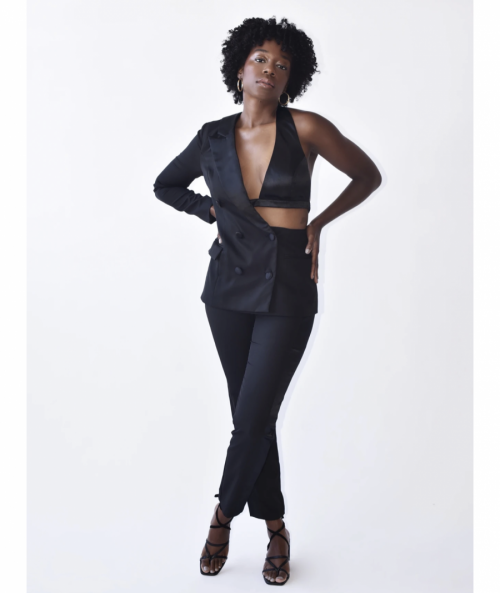 and confidence, often not afforded to girls of color. So, she offers women elegance. The color palette for the collection reminds me of cold beaches and spring showers; the creams, sand, eggshell, and midnight black settle nicely over the skin. Now, star player pieces from this collection have to be the Jaton Diamond pants and Jewel Suit. Firstly, let's get into the pants okay? They are eggshell denim trousers, very reminiscent of the '90s but with a twist of the tapered leg. It is marked with a sparkling buckle that allows the wearer to belt and adjust the tightness of the taper, genius. The Jewel Suit really sets it off, especially with the cropped blazers trend sneaking all over the timeline. The Jewel Suit brings something different to the table. The blazer has a satin full-length sleeve on one side and a satin bralette that peaks on the other side. It creates a dynamic in an otherwise regular suit. 
 IG: Shopvinai


 www.shopvinai.com
1nd1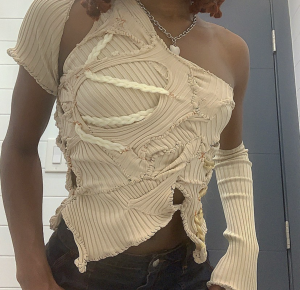 This brand is not for the faint of heart. This brand hinges on the intersection of punk and queer, revelling in the distortion of colors and designs. 1nd1 is exactly that, one of ones, yet to be seen replicated or made anywhere else. This growing designer uses two-tone dyes to create an in-depth color experience and cuts and sews into chaos. Possibly one of my favorite pieces of all time is a beige and cream asymmetrical one-shoulder top. The intricacies of the design incorporate threaded rope across the breast and different cutout sections on the stomach and side. While their drops are sporadic, we are anxiously waiting for new stuff to arrive.
IG: 1nd1.hq


1nd1.bigcartel.com
Jackson Napier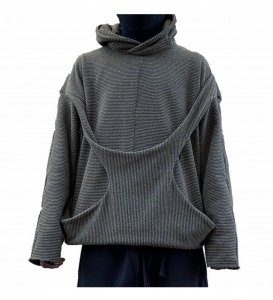 As far as cool guy designers go, he's one of the coolest. This plays strongly in the way he displays his clothes, usually in front of a brick building, and hiding his face in the shadows. For him, the work speaks for itself. The style of his garments center on layers. This isn't just for men, but women as well, layering the cuts with a sheer overlay or mock necks. The garments must feature multiple dimensions, based off of his latest drops. His best-sellers are Pull Pants, different colored track pants banded by straps to tight and taper on different areas of the leg. It moves beyond streetwear to an almost futuristic field, expanding functionality and fashion. 
IG: thejacksonnapier


www.jacksonnapier.com