After over two decades of designing graphic artwork for various clients such as the Yellow Pages and local authorities such as Sandwell Council and Birmingham City Council, Andrew Lindo decided to utilise his impressive skill set to establish a series of Black History Activity Books which were published in late 2017, followed by an official launch event in 2018.
Lindo's series of books is intended to educate and inspire children about important historical Black figures in history using interactive and engaging puzzles and activities to keep young children's vibrant energy captivated and entertained.
Books about well-known figures such as Muhammad Ali, Queen Nanny, Harriet Turban, Malcolm X, Rosa Parks, Mary Seacole, and Huey P Newton are just some of the books that have been produced. His series of books also include lesser-known individuals such as Queen Yaa Asantewaa of the Ashanti Empire, freedom warrior Zumbi dos Palmares of Brazil, and Queen Nzinga of Angola. One of his most acclaimed books is his Black History Legends colouring book which features a myriad of renowned people in antiquity to more recent times, covering scientists, inventors to freedom fighters.
On Saturday 29th October, Black History Activity Books will be hosting their third launch and Expo, The Trinity. On the day, there will be a fashion show and over 100 Black businesses to patronise.  U.S speakers on the day include the author and Ancient Kematian expert Mfundishi Jhutyms; Martial Arts instructor and founder of Harlem Universal Media, Nova Felder. They will be accompanied by UK history giant, Paul Obinna who created arguably the most comprehensive Black History Time scroll which documents 8,000 years of Black History. In true holistic fashion, attendees will be kept entertained by Children of the Sun, Harper Bell School, Tru Street Dance, Manhood Academy Global (MAG), and Spoken word sensation Raspect Fyahbinghi.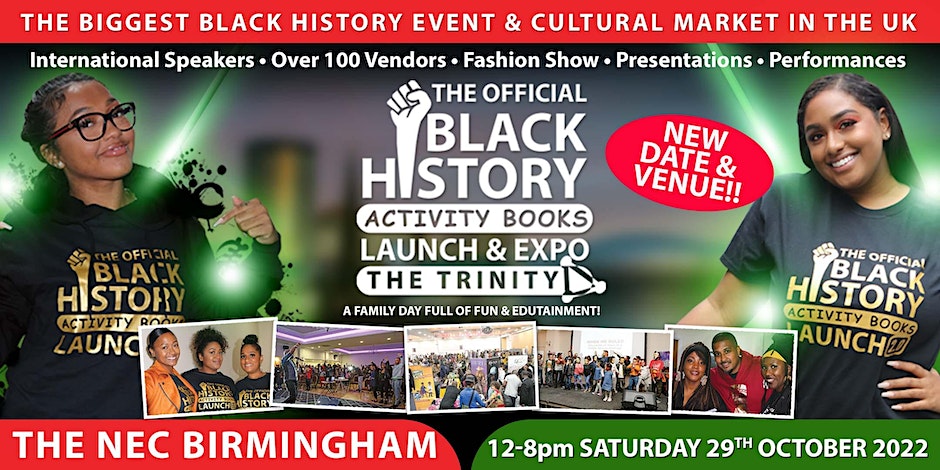 The graphic designer who founded his own company, Newborn Design in 2007 said: "Our big day won't be complete without you! Wait till you see some of the great products and services they have to offer honestly you are going to love it!"
On the day there will be a spiritual session led by the European Regional Representative of the Nation of Islam (NOI), Abdul Hakeem and the event will be hosted by Shazzy D and Nova Felder.
Black History Activity Books can be purchased from My Book Basket, The Legacy of Excellence Centre, 144 Potter Lane, Aston Birmingham; Sunripe Grocery Store, 12 Witton Lodge Road, Birmingham; New Beacon Books in North London; South Africa and various outlets in the U.S including within the locality of Nu Origins New York headquarters – Nicholas Brooklyn and the Museum of Contemporary African Diasporan Arts (MoCADA). For a full list of stockists, visit: Black History Activity Books.
The Black History Activity Books Expo, The Trinity will take place at the National Exhibition Centre (NEC), Marston Green in Solihull/Birmingham on Saturday 29th October from 12:00 – 20:00.