On the surface of what gets the most social media engagements, Afrocentric clothing has recently, within the last couple of decades, broken through American culture with bold colors and geometric silhouettes. The illusion of its recent addition, however, couldn't be further from the truth. The poignant color that defines afro-centric clothing has inspired Americans for near 80 years, starting with the Black American relevancy and attachment to Dashikis. 
Dashikis', the most commonly known staple in main-stream Afro-centric wear, are loose-fitted, pullover tunics originating in West Africa. These brightly printed garments became symbols of pride during the Civil Rights and Black Panthers Movement. As more Black Americans moved away and rejected western cultural norms, these fashions were adopted to signify the consciousness of Black pride. Kwame Brathwaite and the African Jazz-Art Society and Studios in Harlem presented a 'Black is Beautiful" fashion and cultural show in 1962. As displayed historically, the choice to embrace Dashikis was more than just pride. It was an outward display of Black recognition and being able to find some connection of ancestral home stolen through slavery.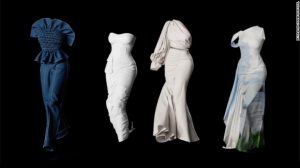 Since the 1970s, recognized Afrocentric fashions have branched beyond the Dashiki. Streetwear has welcomed fun designs and bold colors akin to Africa. Seen in the 90's hip-hop era, the different patterns and colors were taking over the streetwear scene. This adoption of form-fitted apparel matched with baggy aesthetics takes claim from the functionally of Afrocentric clothing. Especially with hip-hop embracing other elements of itself like break dancing, the emersion of functionality and unique style bubbled beneath the surface. Oftentimes, these styles were blended with western culture for main-stream digestion. Remodeling the cuts with softer hemlines has opened waves for a different vibe of Afro-chic. Hanifa is one of the brands that encapsulates the Afro-chic vibe. 
Hanifa's bright African inspired colors introduce softness to Afrocentric fashions. The opaque coloring is still vital, but the way a garment falls or snugs on a curve is different than what has been seen before.
Our Miya Knit Cardigan is the piece to layer over your favorite look this season. #Hanifaessentials

Available to shop in Orange, Emerald, Mustard Yellow, Denim Blue, Purple, and Black. pic.twitter.com/0fuMaau88r

— Hanifa (@officialHanifa) November 17, 2020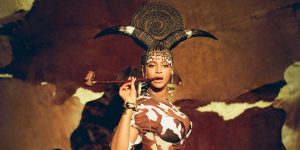 This breakthrough of main-stream African clothing has even been highlighted by the queen herself, Beyonce, in Black is King, bringing forth this malleability attached to the powerful presence within the clothing. The fierce prints of animals akin to Africa or the billowing whites to reflect its sands, the evolution of Afrocentric clothing tells it's story and triumph. Entering another decade, we see how it revitalizes itself and continues relevancy throughout the years.
It's the backbone and spice in the fashion industry led by the descendants.  
DONATE TO NU ORIGINS MAGAZINE 

Nu Origins Magazine is an independent Black owned 
publication. We cover issues of importance to the Black 
community with integrity, independence, and a commitment 
to sharing the breadth of the Black experience. 
Whether we are celebrating Black pioneers
or challenging a corrupt criminal justice system, 
we are uncompromising. 
Nu Origins is committed to challenging the news medias
Eurocentric bias, highlighting racial injustice in 
society at large and putting a spotlight on agents of 
change within the Black community
 
Here's where you come in.
We need your support to continue to build Nu Origins
ability to bring our readers independent news from 
a Black perspective.

Support Nu Origins from as little as $2 and help us
to continue to bring you independent, news from a Black 
perspective. 
Thank you for supporting independent Black media.