Four women are proving they don't need an Academy Award to make their mark on the film industry. 
During the Feb. 7 Uptown Ventures Group event called the Lexus Uptown Honors Hollywood, four women were honored by their industry peers: "Power" creator Courtney A. Kemp, Warner Bros. Pictures Executive Vice President of Film Production Niija Kuykendall, "A Black Lady Sketch Show" creator Robin Thede and executive producing actress Marsai Martin.
If you're not familiar with these four powerhouses, don't worry. Nu Origins is giving you a glimpse of just how much they are impacting the industry. 

1.Courtney A. Kemp – The Pathmaker
You may have been one of the millions wondering who shot Ghost on the hit Starz series, "Power." Even if you weren't, you will probably appreciate how the show's writer, producer and creator has made strides in premium cable television that will impact black entertainment for generations to come. 
Ahead of  the Uptown Ventures Group event, Eurweb spoke to Kemp about how her personal sacrifices have been able to open doors for people who are not often represented on premium cable network shows. 
"I think as a lot of women who are mothers, whose careers get bigger, I've had to make some sacrifices. I've missed some things. But overall, the ability to hire other women of color, other people of color, LGBT folks," she said. "Just being able to diversify the people behind the scenes, and the people telling the stories, that's as important, if not more, as the people that are on-screen, that's been a huge part of it. I'm very grateful."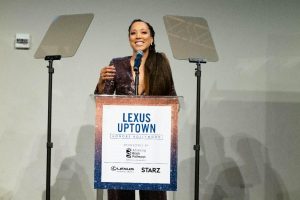 2. Robin Thede – The Groundbreaker
If you haven't heard of Robin Thede, where have you been? A walking black history artifact, Thede broke barriers when she became the first black woman to be named the head writer of a late night talk show during her time on "The Nightly Show with Larry Whitmore" in 2015. 
Thede bossed up even more to executive produce the BET late-night comedy series "The Rundown with Robin Thede,"for one season in 2017 before she created the current hit, "A Black Lady Sketch Show" last year. As a comedian and showrunner, Thede is proving that black women do not need to be typecast to succeed. 
"I wanted to do a show that was challenging the views of black women in comedy for a lot of people and showing we can do anything. We can play men, women, aliens or whatever we want. It's all sorts of genres, styles and characters in this show," she said in a Herald Net report. "We've never seen black women like this before. … In a way, this show is a love letter to black women."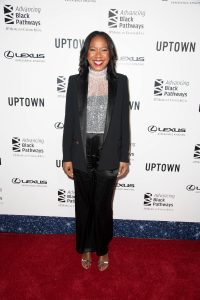 3. Niija Kuykendall – The Overcomer
You've probably seen her movies; "A Star Is Born" "IT", Edge Of Tomorrow" or "Just Mercy." While Kuykendall, the executive vice president of film production at Warner Bros. Pictures, has some serious pull in Hollywood, she has had to fight for her position as a black woman. 
"A few times I was told I didn't belong, or there wasn't space for me, or I wasn't going to be promoted or whatever was the issue. I think it's difficult being the only woman in the room, the only woman of color in the room to find your voice and to really articulate your point of view in a way where people hear  you and understand you and don't make assumptions about you because of who you are and the space you occupy," she previously told Revolt. "I fought through that challenging time by working really hard and putting my head down and ignoring everything that any kind of naysayer told me. I just hustled and worked and read scripts and championed things and decided that no matter what anybody said, I would build my skill set and build my reputation through my work."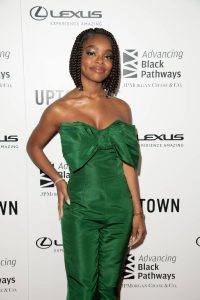 4. Marsai Martin – The Future
Acting on a hit t.v. show would be a huge deal for any teen. Marsai Martin,15, has been there and done that with her show "Blackish." The budding film mogul raised that bar even higher when she became the youngest executive producer working in Hollywood with her first movie debut, "Little." 
Martin runs  Genius Productions with her parents and became the youngest person to sign a first look production deal when she released the movie "Little" last year. When speaking about her accomplishments on daytime talk show "The Real," Martin said she wants to be a source of inspiration for others.
"It's so amazing. It's such a blessing to me and my family," she said. "The whole goal is to inspire young girls to do the same thing."
(Photos: Earl Gibson & Darius L. Carter)