NuOrigins Magazine
Who Shot Ghost?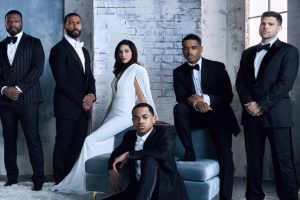 [SPOILER ALERT]
If you haven't seen the latest episode of Power on Starz don't read this post. 
The latest episode of Power left us with our eyes popping out of our head and our jaws on the ground. They should have named this episode Karma because it seems everyone that Ghost proclaimed to love wants revenge in his own blood. 
7 Former Loved Ones. 
7 Transformed Enemies out for Revenge:
Tasha wants revenge on Ghost for murdering her lover and imaginary future husband, Terry Silver.
Tommy wants layers of revenge against Ghost for all the betrayal they endured during their failing brotherhood including Ghost manipulated Tommy to murder his own father.                   
Senator Tate, who lost his life's work and campaign to Ghost also known as James Saint Patrick. Tate is green with envy and anger because Ghost is now living his dream of becoming a successful politician and running for political office.                         
Saxe, the lawyer who risked it all to get Ghost arrested on multiple occasions only to incriminate and disgrace himself. He broke the law under numerous circumstances trying to lock up Ghost only to fail in his every attempt and ironically faces his own incarceration. It was a rough scene watching Proctor contemplate suicide because we all know he isn't built for that life. All those homosexual jokes he used to make would bite him in ass, literally.                                     
Paz Valdez, who is steaming with rage that James Saint Patrick also known as Ghost, dragged her sister to her death from the day he met her at that club. Paz is infuriated because she Ghost refuses to tell her who murdered her sister. Paz is ready to risk it all.
Dre wants Ghost 6 feet under after Ghost set him up to get locked up. Looks like its too hot on them cell blocks because Dre is in fear for his life. Dre jumped at the opportunity to lie and say that he saw Ghost murder Terry Silver in cold blood, to get his revenge and his freedom. In one of the ending scenes, viewers can see Dre is free from jail shackles and is riding around with revenge on his mind.
Last but not least, Tariq Saint Patrick, appears to want revenge on Ghost who betrayed his trust. In the last season, Tariq's twin sister Raina was murdered by Ray Ray. Tariq got revenge and took Ray Rays life. Ghost who said in the heat of the moment that he would rather go to jail than his son. But now with Ghost running for political office, he switched on his son and now his son is pissed. Tariq who is too scared to confess in court that he killed Raina's killer Ray-Ray in cold blood for revenge.
But Is Ghost Actually Dead?
Well according to the DEADLINE exclusive interview with the creator of Power,Courtney Kemp, Ghost being dead is not yet confirmed. Check out more below:
DEADLINE: You finally shot and killed Ghost, pretty classic cliffhanger move?
KEMP: Shot, I didn't say killed.
DEADLINE: A man falling with a heart full of blood coming out the front of his white shirt, how is this man not dead?
KEMP: (LAUGHS) I'm not saying anything. I'm confirming nothing. I'm just…he was clearly shot. I'm not going to say anything else.
Kemp also said although she is nervous she does not want to leave Power's Audience in a cliffhanger.
KEMP: I mean, to be honest with you.. Idid not want to end the series in a non-definitive fashion, and then I did not want the audience to go I don't know what happened. I'm going to honor the idea of a complete tale with Power. So, there's a beginning to this story, there's a middle to this story, and then there's an end, and what you're seeing is me writing the end now… In terms of like holding back …I don't know. I've never done that before.
You heard it Power from Powers own Courtney Kemp. 
It looks like we will get to know who shot Ghost after all.
But is he dead? 
Will they all go to jail or is someone up next to meet their maker.
Looks like we will have to wait until January to get our answer.
Who do you think shot Ghost?
Write your guess in the comment section below
Or share it with your Power watching friends. 
Written by
Shantel Nubia
(Editor Assistant/Writer/Contributor)
Sources:
(n.d.). Retrieved November 4, 2019, from https://www.starz.com/series/power/episodes.
Patten, D. (2019, November 4). 'Power' Creator Courtney Kemp On Who Shot Ghost In Tonight's Midseason Finale, Spinoffs & Final Episodes. Retrieved from https://deadline.com/2019/11/power-finale-spoilers-ghost-courtney-kemp-interview-starz-omari-hardwick-spinoffs-1202776631/