The recent release of Creed II serves as a smooth continuation of the 'Creed' and 'Rocky' film series and is yet another demonstration of black magic. The spin-off to the 'Rocky Balboa' series began in 2015 when Sylvester Stallone – the originator of the famous character – helped co-write the 'Creed' screenplay. The story focuses on Adonis Creed, the son of Rocky's rival and friend, Apollo Creed.
'Creed II' was to be directed by Ryan Coogler, who had directed the first installation in the series. However, due to his commitment to Marvel Studios' Black Panther, Coogler passed on the project to Steven Caple Jr. This review analysis contains some spoilers, so it is advised to watch the film before reading.
Adonis Creed is well played by Michael B. Jordan, who not only embodies the character physically but also mentally takes on the struggle of having a father taken away at a young age. In an interview with Stephen Colbert, the actor explained that he kept a diary for Killmonger in 'Black Panther' and that he writes journal entries for each of the characters he plays. He states, "I have journals, or diaries, or whatever, for every character that I have from the earliest memory up until the first page of the script." His technique definitely shows and shines in Creed.
In 'Creed' viewers see how the death of his father – Apollo Creed was killed in his match against Ivan Drago in the 2006 'Rocky' film series – affected his life. Audiences can see the connection between the original 'Rocky' series and 'Creed' as Rocky steps in to help Adonis overcome his obstacles and become a boxing champion.
In 'Creed II', Adonis steps further into his father's shoes as he takes on his father's fight with the son of Ivan Drago. Even though he is already the champion of the belt, Creed has an intense desire to win and not be viewed as a failure. The audience learns that avenging his father's lost fight to Drago is extremely important and that it plays a factor in how Adonis would view himself. This journey to complete his father's fight and the fear of failing also tie into Adonis becoming a father in this movie.
There's a moment in the film, where Creed lays in a hospital bed with his body and pride severely wounded. He tells Rocky, whose advice he had previously ignored, to look at him in the face. Rocky doesn't. He then turns to his wife, Bianca, played by Tessa Thompson, and asks her to do the same. When she replies that she is looking at him, Creed asks "How is our baby going to look at me?"
Parents often give their children an image to follow, showing them what they could potentially be when they grow up. It is unfortunate for a child to grow up without a parent in their lives, yet it does happen. This can create a sense of lost identity in a child and potentially can lead to an identity crisis when the child becomes an adult. Watching as Creed deals with this crisis, and now worrying for how his own child will see him, gives the audience a moment of self-reflection on how they see themselves, and the vision and dreams they have for their children to see and pursue.
Most of the characters in the film have experienced some form of estrangement in their families and because of this, they have the constant need to not be viewed as a failure. Ivan Drago, played by Dolph Lundgren, was divorced by his wife after his fight with Rocky, leaving him with a dire need to win back his wife and what he once had through his son. Florian Munteanu, a professional boxer in real life, plays Drago's son and does an exceptional job in expressing the feeling of abandonment his character felt after his mother left. Though he barely had any lines, he managed to express most of the pain his character was feeling, physically. Finally, there is Rocky, who Sylvester Stallone portrays expertly, he is estranged from his only son who moved away and had a child. The idea of him failing as a parent weighs heavy on Rocky, and viewers see how this affects his actions until he finally decides to visit his son at the end of the film.
All the characters come to some type of peaceful conclusion with themselves and their families, emphasizing the importance of family bonds. We see this in the end, when Creed visits his father's grave and explains how he didn't fight for his father, but for himself and his family.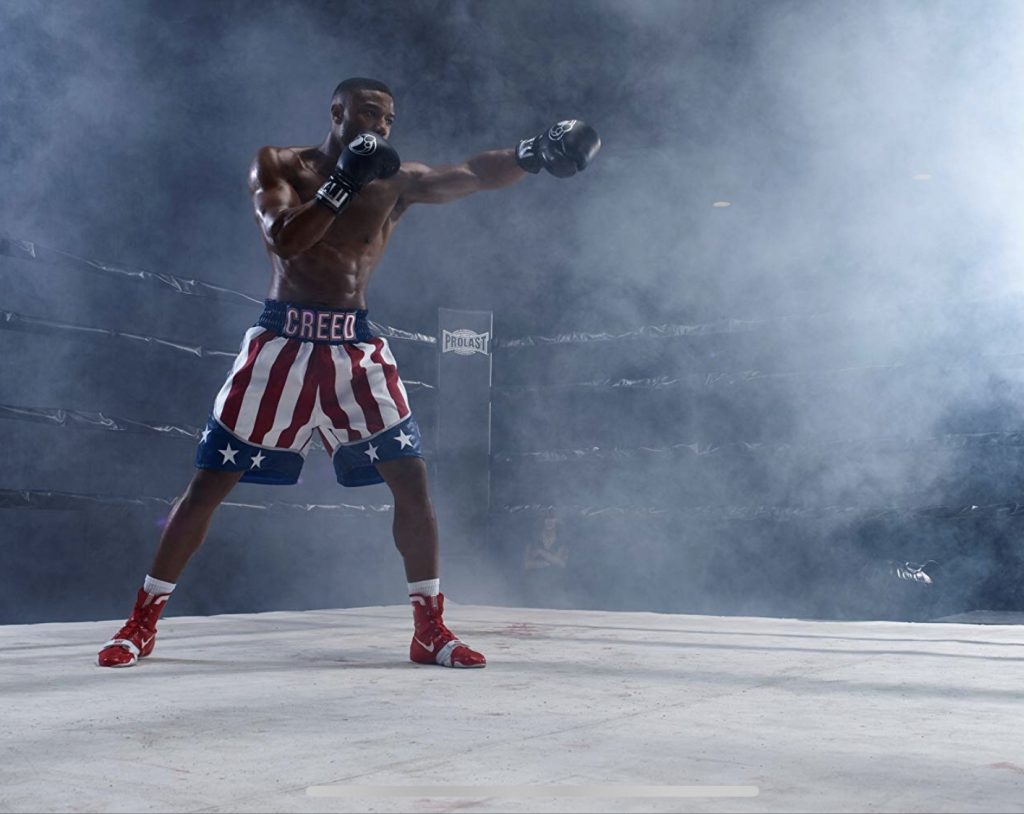 Although the characters in the film are fictional, there are similarities to famous boxers. In the original Rocky film series, Apollo Creed was loosely based on Muhammad Ali. It all started when Sylvester Stallone saw Ali fight Chuck Wepner in 1975, which inspired him to write the script of 'Rocky.' Carl Weathers, who originally played Apollo Creed, was also inspired and clearly a fan of the great boxer. He mentions in plenty of interviews that he always tried to copy the bravado Ali had. Ali actually told Sylvester Stallone at the 1977 Oscars, "I watched your movie – you stole my script! All that was me. I'm the Apollo Creed!"
Creed II has similar connections between Muhammad Ali and Adonis Creed, as he learns to embrace his fight against Drago and embrace who he is. During the fight, the referee checks in with Creed after he gets knocked down by Drago, asking him "what's your name?" Creed then proceeds to repeat his name with pride. Reminiscent of Muhammad Ali asking Ernie Terrell "what's my name?" before he delivered each stinging blow on February 6, 1967. Ali always demanded respect when it came to his name because he found his identity within his name.
Though the film is about a Black man and his identity, we must admire the work of Tessa Thompson and Phylicia Rashad playing Creed's mother, Mary Anne Creed. These women were not only beautiful, but they fulfilled the role of a black woman we rarely get to see on screen.
Their characters were strong, and yet very supportive to Creed. Thompson's transformation is amazing in body and voice, and excellent in showing her character's impending deafness. Bianca followed and supported her husband to the very end, even if it meant putting her own raging emotions aside and sacrificing her personal situations. She understood Creed's goal, always being his support while he was in the ring, and we see how much Creed needed her in order to make it through. Rashad's eloquence and grace was evident in the way her character was a guiding figure and stood by her son. Despite the stereotypes of black women we've seen, being dominantly loud, and angry or ghetto, the portrayals of these women was another great refresher of how black couples and families can be in unity.
Creed II was satisfying. If you watched it the day of the Deontay Wilder vs. Tyson Fury fight it definitely set the mood to watch the fight, which ended in a draw. Although, Creed II wasn't as huge of a hit as Creed in its first release, not selling as many tickets, it is still worth the watch and provides a message of the importance of family and one's own identity that the black community can take away from.