The African Diaspora International Film Festival (ADIFF) wrapped up its final week of film screening last weekend. The ADIFF is an organization created by foreign language educator Reinaldo Barroso-Spech and financial consultant/university budget manager Diarah N'Daw-Spech. Their aim is to create awareness of Black independent filmmakers and their commitment to sharing their stories through the Black cinematic lens.

One film that was intentional and purposeful in spreading awareness on the happenings in the Caribbean diaspora was none other than 'Timeless: A Virgin Island Love Story,' written and directed by Edward La Borde who focuses on making more diversified films centered on the people of the African Diaspora. La Borde established his own film company Cutting Edge Entertainment Inc. which produced the ADIFF's feature film, 'Timeless'.

From the first watch, it may seem that the film is about two lovers who are trying to be together despite the obstacles they face. However, 'Timeless'  is a layered film that mirrors the beauty and flaws of the Virgin Islands. On one hand, "Timeless: A Virgin Island Love Story" gives the audience a taste of what the Virgin Islands have to offer with scenes of carnival, food, calypso and culture, making it hard to not want to visit this beautiful island. On the other hand, the movie also spreads awareness of issues in the Virgin Islands such as xenophobia, colorism, immigration, and political corruption which can be used to open a serious dialogue regarding social issues within the Caribbean community.

The beginning of the film takes place in Ghana in the 1800s. The story is about Ajua, the warrior princess, who is determined to be with her lover Kofi who, unfortunately, is sold into slavery. Ajua with all her fierceness tries to hunt down Kofi in hopes of getting him back and ultimately dies trying to desperately reunite with her lover as he sails away into slavery.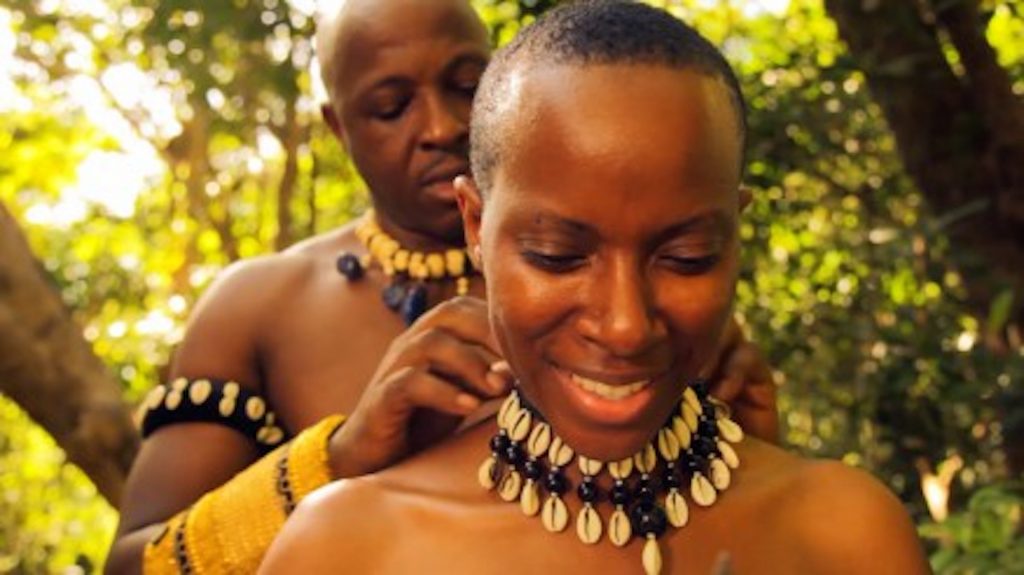 The beginning of the film sets an important tone because Ajua and Kofi's spirits still linger in the present day characters of Senator Melinda and school teacher/writer Alfonso. As the two struggle to find common ground, it is clear to the audience that Senator Melinda is on the receiving end of unrequited love. Melinda holds a position of power and is frustrated with the fact that Alfonso is unbothered and unmoved by her authoritative status. As much as she tries to win Alfonso's love, mainly through force and aggression, Alfonso is impervious to the childish tactics of the Senator.

It is through the characters of Alfonso and Melinda that the story of Ajua and Kofi continues to live. The story takes an interesting twist when Alfonso ends up falling for a Dominican sex trafficking victim named Bianca. It is love at first sight for Alfonso, he is determined to help free her from sex trafficking and also help her obtain citizenship so they can be together. Many obstacles arise for the two star-crossed lovers, but at the center of all the chaos is Senator Melinda who is revealed to be the head of the sex trafficking ring that has taken Bianca as one of its victims.
According to La Borde, the overall message of the film is to show the audience that "the laws of love and God precede the laws of men." As much power and status as Melinda had, it held no weight against the love Alfonso and Bianca had for each other. As it also turns out at the end of the film, the audience learns that Ajua was actually a slave trader all along and was responsible for selling her fellow brothers and sisters into slavery.

"I feel that is the bamboozle that we are still a product of," La Borde explained when asked why Ajua's character was written as antagonistic and against African unity.
Ajua's character was symbolic of how Black people can sometimes easily turn on their own which is one of the many other jewels that were uncovered during the film. La Borde chose Ajua to be saint turned sinner in order to show how hurtful it is to be betrayed by one's own people. This part of the film also creates conversation about how Africans across the diaspora currently need to take some responsibility in the downfall of their fellow brethren and seek atonement for any wrongdoings against their brothers and sisters.
What makes this film even more exciting to watch is learning about the behind the scenes moments in production. According to La Borde, there were a lot difficulties that went on during production but the cast showed up and worked in unison to create a film for pan Africanists to have a platform to showcase their theatrical skills and share their stories and culture.

Referencing Acts chapter 3 verse 6 La Borde said, "…Silver and gold have I none; but such as I have give I thee: In the name of Jesus Christ of Nazareth rise up and walk," when discussing the time and energy it took to create 'Timeless: A Virgin Love Story.' The biblical reference shows that although people of color might not necessarily have the funds and resources they need for production, they still manage to create beautiful artistic pieces with what they have and with the people who are committed to promoting people of color in cinema . 'Timeless' is a testament to that and was made possible for the audience to see through struggle and still grasp the vision and significance of the film.
La Borde and many other Black filmmakers are committed to creating stories that relate to the African Diaspora because pan Africanists have as much right to tell our story the same way Hollywood tells their own. Our stories will be diverse, honest, uplifting, and personal because we create them. Pan-Africanists must be devoted in creating awareness and also actively supporting our own so that we may be able to see ourselves, our culture and our history displayed on screen. Be sure to check out 'Timeless: A Virgin Love Story' through your local sites and stations.