By Erin O'Gorman

As adults, we all often make the error of assuming that kids are stupid. That they don't know anything because they haven't lived as long we have and all they're concerned with is having fun. That last part is true in the sense that compared to grown-ups, who are so concerned with everything that is necessary for living, children will follow the passion they find fun, and sometimes, as in this case, it can be the very thing that saves the day.

'The Boy Who Harnessed The Wind' is a retelling of the true story of engineer William Kamkwamba, who as a young boy solved the drought problem in his village by creating a wind turbine in 2006. To be honest I am always a bit skeptical about these genres depiction of groups in underdeveloped countries because the portrayal of the people, can sometimes feel as if the movie makers are exploiting the characters lives and using their poverty to receive attention for financial gain. That fortunately, is not the case here in Chiwetel Ejiofor's directorial debut.

Instead, I found a film that I felt told the story of an unsung hero, who discovers how much he's capable of achieving through the power of altruism, which is why I feel that everyone who watches this movie can take something away from its overall message. Sure William is more intelligent than the average student, but it's not his IQ that allows him to be successful – it's his attitude, perspective, and tenacity. A universal message that will touch audiences that watch this movie.

The movie foreshadows that Kamkwamba has a knack for working with gadgets from his inception and through his small business fixing radios for people. Things seem promising as he goes off to his first day of school.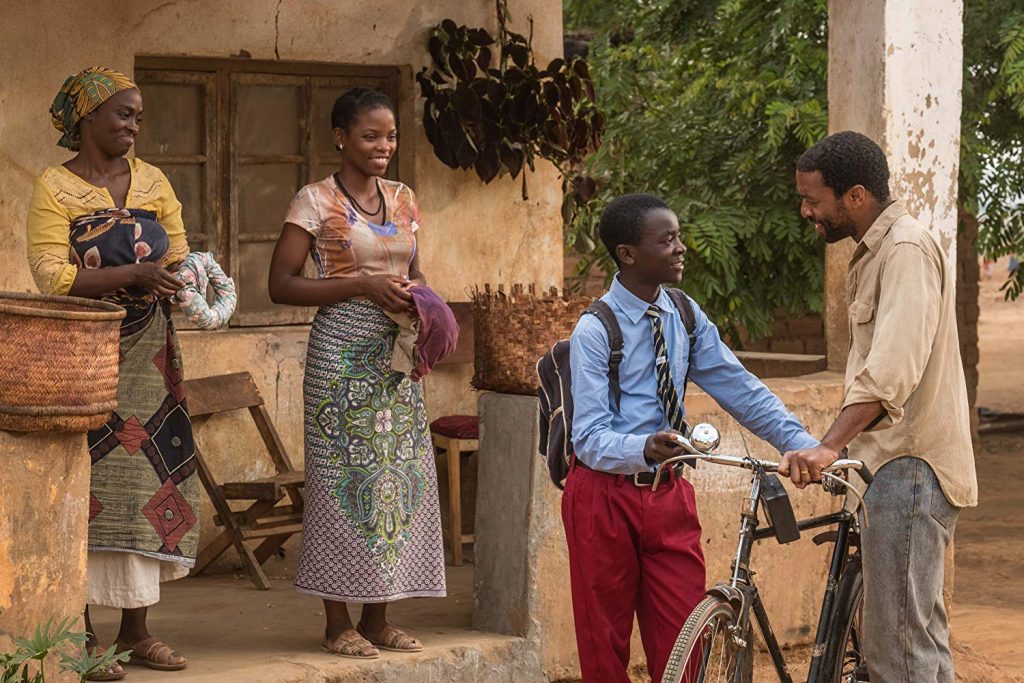 However, as famine, corruption, politics, and dry grounds begin to take the story's precedent, things slowly but surely deteriorate in the young boy's life when he must leave school because his family cannot afford the tuition. Through the help of a wise teacher and librarian, the audience sees that William's curiosity and desire for knowledge cannot be contained by money when the power of fate is at work.

While the film drags in the beginning, things quickly pick up and begin to feel eye-opening, particularly in the scene where the village chief is severely beat up by government agents when he speaks bluntly at a public event with Malawi's president. While minimal, I realized in this scene that just because a government calls itself democratic doesn't mean that it necessarily practices the values of one.

The movie's central plot is very connected to the fan that William's friends help him design towards the end of the film; every smaller story is a symbolic blade on the fan – including his own but also including his older sister's love affair with a local teacher, a village chief whose old fashioned beliefs begin to change from that of his people's, and William's father Trywell whose kind and gentle personality dries up with the crops – with the central piece representing a corrupt government, poverty, and climate change.

From the representation of the people of Malawi's struggles to the child prodigy arc, 'The Boy Who Harnessed The Wind' paints a picture of realism and inspiration with a story that is far from being cookie cutter in all aspects. While it is meant to be William Kamkwamba's story, there is a much bigger picture that can be appreciated by watching this, one as tall as the film's finished windmill.