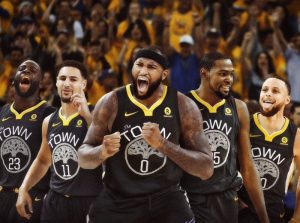 The NBA continues to become the most talked about sport this summer. MLB season tends to be a long lasting drag until late August. NFL season beats all sports when it officially begins. But what the Golden State Warriors did to the NBA is utterly ridiculous on so many levels. Adding DeMarcus Cousins officially makes them the "Monstars" of the league.
The Warriors have been the most dominant team in the past four years. No matter what was thrown to them in the postseason,they
manage to pull off three titles, one of them with Kevin Durant. Yeah the Los Angeles Lakers added LeBron James, who is 33 years old, and ready to share the load with other veterans on the team. However, their spotlight was taken away by this move.
The Dubs know every team in the East and West are coming. Young teams on the rise with promising rookies while others lean on getting stars to make their own "Big Three." But the one important component that makes Golden State better than every other team is their chemistry. The core of Stephen Curry, Klay Thompson and Draymond Green can't be overstated.
They are the examples of the team complemented by Andre Iguodala and Shaun Livingston. These five have been through all of the challenges and still know how to turn it up in the postseason. Durant's presence just makes them unfair. And yet, other teams try to emulate this level of talent and failed.
What makes them the "Monstars" is their togetherness, and not worrying about stats. All they care about is wins and titles. Contenders such as the Houston Rockets, Boston Celtics and even the Lakers want to overthrow Golden State. Rockets tried with lethal three point shooters and failed.
Celtics don't have the firepower to compete with them unless Gordon Hayward and Kyrie Irving go off. And the Lakers aren't great three point shooters, and will test them through their toughness and playmaking abilities, which will result in a sweep. These three teams along with others simply haven't figured out the formula.
This is why it's nearly an impossible task to beat the Warriors four out of seven times in a playoff series. It doesn't matter about getting multiple stars and a solid bench. It's about how poise and patient the team is in playing their style of basketball. Being able to withstand against their demoralizing runs and relentless defense. Until a team figures that out, expect Golden State to be champions again, and continuing to be "Monstars" of the NBA.