What if movie icons wore African fashion?
That is the question The Africa Channel poses in their 10-part digital series 'Re-imagining African movie icons.' Each episode answers the question by showcasing an African spin on celebrity styles from iconic movies. The series was released right before Fashion Week and is a collaboration between The Africa Channel and Vanichi magazine and features designers from Africa and the diaspora.
"We are excited to partner with Vanichi on this campaign that fits perfectly within our mission to amplify the cultural conversation between Africa and the rest of the world,' Narendra Reddy, the executive vice president, and general manager of The Africa Channel said.
The Africa fashion industry is nearing the one-billion-dollar mark and designers Obioma (Nigeria), Kenneth L. Nicholson (Los Angeles), Ammanii (Egypt), Sarayaa (Senegal), and M. Andrews (Texas) are taking this opportunity to showcase their talents in creating and designing outfits with bold fabrics and intricately jewelry. As well make this innovative series more than a simple fashion statement.
"There is inherent luxury, inherent glamour in the peoples of Africa and the African diaspora. This campaign allowed us to creatively celebrate this ideal by reimagining iconic Hollywood film characters in modern, handcrafted fashion from designers of Africa and the diaspora." Joy Donell, Vanichi Magazine's editor-in-chief, explained of her involvement in the series and the fashion industry as a whole.
In one of the episodes, the series honors Audrey Hepburn's iconic look from the film, 'Breakfast at Tiffany's' with an African version of the outfit. The series doesn't only target romance films, they pay homage to science-fiction movies such as 'The Matrix,' with an African rendition of Laurence Fishburne's character, Morpheus.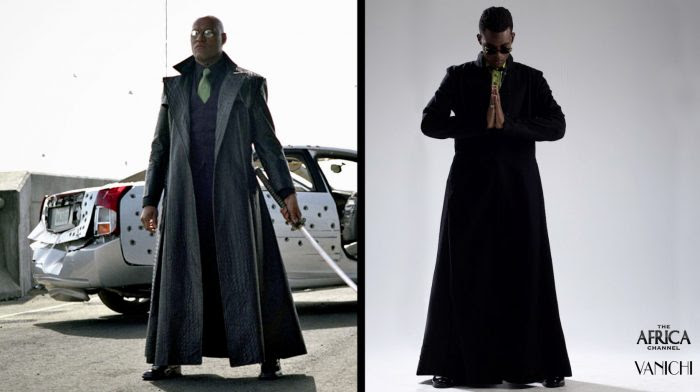 The Africa Channel is based in Los Angeles and currently showcases English-language television series, specials, documentaries, feature films, music, biographies, cultural and historical content from the African continent. Their mission is to open up a daily window into modern African life and help demystify Africa for viewers. Vanichi Magazine looks for beauty across the planet. They cover beauty/men's grooming, tech, travel, leisure, art, and culture.
All episodes, including a bonus episode, are currently available on The Africa Channel and Demand Africa.