The revolution of buying small fashion has exploded onto the scene with young entrepreneurs showcasing their talents and skills. From various art print hoodies, repurposing vintage to handmade designs, redistributing the wealth among community creatives has begun to replace the popularity of fast fashion: big corporation enterprises that conjure up new collections every week. The girls are much happier waiting for new drops from their favorite small designers.
What has influenced this shift? Social media's way of microwaving new topics had ethical fashions in their sights. Widespread information touching the average consumer on the true production cost and profits, and who reap the consequences and benefits.  Larger companies like Fashion Nova and Shein create cheap clothing by sacrificing the wages of their garment workers and consistently producing massive amounts of clothing that are thrown out once the season has ended. While stories like these come and go, up and coming creatives took this opportunity to capitalize on the peering eyes and bleeding hearts.
We've mapped a quick understanding of buying small fashion, so let's shift. Black culture is fascinating and always seems to be up for grabs, but with the rise of small, e-commerce-based fashions, Black designers are keeping their hands on their concepts and dollars. Social media has furthered the ability to have a platform and a start-up without the impending cost of marketing. Everything is DIY these days, and this is working to many Black designers' benefits. And with quarantine forcing the world to clock off and go home, online shopping has reached an all-time high.
So, who are the faces and brands to watch for? I'm glad you asked. This is the debut introduction of the Watchful Five, a daily compiled list of five different black, designers with small brands. These designers reflect their industry-breaking trends and innovation, coupled with DIY persistence. The Watchful Five is meant to highlight those on the rise that may not be seen but are leaving the fashion industry in complete shambles. Often, the innovators aren't the classic fashion houses but the small designers making noise in their own right.
Watchful Five
Lab Carty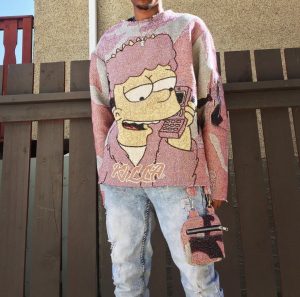 Welcome to the Lab is his introduction to his Instagram, and he truly isn't joking. His first collection release was August 18th, 2019 with custom distressed denim. The colors were bright and opaque, pulling in customers with the Rockstar-esque feel. Since then, his focus has been his woven line, becoming a viral sensation with his Bart Simpson Killa Camsweater. Each one of his current pieces is hand-stitched with custom made, woven fabrics and usually come with a detachable pouch. His inspiration ranges from NBA highlights, cult classic movie moments, musical icons to cool color tones. His drops happen a couple of times of the month, but following his notification is the only way to beat the crowd.  Usually sold out within 15 minutes, his fan following has grown within the last year.
IG: @lab.carty
www.labcarty.com
Myae Made
While her following may not be very small anymore, her handmade pieces are worthy of mention. Sitting at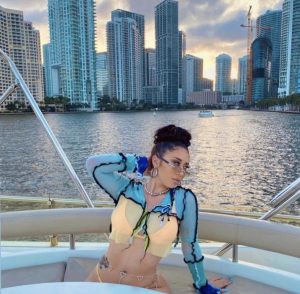 36,000 followers on Instagram, Mia Joseph has garnered attention to her sheer, patchwork tops. These summertime favorites are color-blocked with pastels or derived completely of a solid color. Her signature is the stitching hem exposed for a distressed look, often a complimentary color to the remaining fabric. In her short career, she has had to combat eerily similar dupes and larger companies completely redoing her designs with cheaper (in every sense) fabrics. However, she has prevailed and continues to make new designs that excite. Her clothes can also be seen on Latin singer, Kali Uchis.
IG: @myaemade
www.myaemade.com
Saint Destiny Brand
Saint Destiny Brand believes in the beauty of soft satins and the sustainability of the items she makes. Often
heralding information in her highlights on Instagram, the young designer refuses to separate environmentalism from her work. Before mentioning her delicate loungewear, she draws comparisons and suggests new ways to ethically maintain fashion in a world that is ruled by speed. This said all of her pieces are handmade to reduce waste. Aside from her social activism, her pieces take the average streetwear design and add a
feminine touch. Most notably, her underwire hoodie features a wire cupping directly under the breast with a cotton hoodie fabric. This is succinct with her deconstructed corsets that have ribbon to tie and wrap around the bust. When catching up with the owner about her success, she said. Her drops are updated on her Instagram, often selling out.
"You don't have to have everything figured out. In the beginning. Learn early to not see mistakes as a bad thing, as they are here to teach you. Even in your moments of doubt, the greatest creations are made."
IG: @saintdestinybrand
www.saintdestiny.com
UNTIL FURTHER NOTICE
Coming in with a local luxury brand, Nicholas Wolf founded UNTILFUTHERNOTICE on the premise of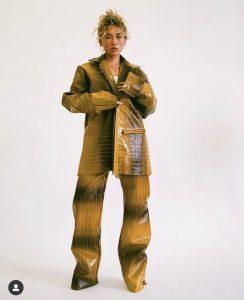 originality and authenticity. His clothes often finding some semblance of current trends, but
completely re-mastering the original intent. Wolf stated,
"Black designers deserve way more credit, especially when you are the only person doing every single
prototype/order/release and even shooting it yourself. My touch is special so everything I do that has my touch is special."
He challenges himself by attempting to create a new design every day for a certain time. Currently, he's
working through designing a new piece every day for the next 54 days! However, he does release his creative
frenzies. MOGUL, his latest piece featuring mustard and brown ombre over leather snakeskin suit, has been
the breakout star. The cut is bold and made unisex. It starchily falls over the legs and chest, creating a
distinct shape. Included in this release were cow print trousers with a matching, separate vest, and a gold lacquered renaissance coat. Here's to the excitement for his next release!
IG: @untilfurthernoticeco
www.untilfurthernotice.online
Sad N Dirty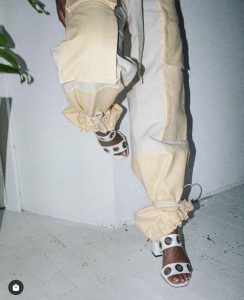 There is something to said about designers who can combine two different styles into one, and Sydney Mays does it so effortlessly. Starting her journey just this year, she has amassed a following that lives for her high feminine
streetwear. She is based in Brooklyn and works with another small pattern-making studio in the city, truly representing the small business hustle. Her motto is about taking risks and not playing it safe, paralleling with her designs. The Kimmy Top is her best seller, deconstructing a corset with jersey fabric to tie around the neck. She plays with pastels of all colors, finding comfortability among the light, less daunting colors. While her Kimmy top is more feminine, her MOTHAF**KIN pants stand out with pastel yellows n khaki color blocking on pockets and tapered ankles that come with string for a tighter look. As new as she is on the scene, her garment designs show the longevity of a pro.
 IG: @sadndirtyclothing
https://saintdestiny.com/