Some fashion designers create clothes to make people look better, while others use their gifts to make the world better.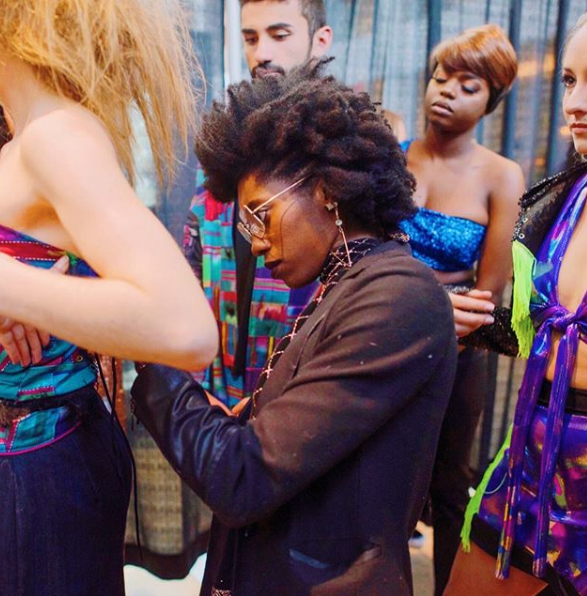 Designer LeO B. Mailo somehow manages to do both. The 28-year-old accountant by day and designer by night has a holistic fashion brand called Loveur.
She uses Loveur to give away free prom dresses, create special designs for hospitalized children and celebrate black culture! Just phenomenal and so empowering!
Nu Origins recently caught up with LeO to get a glimpse of her clothes while learning more about the mind behind her eclectic creations.
Nu Origins: Tell us how you began your journey as a fashion designer.
LeO: When I started my brand Loveur, in April 2019 I did not realize it until then, but I began my fashion designer journey at the age of 7 years old; that's when my mother taught me how to sew, and I started making Barbie clothes out of old socks. Fast forward, I'm 25 years old with an accounting degree working as a full time Business Analyst and I finally decide to pursue my passion for fashion. I applied for a fashion program at ASU and got accepted – that leap of faith was all I needed. From there the rest is history or the future still waiting to be explored. I've worked with Phoenix Fashion Week, Phoenix Children's Hospital, and blessed with many more opportunities that I can't wait to share throughout this interview.  
NuOrigins: Tell us about your free prom dress giveaway. How did that get started?
LeO: Loveur Magic is an opportunity for me to give back to my community through fashion. I am a member of Delta Sigma Theta Sorority Inc, which is a historically black sorority whose foundation is built on change and community service.
For me, community service has always been a part of my life, and I wanted to make sure I found a way to merge my passion for fashion and service my community.  Every year I want to make sure I am pouring positivity into someone else life by doing something that impacts them in a way they probably never expected!
The free prom dress opportunity came just in thought, I had been asked by several brides to make a wedding dress for them, but I didn't feel like I was quite ready for that challenge yet. I honestly felt like doing a Prom or Graduation dress would be my first step into designing gowns. A prom dress is more playful, fun, and colorful, which fits my aesthetic, so I thought, why not design a custom gown for someone who might never have had one made just for them?
However, I did not want to stop at just a dress. In essence, I wanted to provide a young lady with an experience she would never forget, so I reached to black business owners in Hair, Make-Up, Styling, and Photography and asked them if they would like to be a part of this project with me. Each business owner is a member of the NPHC, which are historically black fraternities and sororities. That's why we launch our project in February during black history month during a time where we can celebrate someone else! 
NO: Walk us through your previous experience designing costumes for the children's hospital?
LeO: Last year I was one of 12 designers selected in the ASU Fashion Project to participate in "Power Play."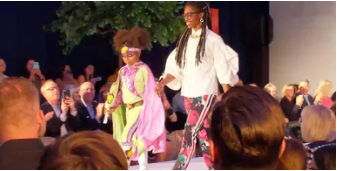 Power Play was an opportunity to work with one patient ages 3 to 17 of Phoenix Children's Hospital, and the ultimate goal was to identify their superpower and create their superhero alias.
The young lady I was a partner with Adrianna, whose superpower was to help make things grow, so she wanted to be Nature Girl. The process was different, as I had never designed anything for children, but the challenge was rewarding. I worked with Adrianna to sketch her ideal Nature Girl costume.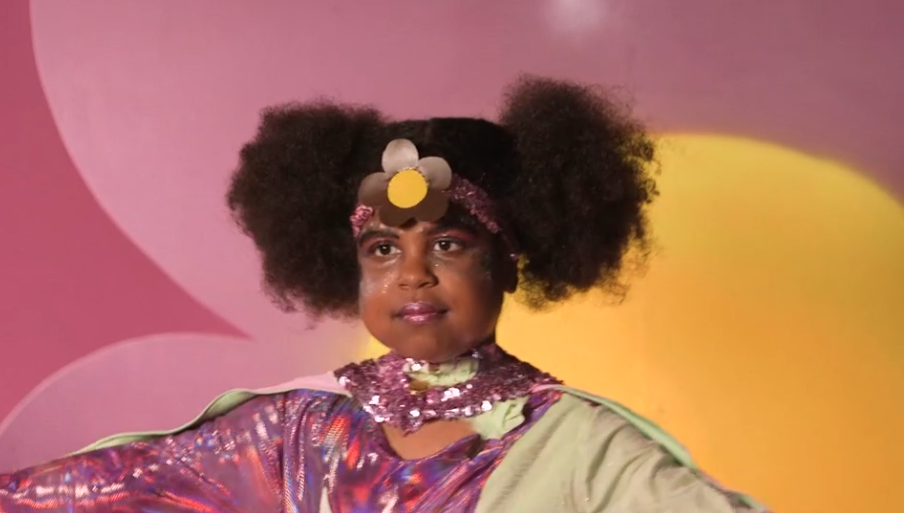 From there, the work was all on me; her parents were fantastic. We had a few fittings to ensure her outfit fit just right! The hard work was worth seeing the excitement from Adrianna, and the joy of her parent's as she revealed Nature Girl down that runway. Honestly, that experience felt more meaningful than any other project I've participated in because I saw how much it positively impacted Adrianna and her family; that's all that mattered. 
NO: What inspires you to use your designs to give back?
LeO: My inspiration for using my designs to give back comes from the community.  I never know what project I am going to do until I see a need, I run into someone that tells me their story about how they cannot afford this or cannot do that. I am a softy, and my heart is more significant than my wallet. I've grown up in church, my father is a Pastor, and my mother is a Missionary. I've been raised to be a light among those that might feel like they are in darkness. I've my wallet was as big as my heart I'd do more, but for now, I'll continue to do one good deed at a time. 
NO: Where are you originally from, and how does your upbringing shape you as a designer?
LeO: I am originally from Memphis, TN, and as a designer, that has had a significant impact on me and what I choose to design. Being raised in Memphis, the place where Dr. Martin Luther King was assassinated – I've been to the Civil Rights museum so many times I have lost count. I grew up in a place where I was surrounded by people that looked like me. It built me for when I moved to Arizona, it's unfortunate, but I have had personal, racial encounters living in Arizona. It can be tough for a 15-year-old to have oreo thrown at her during a football game because she's the only black cheerleader on the team.
Being from Memphis, learning about civil rights as a young girl built me for moments like that. The majority of my designs are inspired by different black cultures or my own experiences. Memphis inspired one of my first collections, TN, and my latest collection was inspired by 1970s AFRICOBRA movement. I tend to design things that help honor and uplift the people around me and me whether they look like me or not because I moments that I felt racism someone was there to uplift me whether they looked like me or not. 
NO: How does your perspective as a black woman shape your approach to design?
LeO: My perspective of black women, it that she is a woman that has different adversities that she must overcome. Her beauty is often challenged, but it's ultimately defined by her! As a black woman, been raised by black women, I'm inspired by our strength. My designs are meant to empower women through mainly through colors! 
NO: Are your clothes primarily for women, men, kids or both?
LeO: I design primarily for women but I do enjoy adding a men's shirt to compliment a women's design. My husband is one of my biggest supporters and enjoys wearing designs I make him to match me. I've made a few children's items and looking to do a "mommy and me" collection soon!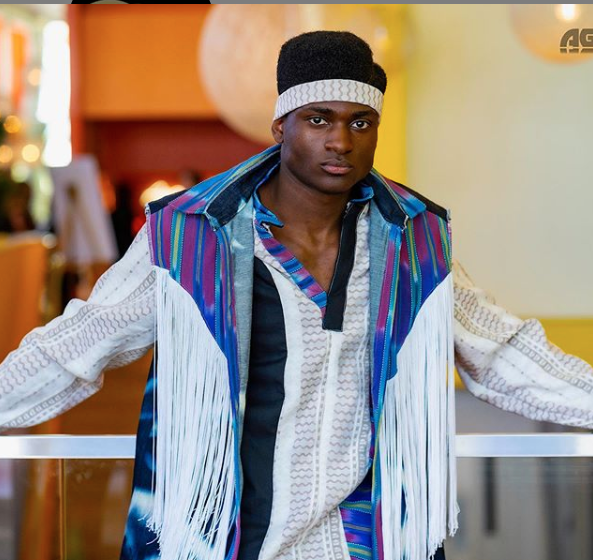 NO: Why did you choose the '70s Africoba as your inspiration for your new line.
LeO: In September 2019, my husband and I went on our honeymoon to Vince, Italy. Upon wondering the beauty of the bridge islands, we came across an Africobra exhibit. I had never heard of Africobra before that, but I was intrigued, walking the exhibition I was inspired. I saw paintings, books, and clothes. I was proud to be in Italy a place across the world where my ancestor's culture was being displayed. Returning to the United States I research Africobra, and all the meanings behind the colors gave me my inspiration for my line. The aesthetic and movement of Africobra was my influence for my latest collection! 
NO: Is there anything else that we may have forgotten to ask that you would like to share with our Nu Origins readers?
LeO: My brand is Loveur, designing lifestyle apparel for the free-spirited. 
Loveur is a holistic creative brand. My brand believes in the good in everyone and wants everyone to believe in the good they have in themselves. Our philosophy is, "Love your neighbor as you love yourself, and self-love is key." 
Learn more about Loveur's From their website or Instagram page.