The 91st Academy Awards was a triumph for Black talent such as Regina King, Spike Lee, Ruth Carter and "Black Panther" who all received awards on Sunday night.
King won the first Oscar of the night at 2019 awards for Best Supporting Actress for her portrayal in "If Beale Street Could Talk". The 48-year-old actress played Sharon Rivers in the stirring plot, a woman who valiantly helped her pregnant daughter whose partner was jailed for a rape he did not commit. The decorated actress, who has three Emmy's and a Golden Globe, thanked her director Barry Jenkins who adapted the book by James Baldwin whom she also recognized.
"To be standing here, representing one of the greatest artists of our time, James Baldwin, it's a little surreal," she said. "James Baldwin birthed this baby, Barry you nurtured her, you surrounded her with so much love and support and so it's appropriate for me to be standing here because I'm an example of when support and love is poured into someone."
Lee won the Oscar for n Oscar for Best Adapted Screenplay for "BlacKkKlansman". He jumped into the arms of Samuel L. Jackson and used his speech to encourage others to vote.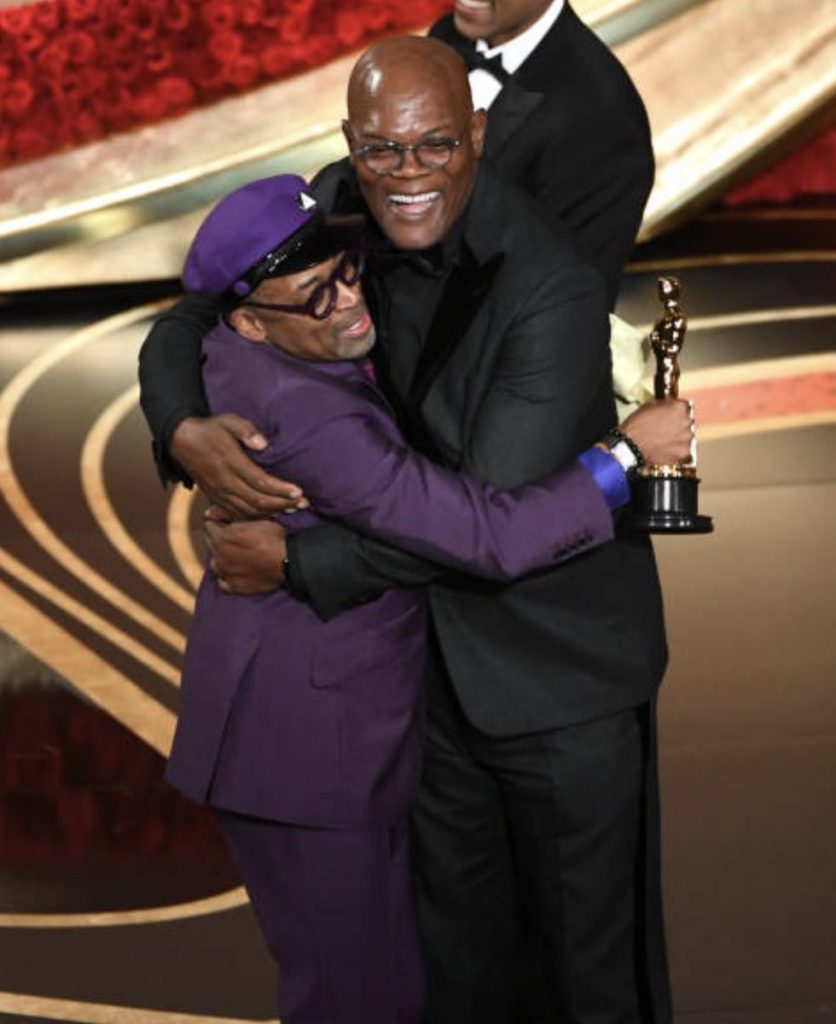 "The 2020 presidential election is around the corner. Let's all mobilize, let's all be on the right side of history. Make the moral choice between love versus hate. Let's do the right thing! You know I had to get that in there," Lee said.
President Trump took exception to Lee's comments in a tweet Monday.
Lee has not yet responded to Trump but did have much to say following his win last night. It was noted that he was displeased that" Green Book" won Best Picture.
As for "The Green Book", Mahershala Ali won his second Oscar for Best Supporting Actor his role as Dr. Shirley.
"Dr. Shirley was the best opportunity that had ever come my way at that point," Ali said. "That was the most present I had ever been in a project."
Carter made history as the first African American to win for Costume Design for her work on the blockbuster Black Panther. Carter has been known for her expertise in design detail and was previously nominated in in 1993 for her work on Spike Lee's "Malcolm X" and Steven Spielberg's 1997 slave-ship drama "Amistad." Carter thanked Lee for giving her a start in the industry.
"Wow, I got it. This has been a long time coming," she said, with a laugh. "Spike Lee, thank you for my start. I hope this makes you proud."
"Marvel may have created the first black superhero, but through costume design we turned him into an African king," she said. "It's been my life's honor to create costumes."
Hannah Beachler became the first African-American to be nominated for win the Oscar in production design. She thanked Marvel, the production staff and Black Panther director Ryan Coogler for helping her to achieve this moment.
"I stand here stronger than I was yesterday. I stand here with agency and self-worth because of Ryan Coogler. You not only made me a better designer, a better storyteller, a better person, I stand here because of this man who offered me a different perspective of life, who offered me a safe space, who's patient and gave me air, humanity and brotherhood."
In total, "Black Panther" ended the evening as a multiple Oscar winner and giving Marvel Studios the distinction of its first Oscar win as well. The Wakanda drama won three awards out of the seven it was nominated for.