Summer Youth is one of New York's most effective programs for providing economic and professional opportunities to over 75,000 youth ages 14-24 in New York City. However, It was announced in March that Summer youth was defunded and cancelled due to the financial constraints of the COVID19 crisis.
However,  Mayor De Blasio wants to realistically move away from the riots and protests that have occurred due to remnants of discrimination and police brutality, it is imperative he supports our youth with peaceful opportunities during this perilous time of need.
In May, The New York  City Council interviewed, Commissioner Bill Chong, on progress of the suspended Summer Youth Employment Program. When asked about insights and possible alternatives, the commissioner answered, "We're not ready to share details but I am confident that there will be an alternative remote SYEP program this summer." 
"the uncertainty over how Covid-19 will continue to affect social distancing guidelines, worksite availability, and provider and site staffing as we head into late spring and summer makes it difficult to ensure that SYEP can be operated safely and efficiently." Explained by Mr. Chong in regards to the SYEP program.
During the hearing, different Council members offered some alternatives which allow young people to work while ensuring public health first. Some proposals were working for Census outreach, remote working such as working the phones or project based learning opportunities. City Council members were not the only one to come up with ideas.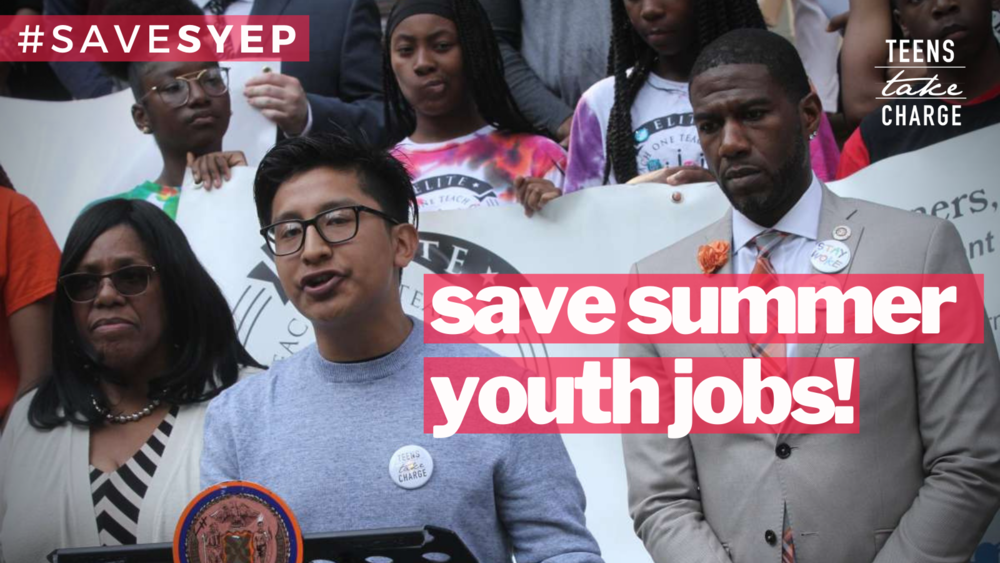 The Youth have been taking charge of their destinies by organizing with each other to fight for Summer Youth. The youth led organization, Teens Take Charge, work closely with public officials and public advocates in order to combat the de-funding of the program.
On their website, the organization released their PLAN TO SAVE SYEP. In their plan, the Youth proposed to work in community research and civic service such as organizing donations, staffing government call centers or census workers. Further working alternatives are coding, on-line research, conducting customer service call entering data. One young freedom fighter that has stepped up to the plate is Carmen Lopex Villamil.
"Our proposal is to decide at least 75,000 students with remote jobs and stipends of $1,000. We also demand that youth be included in planning every facet of this summer's program," wrote Carmen Lopez Villamil who is a co-leader of Teens Take Charge's #SaveSYEP Campaign. 
"Over half of the New York City Council supports our plan, and nearly 100 community based organizations have signed on. More importantly, over 33,000 individuals support our campaign for the reinstatement of SYEP", continued Ms. Lopez Villamil. 
In the summer of 2018, Carmen, herself, was employed under Summer Youth. She worked as a research intern at a molecular biology lab where she planned, executed, and analyzed a molecular biology project with a group of other interns and scientists. She describes her experience as empowering as it not only gave her opportunities but also adult mentors and a strong network of friends. For many youth like Carmen, SYEP is a once in a lifetime opportunity.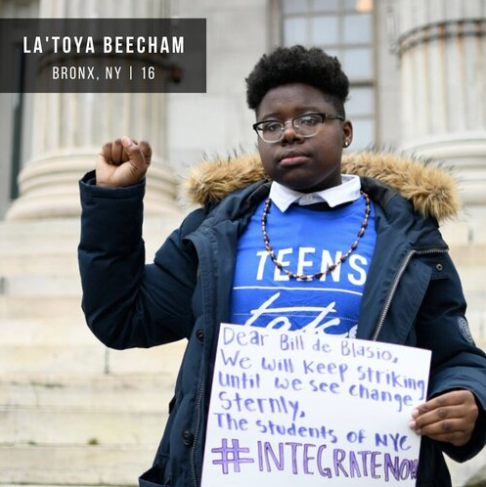 Another leader of the #SaveSYEP campaign, La'Toya Beecham, wanted to work under SYEP this summer. She was planning on working with children in a summer camp.
La'Toya wants to become a pediatrician and her gained work experience would have helped in deepening her understanding of child behavior. Moreover, she believes the program would help her build her character as well as offer her exposure to potential career path options. 
Work and life experience are not the only positive aspects SYEP offers. In La'Toya's case, her earned  money would have helped her father in paying for her school supplies as well as other essential things. 
@TeensTakeCharge #saveSYEP pic.twitter.com/B6yxDgT5fa

— La'Toya Beecham (@BeechamLatoya) April 8, 2020
La'Toya Beecham is a sophomore at HERO High School in the Bronx, a youth ambassador at HERE to HERE as well as one of the leaders of the Teens Take Charge #SaveSYEP campaign. She also has friends that live in financial burden and are in need of the money earned through SYEP.
"One of my friends expressed her frustration on how she was going to use those funds for senior dues next year and my other friend said she would put it towards her tuition. Canceling this program puts thousands of families in a bad place," explained La'Toya. 
Given the financial burden on families and students, Teens Take Charge demand that the DYCD maintain 75,000 Summer Youth Employment Program placement for NYC youth ages 14-24, provide a stipend of at least $1,000 to participants and an $800 per participant fee to providers as well as engage youth for at least 75 hours across 6 weeks of programming.
Stand with our youth and city Council members and help us save the Summer Youth Employment Program!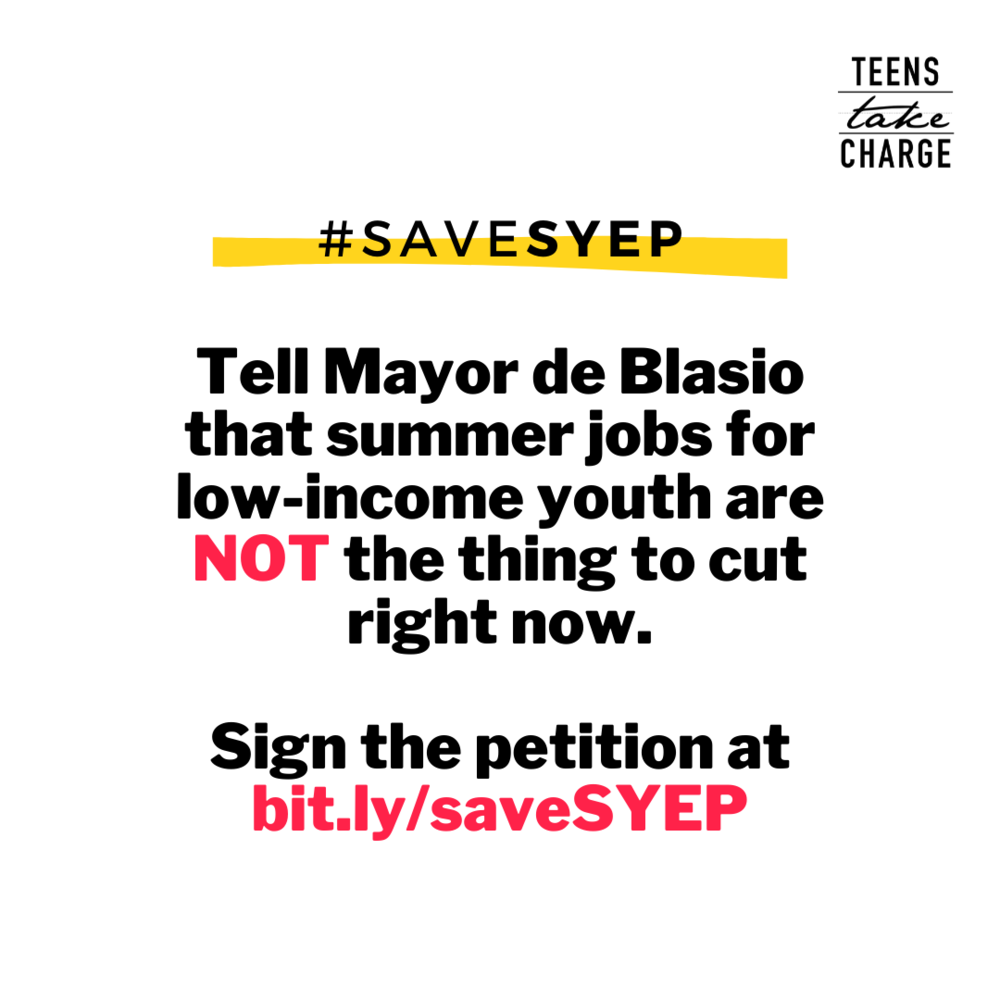 Ways You Can Help!
Written by Alexander Parisel