Families of New Yorkers killed by New York City Police Officers have demanded defunding the police department, and end to police secrecy, and accountability. The mothers, fathers, sisters, and brothers of police victims will march in solidarity with the families of George Floyd, Breonna Taylor, and Tony McDade tomorrow June 9,2020 at 5pm. More details below!
When: Tuesday, June 9, 2020. Gather at 5 pm. Rally will begin at 5:30 pm.
Where: City Hall at Chambers Street and Park Row
What: On Tuesday, June 9, 2020 at 5 pm at City Hall, nearly 20 family members of New Yorkers killed by police between 1973 and 2019 will come together with their supporters to demand the immediate defunding of the NYPD by at least $1billion, the repeal of 50a – the "Police Secrecy Law" and passage of special prosecutor legislation, and dismissals of NYPD officers involved in their loved ones' deaths and recent misconduct and violence.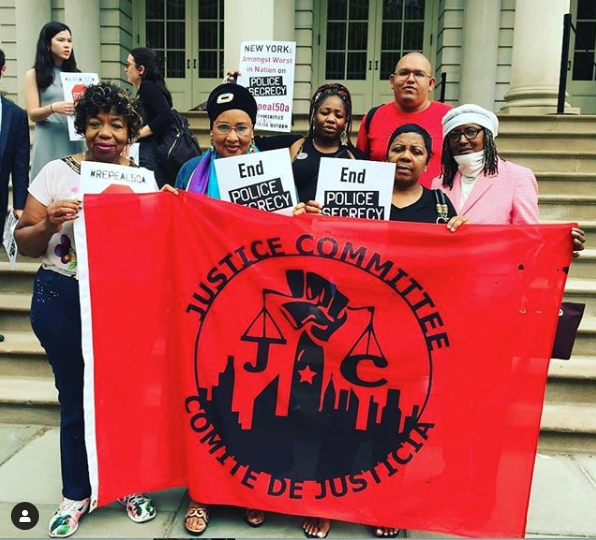 This action is being called by:
Valerie Bell, mother of Sean Bell, killed by NYPD in 2006
Constance Malcolm, mother of Ramarley Graham, killed by NYPD in 2012
Natasha Duncan and Angie Hicks, sister and aunt of Shantel Davis, killed by NYPD in 2012
Gwen Carr, mother of Eric Garner, killed by NYPD in 2014
Victoria Davis, sister of Delrawn Small, killed by NYPD in 2016
Kadiatou Diallo, mother of Amadou Diallo, killed by NYPD in 1999
Hawa Bah, mother of Mohamed Bah, killed by NYPD in 2012
Hertencia Petersen, aunt of Akai Gurley, killed by NYPD in 2014
Carol Gray, mother of Kimani Gray, killed by NYPD in 2013
Nancy Pacheco, sister-in-law of Jayson Tirado, killed by NYPD in 2007
Iris Baez, mother of Anthony Baez, killed by NYPD on 1994
Shawn and Gladys Williams, parent of Antonio Williams, killed by NYPD in 2019
Eric and Lorna Vassell, parents of Saheed Vassell, killed by NYPD in 2018
Jennifer Gonzalez-Dioud, mother of the son of Kenny Lazo, killed by Suffolk County Police in 2008
Caroline Lopez, mother of Carlos Lopez Jr., killed by NYPD in 2003
Ellen Trawick, mother of Kawaski Trawick, killed by NYPD in 2019
Gloria Torres, mother of Kadeem Torres, killed by NYPD in 2017
Darlene Armstead, sister of Clifford Glover, killed by NYPD in 1973
###
—
Justice Committee
facebook.com/justicecommitteeny
instagram.com/justicecommittee/
youtube.com/justicecommitteeny