By Adedoyin Ogunjobi
There's no explaining how Christmas hits us so fast after Thanksgiving. It's almost like a BOGO sale. After Christmas, African-Americans seem to jump straight to finding New Year's Eve party outfits and planning out their new year resolutions. We tend to forget that there is another holiday after Christmas. A holiday that is more spiritual, filled with lessons and importance other than giving gifts. That holiday is Kwanzaa, my brothers and sisters.
It is the one true holiday where we get to celebrate African culture and traditions. Why is it that when we do have the chance to celebrate ourselves other than the month of February, Black history month, we don't? Maybe we need to educate ourselves better so we can start celebrating our roots. So here are seven interesting facts that will get us started in the future.
1. Who started Kwanzaa?
Kwanzaa was created by activist-scholar and author Dr. Maulana Karenga in 1966. Karenga is a professor and chair of Africana studies at California State University in Long Beach. On Dec. 29, the International African Arts Festival and the National Association of Kawaida Organizations, will host a Kwanzaa celebration in Brooklyn with Dr. Karenga and performances by the Donald Smith Quartet and the Asase Yaa African Dance.
2. What is Kwanzaa and what does it mean?
Kwanzaa is an African-American and Pan-African holiday. It is a cultural holiday and not to be mistaken as a religious observance. Its name stems from the Swahili phrase "matunda ya kwanza" meaning "first fruits." The colors of Kwanzaa are black for the black people, red for the struggle of black people and green for the future and hope that comes from the struggle.
3. When is Kwanzaa?
Kwanzaa was first celebrated in 1966. It is celebrated for a week from December 26 to January 1st.
4. Why was Kwanzaa created?
In the middle of the Black Freedom movement, Kwanzaa filled a void in many ways through the seven principles and symbols. It helped reinstitute African roots, unity amongst the community and emphasised the values within the seven principles and symbols.
5. How is Kwanzaa celebrated?
Kwanzaa is celebrated for seven days. In preparation for the holiday, a place for the Kwanzaa decorations should be chosen. Incorporating the seven symbols, African cloth is spread on a table followed by a traditional mat called Mkeka for all the symbols to be placed on it or beside it. In similarity to Hanukkah, Kwanzaa requires lighting candles daily. A candle holder known as the Kinara and the seven candles known as the Mishumaa Saba are placed in each holder.
One black candle is lit and placed in the center on the first day of celebration representing the first principle Umoja, which means unity. Placed on the left side of the black candle are the red candles and to the right of the black are the green candles. For the remaining six days, a candle is lit from left to right symbolizing the people always coming first followed by their struggle and then hope.
A few more decorations are placed on the mkeka, crops which are known as mazao and at least two ears of corn. A special cup called the Kikombe cha Umoja, follows, it is used to pour a drink known as Tambiko. It serves as a tribute to the ancestors. Lastly, to portray commitment and learning, African art objects including books are placed too.
On January 1st, the celebration of Kwanzaa ends with meditation which includes reflections of self and life. Though this holiday is strongly rooted in African culture and traditions, gift giving is present and is generally for children but must incorporate a book stressing African values, traditions and a heritage symbol at all times.
6. Symbols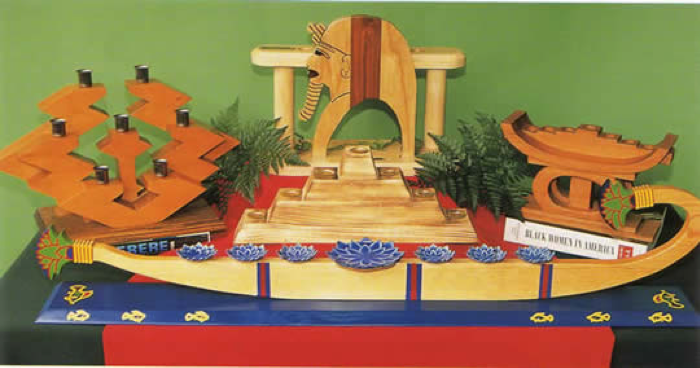 1. Mkeka (The Mat)– demonstrates tradition and history.
2. Kinara (The Candle Holder)– demonstrates continental Africans.
3. Mishumaa Saba (The Seven Candles)–demonstrates the seven principles.
4. Mazao (The Crops)–demonstrates African harvest and it's bounty.
5. Muhindi (The Corn)–demonstrates the children and future they hold.
6. Kikombe cha Umoja (The Unity Cup)– demonstrates unity.
7. Zawadi (The Gifts)– demonstrates the hard work and love of parents while also representing kept promises by children.
8. Bendera (The Flag)– demonstrates the national colors of continental Africa chosen by Marcus Garvey.
9. Nguzo Saba Poster (Poster of the Seven Principles)
7. Seven principles