HABARI GANI!
Kwanzaa is a pan African holiday that celebrates African history, culture and heritage. Created by Dr. Maulana Karenga in 1966, Kwanzaa was a means to unify people of the African Diaspora in order to celebrate our heritage and pay homage to our ancestors. It begins from December 26th and ends January 1st. During Kwanzaa, the seven core principles, Nguzo Saba, are followed in order for pan Africanists to grow mentally and spiritually.
Umoja: Unity – We must unite the family, community, nation and race
Kujichagulia: Self-Determination – Taking responsibility for our own conduct and behaviour
Ujima: Collective work and responsibility – We must work to help each other in our communities
Ujamaa: Cooperative economics – We must work to build shops and businesses
Nia: Purpose – As pan Africanists, we must remember and restore African and African American cultures, customs and history
Kuumba: Creativity – We must use our creativity and imagination to make our communities better
Imani: Faith – Finally, we must believe in people, families, leaders, teachers and the righteousness of the African American struggle
During Kwanzaa, a candle is lit in recognition of each principle. The red, black and green candles are placed in a candle holder called a kinara. The black candle is placed in the middle and lit first, and then alternates between the red and green candles for the remaining days. Approximately 30 million people celebrate Kwanzaa worldwide.
However, in the United States, only 2-4% of Americans celebrate Kwanzaa. Kwanzaa was extremely popular during the 1960's however, it became less popular during the 1990s. Now, during the millennial era, it seems as though Kwanzaa is being phased out even more.
WHY ISN'T KWANZAA BEING CELEBRATED ENOUGH?
Jacintha Mondesir, a High School Guidance Counselor, says she does not celebrate Kwanzaa because of her Christian background. She states that Kwanzaa has declined in popularity because, "Many people follow religious traditions and don't necessarily tap into their cultural roots." However, Mondesir believes that Kwanzaa can make a comeback since " African popularity is on the rise" with the record breaking release of Black Panther and the introduction of Afro-beats into mainstream media. Although Mondesir does not celebrate Kwanzaa, she believes that Kwanzaa should still be celebrated and "people could even throw Kwanzaa parties to create more awareness."
In addition, Vanessa Deravin, a Haitian American Special Education Teacher, was a participant of the 2017 Kwanzaa Crawl. She states, "They do a ceremony before they head out, so they speak about it a little." However, when asked if the Kwanzaa Crawl is an effective way of getting people to learn more about or promote Kwanzaa traditions, Deravin stated, "No, because people essentially just want to have fun." She did note that it was "fun seeing all those beautiful black people together in the room."
In addition, Nii Opare-Addo, a born Ghanaian who came to America when he was 14, states, "I don't celebrate Kwanzaa. I never even knew about it until I came to America." When asked if he would be open to celebrating Kwanzaa, he adds, "I'm open to participating in it. I love the ideology behind it. I just think it's bad timing that Kwanzaa is being celebrated at the same time Christmas is. I think the only big thing I hear about Kwanzaa is the Kwanzaa Crawl. People use it as an excuse to get lit."
According to Jamaal Roberts, a New York City native, he claims that he doesn't celebrate Kwanzaa. " I wasn't raised to celebrate Kwanzaa. I was taught to celebrate Christmas," he states. When asked why Kwanzaa isn't as popular as Christmas, Roberts adds, "Society does not want to promote Black culture."
Nigerian chef, Hema Agwu, believes that "Kwanzaa seems too contrived." He believes that "culture usually comes from traditions continued over time" and Kwanzaa does not necessarily reflect that. On the other hand, Amalia Herrera, a preschool teacher, believes "Kwanzaa should be taught in school like every other holiday." She argues that there is a lack of awareness on Kwanzaa because it's not taught in schools. She doesn't practice Kwanzaa because she never learned about it growing up.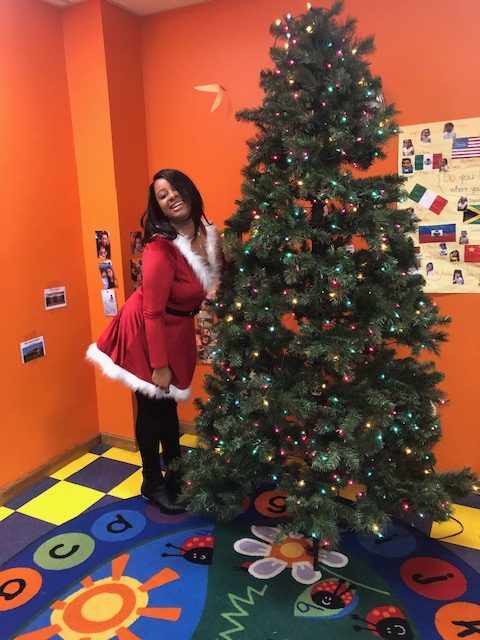 Indeed, the Kwanzaa Crawl can be one way for the African Diaspora to connect on a social level, but there are more ways to introduce and instill Kwanzaa principles into our daily lives in a more meaningful way.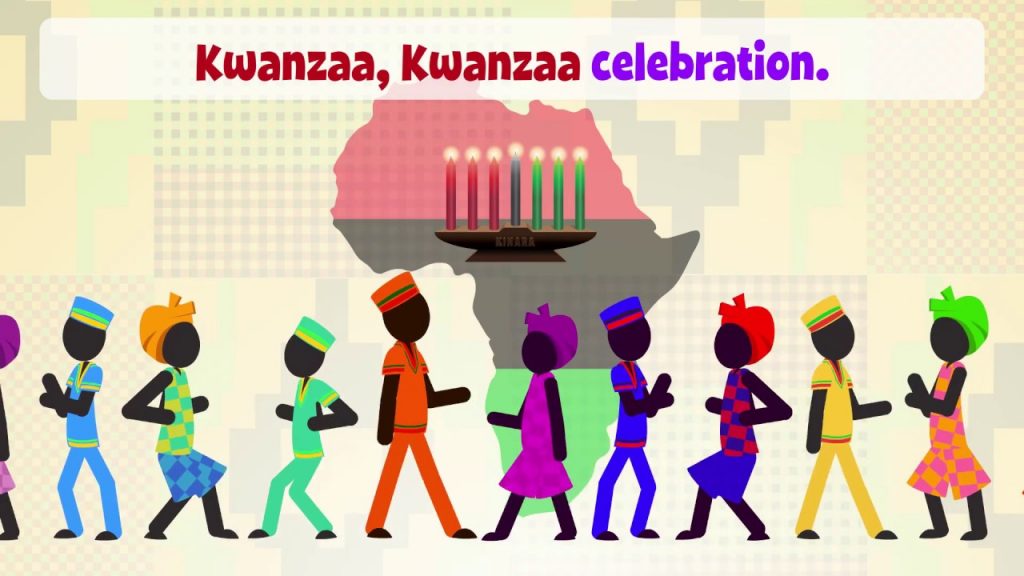 HOW DO WE INTERNALIZE KWANZAA?
Just like Amalia, and many other NYC residents who are familiar with Kwanzaa, there needs to be more awareness of Kwanzaa related events other than participating in social libations. There are more ways to celebrate our heritage and culture with positivity and pride that include friends, families and people of all ages. Check out some of the Kwanzaa themed events below.
KWANZAA EVENTS 2018:
CELEBRATING KWANZAA IN YOUR HOME: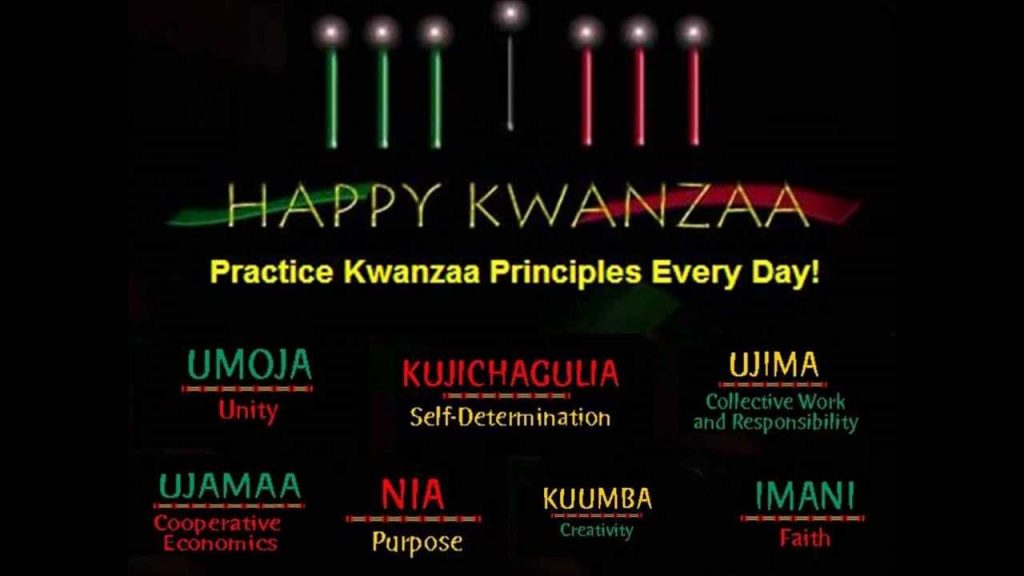 Even though Kwanzaa may not be strictly celebrated by many African Americans in the U.S., it is still possible to practice these principles during our daily routines as well. Here are some ways that Kwanzaa can still be celebrated throughout the year while remembering the ancestors.
Umoja: Unity- Starting or joining a club that is centered on positively promoting African culture is one way to unite our race. Creating a fundraiser within our school communities is a perfect way to show our youth that we are still heavily invested in their interests.
Kujichagulia: Self-Determination – Create a vision board! Write down a list of personal, professional, and future goals for the upcoming year. Make a list of things you want to accomplish within that year and attack it relentlessly. In order to make our community better, we must first make sure we are actively bettering ourselves.
Ujima: Collective work and responsibility – Join the community board in your district, take on a leadership role at your job, or volunteer at your church or local shelter.
Ujamaa: Cooperative economics – In 2018, Ujamaa seems to be one of the most dominating principles. With the emersion of apps, development of social media, and entrepreneurial spirit, Black owned businesses have increased 34.5% since 2007. By creating our own businesses, we can provide career opportunities for more Black Americans.
Nia: Purpose – How does one live with purpose? Read! Read about your past, your history, how our ancestors made it possible to even celebrate our Blackness freely. Or you can modernize your reading by picking up the latest books from our favorite Black authors and celebrities.
Kuumba: Creativity – Tap into your creative side. Write down 3 things you like to do the most and then research ways you can use your talents to better your community. If you enjoy writing, why not write for website that promotes positive Black culture? Like cooking? Start your own YouTube channel. See something missing in the market for people of color? Create it.
Imani: Faith – Lastly, but most importantly, we must always believe in ourselves, our leaders, our teachers, brothers, sisters, friends, neighbors etc. If we don't have faith in our own, then our community would not be able to stand on its own.
Let's not forget why Kwanzaa was created in the first place. We need to celebrate traditions that help us grow together spiritually, financially and mentally. Aside from social gatherings and the occasional partying, Kwanzaa can definitely be celebrated in any fashion whether it's in your home, at  the museum or the local coffee shop. We must unite in remembering Kwanzaa, its 7 principles and honoring our ancestors.
Amani iwe na wewe