By Dana Mitchell
As Halloween draws to a close, most people are gearing up for the final opportunity to put on their best costumes and paint their faces. Every year, Halloween makeup tutorials trend on YouTube and social media as people look for creepy, scary looks or cute, soft looks. For most, Halloween is a time to dress up and transform themselves into someone or something else.
Each year the question of whether it is appropriate for white people to wear blackface resurfaces. The most recent debate was set off by NBC anchor, Megyn Kelly, who made headlines after questioning whether wearing blackface was racist because when she was a kid it was okay 'as long as you were dressing like a character.'
Some people think that is appropriate for white people to wear blackface arguing that it adds to an individual's costume if they are dressed as a black person. Even some black people are of the belief that it is all in good fun and should not be taken seriously.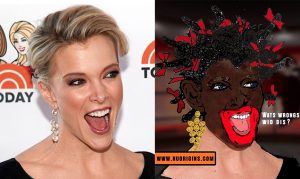 Those who strongly disagree think it's racist towards the black community as it hearkens back to a time when white people would wear blackface for minstrel shows. Dating back to the 1800s, minstrel shows were comedic entertainment shows where white people – mostly white men – would smear either black shoe polish, greasepaint, or burnt cork on their faces and over line their lips with red, white, or nude lipstick.
Minstrel shows were used to mock black people and their features. Stereotyping and disrespecting the black race for the entertainment of others. In the show, they would act over the top, unintelligent, unpleasant and like criminals. Blackface heightened the stereotypes of black people as scary. One of the most famous characters and names to come out of minstrel shows was Jim Crow, which later became the term used for the segregation laws in the South.
Following the backlash from her comments, Kelly retracted her statement and issued an apology. This didn't stop NBC from canceling her morning show, 'Megyn Kelly Today.' It is alleged that Kelly's blackface comments were the final straw for NBC, but low ratings and viewership are said to have played a part as well. This is not the first time that the anchor has courted controversy. During her 13-year stint at FOX, she famously insisted that Santa and Jesus were white. Prior to this incident at NBC, she came under fire for appearing to encourage fat shaming and her hostile interviews with Jane Fonda and the cast of Will and Grace. While her show has been canceled, it remains unknown what's next for Kelly as she is still employed by NBC.