Sen. Elizabeth Warren did not come to play during the Democratic debate in Nevada where she wasn't asked any direct questions about the black community but managed to provide all of the answers.  
Warren, D-Mass., mixed verbal jabs and jokes, finding a way to both entertain her audience and inform them about her policy plans on Feb. 19. While she could have simply made general points during the debate, she found a way to anchor them all in the black community.
When speaking about raising taxes on the wealthy like billionaire presidential hopeful Michael Bloomberg, Warren mentioned black and brown childcare workers who are exploited.
"This is a tax on the top one-tenth of one percent in America. And it permits us to start to restructure our economy," Warren explained. "It means we can afford universal childcare for every baby in this country, age zero to five…It means we can raise the wages of every childcare worker and preschool teacher and stop exploiting the black and brown women who do this work."
She drove her point home by revealing how that tax money can be invested in Historically Black Colleges and Universities.
"We can do college. We could put $50 billion into our historically black colleges and universities," Warren said. "And we could cancel student loan debt for 43 million Americans."
The senator didn't wait for moderators to call on her, she cut off former U.S. Vice President Joe Biden who was asked about his plans to give tax cuts to small Hispanic businesses. While Biden focused on the answers he needed to give the Hispanic community, Warren cut in and brought the black community back into the conversation.
"We have an entrepreneurship gap in America. And that is a gap between white entrepreneurs and black and Latino entrepreneurs," she said. "And the principal reason for this is they don't have the money for equity to get the businesses started."
More than just speaking about problems that exist, Warren found ways to share her plans to solve them.
"It's about a $7 billion gap," the senator said. "We want to have real entrepreneurship and a level playing field."
One of the biggest moments of the night took place when multiple candidates called out Bloomberg for his racist policies as the former mayor of New York City. While on the campaign trail, Bloomberg has apologized for unjustly calling for police officers to search millions of black and brown people in the city.
While candidates like Biden and Sen. Bernie Sanders, D-VT, called out Bloomberg on the debate stage, Warren was the only one to poke holes in his apology.
"I do think that this really is about leadership and accountability. When the mayor says that he apologized, listen very closely to the apology," she said. "The language he used is about stop and frisk, it's about how it turned out. No, this isn't about how it turned out, this is about what it was designed to do to begin with."
She put a final nail in the coffin by explaining why people were so outraged by the racist policies.
"It targeted communities of color. It targeted black and brown men from the beginning," she said. "And if you want to issue a real apology, then the apology has to start with the intent of the plan as it was put together and the willful ignorance, day by day by day, of admitting what was happening even as people protested in your own street, shutting out the sounds of people telling you how your own policy was breaking their lives. You need a different apology here, Mr. Mayor."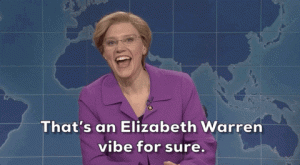 Make no mistake, Warren has had issues with the black community. Her questionable campaign team has been accused of only bringing diversity in to fill a quota instead of contribute any real ideas.
Still she has gotten endorsements from black organizations like the Black to the Future Action Fund and Black Womxn For. While Warren's political future remains to be seen, she has been sharing detailed plans for the black community.
To check it out along with information about Elizabeth Warren, click here.