Dark clouds gather and skim the upper shelf of Congo's vast, dense rainforests. Thunder rumbles in the distance mixed with intermittent flashes of lightning. Suddenly the sky opens up, and the downpour brings heavy, splattering rain rolling down the open pits and tunneling through the underground cobalt mines. Workers young and old lug sacks of soil and minerals, their bodies drenched, but otherwise seemingly undaunted by the torrential rainfall. It's a common scene played out day after day at mines throughout the Democratic Republic of Congo (DRC), which alarmingly includes, amidst these harsh conditions and grueling work, the use of illegal child labor.
The feverishly-sought mineral cobalt, used to make lithium batteries for a number of wireless tech devices and electric cars, has become one Congo's chief mineral exports. In 2018, cobalt's market price spiked as the demand for newer and better smartphones, laptops, electric cars, and other lithium battery-operated products grew larger and more demanding. With the surge in cobalt prices came profit for Congolese-based mining companies like Tamoko Copper Company, owned by international mineral conglomerate Glencore, and China's Molybdenum located near Kolwezi, Congo. In 2018, 72% of the world's cobalt was sourced from Congolese mines, according to a July 2019 Financial Times article, which puts the poor Central African nation at the heart of the rapidly evolving technology boom. Yet this industry has an infamous and insidious dark side.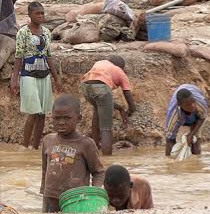 Indeed the subject of mining cobalt and other minerals in the DRC, and the industry's pervasive use of child labor to extract the high-priced ore has been an ongoing, international controversy, that until very recently was viewed solely as a problem indigenous to Congo. But late last year International Rights Advocates (IRA), an NPO that defends victims against human rights abuses committed by multinational companies, filed suit in the U.S. against some of the largest tech companies in the world including Apple, Google, Microsoft, Dell, and Tesla. The suit was filed on behalf of the families of child victims hurt or killed working in the cobalt mines and alleges that these companies, and many others who use batteries with cobalt sourced from the DRC, were both aware and complicit in the use of child labor to extract the mineral.
The evidence which formed the basis for the lawsuit was part of an independent research study conducted by Auguste Mutombo, Executive Director of the DRC-based NGO Alternative Plus and Harvard academic and anti-slavery economist, Siddharth Kara, designed to examine the use of child labor in the Congolese-based mining industry. The results not only confirmed the widespread use of child workers in cobalt mines, some as young as 7 years old, but the study uncovered evidence that lithium battery production companies, such as Umicore, as well as the tech companies that purchase those batteries, were both aware and complicit in the use of child labor to source the necessary cobalt. According to a report issued by Enough Project, a NPO established to expose corruption in international business practices headed by Founding Director John Prendergast, "Cobalt production in Congo is…makred by human rights abuses including child abor in the mines." Equally troubling, in addition to having full knowledge of the use of child labor in the mines, the suit alleges that these companies were full aware of the dangerous and deplorable working conditions these children are forced to endure.
What is likely to be a landmark lawsuit against probably the largest and most influential business tech companies in the world, the lawsuit is also seeking accountability from mining giants like Glencore and Zhejiang Huayou Cobalt, as well as the companies that manufacture the lithium batteries used in so many wireless and handheld devices. The lawsuit may also set it sights on the automotive industry who use Congolese-sourced cobalt for lithium batteries used in electric cars produced by companies like Daimler and Volkswagon. Besides violations to Congolese and international child protection laws, in many Western countries like the United States and Germany, it is illegal to purchase or import products made with the use of child labor during any stage of manufacture. While the family members are suing for monetary compensation, should the outcome be found in favor of the plaintiffs, the resulting verdict could permanently scar the reputation of some the largest corporations in the world.

According to Faustin Adeye of Misereor, a faith-based organization founded by German Catholic bishops, "The working conditions in the Congolese mines are miserable." Yet despite the agreement among the UN, the U.S. and scores of human rights advocates regarding the horrible conditions and illegal use of child labor in the DRC, research projects, such as the study conducted by Kara and Mutumbo are something of a rarity. In fact, as of a 2018 report by the United States Department of Labor, "a child labor survey has never been conducted in the DRC," which makes understanding, combating, and preventing the use of shild labor difficult. Research of this kind is very often done with no assistance from and outside the purview of the Congolese government.
Contrarily, there seems to be more evidence to suggest that the Congolese government is at best an impediment to combating the problem of child labor and at worst complicit in its use in the mines throughout the nation. The 2018 U.S. Department of Labor report made clear that the DRC has made "minimal advancement in efforts to elimintae the worst forms of child labor," by noting, as of 2018, worksite inspections were not conducted for at least three years, despite the ability of inspectors to visit jobsites unannounced, has allowed large mining firms in Congo to utilize child labor and maintain dangerous, even deadly working conditions with relative impunity. Though UNICEF estimates that at least 40,000 children work in cobalt mines across the DRC, when worksites were inspected, firms were rarely reprimanded and far fewer were prosecuted for violations of Congolese Labor and Child Protection Laws. Between 2017 and 2018 worksite violations more than doubled (from 1,031 to 2,255), yet in 2018 just 13 prosecutions were initiated resulting in only 2 convictions.
On the other hand, those that have campaigned for human rights in Congo have often been subjected to harassment, intimidation, false imprisonment, and violence. For instance, as a result of his connection to the IRA's lawsuit, Auguste Mutumbo and his family, as reported recently by The Guardian, felt compelled to leave their home in Congo and take up new resident in neighboring Zambia. Likewise, Siddharth Kara has also admitted to feeling threatened and felt the need to take extra precautions. Nevertheless, fears of this kind are not a recent phenomenon in the DRC.
In the past decade there have been several incidents of intimidation and violence against human rights and democracy advocates in the Democratic Republic of Congo that have attracted international attention and condemnation. One notable case of anti-activist violence happened in 2010 resulting in the murder of the Congolese Human Rights Activist Floribert Chebeya. Chebeya, who was a frequent target of threats and intimidation by the Congolese national police force (PNC), was found dead in the backseat of his car in June of that year, after he was reportedly scheduled to meet with then-PNC head John Numbi. Numbi was appointed Inspector General of the Congolese Armed Forces in 2018, and as of today it is still unknown whether or not the meeting he had scheduled with Chebeya ever took place. The murder of Chebeya drew immediate international outrage and in response Amnesty International, along with demands for an immediate independent investigation, posted, "Chebeya has been arrested and harassed by authorities in the past but it seems he may have paid the ultimate price for his valuable work."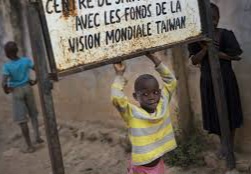 A more recent case of violence against activists in Congo occurred in March of 2017, when two human right investigators, Michael Sharp of the United States and Zaida Catalan of Sweden, along with their interpreter Betu Tshintela went missing and were later found dead in the Central Kasai province in Congo. Similarly in June 2018 Luc Nkulula, a democracy activist and founder and leader of the non-violent opposition group Struggle for Change (LUCHA) was killed in a fire at his home in Goma, Congo. Nkulula led a number of peaceful protests against the despotic rule of former Congolese President Joseph Kabila, as well as campaigned for better access to water in his hometown of Goma. Like Chebeya, Nkulula was continually harrassed and imprisoned and beaten by Congolese police, and though the fire at his home was not officially labeled arson, there are many who have suspected foul play. Kabila did eventually step down as president in 2018, but according to the Congolese constitution Kabila will maintain a Senate seat for life. Yet even under the leadership of now-President of the DRC Felix Tshisekedi, being a human rights activist or involved in lawsuits for same remains a risky proposition.
There are a number of factors that contribute to children working in the mines. Extreme poverty in the Republic of Congo is a prime factor that contributes to children having to work in the mines, instead of going to school. According to a 2016 article by Business Insider, based on GDP, the DRC, at the time, ranked as the poorest nation in the world. The average household income in Congo was just under four hundred dollars annually, and as of this year USA Today ranks the DRC as the third poorest nation on Earth.
Many families are forced to have their children combine school and work. Some of the plaintiffs in the lawsuit against the tech companies claimed their children are forced to work to pay for monthly school fees, despite articles 12 and 72 of the DRC's laws governing free public education. The U.S. Department of Labor's 2018 report on the DRC noted that over a third (37.1%) of children between the ages of 5 and 14 combine school and work.
Yet another factor which drives the use of child labor in the mines is the scourage of corruption in the DRC between business interests and government agencies. According to Transparency International, who ranks levels of corruption in 180 countries, the DRC scores a 19 out of 100 (100 being very clean). The organization also notes that corruption levels are highest when the majority of the wealth in the nation is retained solely by a few well-connected individuals. Such is the case in Congo, where despite the demand for rare minerals like cobalt, poverty rates in the country remain staggeringly high.
Coupled with the high poverty rates, high levels of corporate and governmental corruption in Congo makes speaking out dangerous. The Enough Project's report also noted, "the widespread corruption in the cobalt trade combined with abuses at and around cobalt mine sites and links to state sanctioned violence and grand corruption forms a criminal pillar in Congo's violent kleptocratic system." These factors, exacerbated by intermittent civil wars and breakdowns in governance, create a ripe breeding ground for government and corporations to exploit children for labor and to continue to violate other labor laws relatively unchecked and unpunished.
Vincent Amoroso