As we endure these brutal winter months, many of us girls with kinky/curly textured-hair have to battle the frigid temperatures so that we can avoid breakage and brittle hair. It is effortless for kinky/curly hair to develop single strand knots (or fairy knots whatever you want to call them) because our hair doesn't retain much moisture when the ends are loose. For that reason, protective styling was born! The purpose of protective styling is to protect the ends of our hair and prevent it from breaking so that when spring and summer come around, our natural tresses can be fabulous. Here are five protective hairstyles to wear during the winter:
Braids:
Braids are fun, and there are so many various ways to do them. Box braids are a great protective style because it can last from 3 weeks to a month and there are so many different ways you can style box braids; from putting them into a high ponytail, half up, half down, or even just wearing them in pigtails. Another great protective style of braiding is cornrows. The cover of Beyonce's album Lemonade (2016) showcased Queen B wearing cornrows herself, inspiring people to rock the braids dubbed the "Lemonade braids." Artists like Nicki Minaj and Cardi B have been seen wearing these braids in music videos and red carpet appearances.
Wigs:
Wigs can be the best thing to wear sometimes when you're having one of those days where you just don't want to deal with your hair. are the ideal protective style if you're someone who likes to change up their look frequently. They are quick and easy styles to wear on the go, especially when all you need is to moisturize the hair and braid it down and use a satin wig cap (to preserve moisture of course), pull it on and go. Wigs can be the best thing to wear sometimes because they are so versatile, and they come in so many different lengths, colors, and styles.
Twists:
Twists are beautiful, and there are different kinds; kinky twists, Havana twists, Senegalese twists. Just like box braids, there are various ways to style twists, and they are the perfect style for vacation, especially if you like water activities!
Crochet Braids:
Crochet Braids have been pretty popular recently because not only are the styles cute, but they are super affordable. Crochet braids are almost like weave extensions except you crochet it in (obviously!) The styles vary from wavy, curly, straight hair and it is quick and easy to do. Crochet braids are so comfortable that they have made way for people to crochet box braids, twists, and even faux dread locs!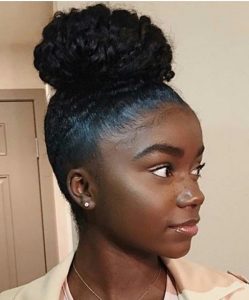 Buns:
The classic bun is one of the best protective styles for girls with kinky/curly hair. Putting your hair in a bun is a sure way to protect your ends from being exposed. Buns don't have to be a simple ballerina bun either; there are fun ways to jazz up a bun and put a creative spin on the classic look! For example, a braided bun, a bun with accessories, or even a bun with extensions that have a pop of color.