"Mori's Family Adventure" is a powerful and positive book  depicting a fun, traveling, beautiful Black family. At breakfast, Mori's dad tells his family that they are going on a trip to South Africa.
How much fun will Mori have in this new mysterious land far, far, away?
The cover of "Mori's Family Adventures" is so beautiful and colorful you can't help but get excited. The cover depicts Mori, with his hands in the air, while his family is riding in a jeep through a land filled with exotic animals like giraffes, elephants, and monkeys. This fun-filled book was written by Geizsel Godoy and illustrated by David Lenormand. 
"Mori's Family Adventure" is a powerful and positive book depicting a fun, traveling, beautiful Black family. Mori, the main character, is a boy with an eye for fun.
Suddenly, his father tells his family that they are going on a trip to South Africa. Reading "Mori's Family Adventure" is an adventure and bonding moment that your child will love.
(Me, My Son Jameel, and Author Geizsel Godoy)
My son and I came to purchase "Mori's Family Adventures" while at The Black Comic Book Festival at The Schomburg Center For Research a few weeks ago. I gravitated toward this book because of the beautiful colors and joy-filled illustrations of the Black family.
My son Jameel was actually the one who picked up the book first. When I became a mother three years ago, I knew how important it was to make a conscious decision to find books and videos with characters that looked like our family, a Black Family, Black and beautiful in its entirety. 
Growing up, I suffered a lot of issues that stem from not loving yourself. It was rare to find positive representations for people of African descent.
I used to hate being black, feeling like I could never be beautiful and that God made a mistake making my skin tone the color of cinnamon and sandalwood.
I remember how people used to make fun of my skin color or hair. I remember looking in the mirror wondering what I would look like if I had thinner lips, a smaller nose and straight hair.
Digging deeper, I discovered that what I experienced as a child was not just a personal experience secluded to me alone. It was a racial experience rooted deep in Eurocentric propaganda. 
A 2018 CCBC study found that there is a huge gap regarding diversity in the publishing industry. The study revealed that publishers were more likely to produce books with white or animal main characters rather than other ethnic groups.
In fact, whites accounted for 50% of main characters in book publishing, while African American main characters counted for 10% and Latinx main characters counted for 5%.
Thankfully books like "Mori's Family Adventures "by Geiszel Godoy are closing the racial gap, exposing our children to new cultures and taking them on an adventure through new lands. I also really appreciate the pictures created for this book.
Illustrator David Lenormand did a wonderful job depicting the joy, fun, and excitement of an African American family traveling to the motherland.
The book starts off with Mori's Dad making the big announcement; "Get your stuff ready we're going on a trip." Mori narrates the book as the family travels throughout South Africa making sand castles on the beach, visiting castles in Sun City, going on Safari's and more.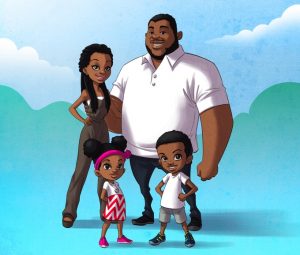 Although many children's books are secular, I really appreciated the mentioning of a higher power in this book. There is a part of the book when Mori and his family are on a Safari and see all the wonderful animals.
Mori is stunned and amazed asking his mother, "Where do animals come from?" She replies, "They come from God, they are God's creation."
Regardless of your religious preference, if you are a spiritual person you will appreciate the reference to a higher power in this book that is lacking in so many other children's books. I also love the fact that Mori's Family Adventures highlights traveling among Black families.
Many times in the African American community we get so wrapped up in trying to provide that we lose sight of whats most important, like being present. Reading Mori's Family Adventures is a great way to bond with your family.
This book is now one of my son's favorite books. He loves to read it when he wakes up and before he goes to bed.
My son Jameel was inspired enough to scream about wanting to travel to Africa! When it comes to the benefits of reading a great book like this to your children, I couldn't have asked for a better experience.
Thanks for creating this book Geiszel Godoy. Do yourself a favor and purchase Mori's Family Adventure's Today!