The jitters before the first day of school are real right now!!! Tomorrow is going to be one of the greatest moments (if not the greatest) of my life when we open the #IPROMISE School. This skinny kid from Akron who missed 83 days of school in the 4th grade had big dreams… https://t.co/PwmRaHRfng

— LeBron James (@KingJames) July 29, 2018


Lebron James is doing a lot more than shutting up and dribbling lately, which is most likely pissing off Journalist Laura Ingram. Being known as the G.O.A.T (greatest of all time) for his presence in the court, many are praising Lebron for his presence and hard work for the community. Last week, residents in the basketball star's hometown, Akron Ohio experienced some of this greatness when Lebron opened up his "I promise" school to almost 250 at risk 3rd and 4th graders. The school is part of a project for the amazing Lebron James Family Foundation which is consistently upholding it's mission to positively affect the lives of children and young adults secede for the future.
Some of the awesome perks for the lucky kids attending this school include:
Free tuition
Free uniforms
Free breakfast, lunch and snacks
Free transportation within 2 miles
A free bicycle and helmet
Access to a food pantry for their family
Guaranteed tuition for all graduates to the University of Akron
It's not only the kids that are receiving great benefits from attending the school, there are also perks for the parents who will be able to be put in job placement programs and also receive help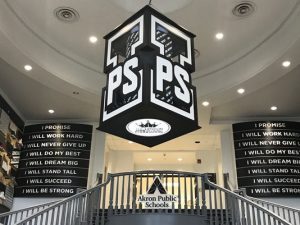 attaining their GEDs. With the help of Akron County educators, the school's curriculum was crafted to specifically help the children of the county achieve better grades whom have been under performing. There will be much more focus on hands on learning and STEM education which is based on education children in science, technology, engineering, and mathematics which will help with problem solving skills. Also to increase year around education, schools will have a later start time and more breaks throughout the year. Right now the school is only open to 3rd and 4th graders but will expand to  1st to 8th grade by 2022 which was said by Lebron James to CNN.
Many people including Michelle Obama herself are already praising James for his hard work in this project.
.@BarackObama and I are so proud of @KingJames and @IPROMISESchool. Kids in Akron and across the US are lucky to have you as a role model on and off the court. Keep using your platform for good and giving our kids a chance to shoot for the stars. 🌟🏀 #ReachHigher #BetterMakeRoom pic.twitter.com/hyS6UM2A7b

— Michelle Obama (@MichelleObama) July 31, 2018
James has given millions to this project and is determined to see every kid that attends the school succeed in one way or another. "We want every kid to walk through this school to be inspired, to come … away with something. Something where they can give back." Said James to CNN.