How to Slay The Book Review
It's a warm May afternoon in my beloved New York City as I sit in Bryant Park. Natives picnicking while enjoying a relaxing read. Tourists experiencing the buzzing city for the first time. Swirling smiles of children singing from the carousel. Art vendors with their latest creations birthed of jewels and crystals. I sit in the small park chair and write on a small green table with my feet in the same plush grass. I can't help but to look at the beauty of my surroundings and appreciate it just a little bit more with the beauty captured in Constance C. R. collection of art. Ms. White is an accomplished journalist, veteran writer and editor.
"How to Slay: Inspiration from the Queens and Kings of Black Style" is much more than a coffee table book. From the very start, you are greeted with a black and white photo showcasing a larger than life ebony toned beauty on the cover. This in a nutshell is the heart of the book. From page to page and from caption to caption, blackness is being celebrated in a way most have not seen. "We" are beautiful. Not just now, not just a particular period, but since the dawn of the ages of time.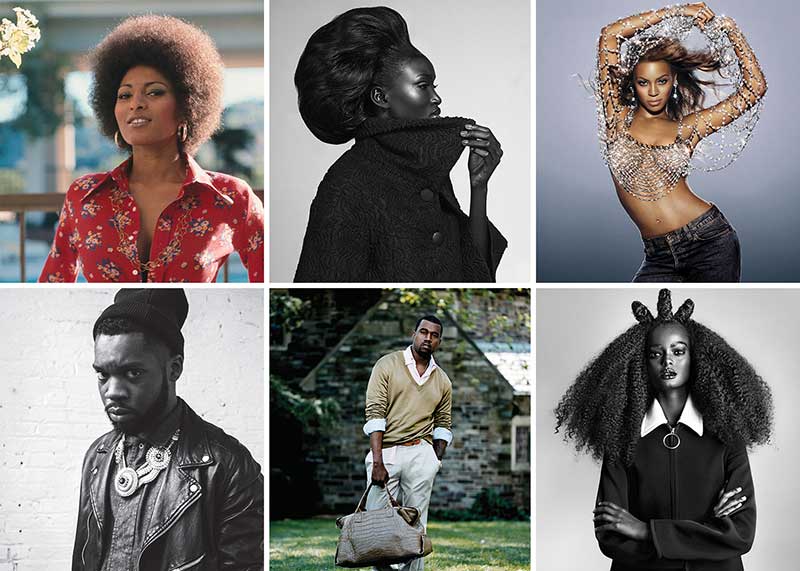 With featured photos of Ms. Josephine Baker and the world renown "banana skirt" to Janet Jackson's "Poetic Justice" iconic goddess braids, "How to Slay" depicts timeless fashion and beauty, reminding all that we are the originators of style and grace. It is the epitome of its title. I personally love the captions, yet in some instances, the pictures tell a story of their own. It allows for the reader to create our own background. As a woman of color in the fashion industry, this body of work is in fact needed. It was needed yesterday, and it is needed now. We have not come as far as most assume we have in the beauty industry. We are not considered the standard. However, dismissed in given credit for the captivating styles we have created and unfortunately duplicated as "new" by mainstream media. This is a grand reminder of what we can achieve collectively.
The entertainers, actors, activists, dancers, athletes, models, boutiques and designers were carefully chosen. It was all purposeful which I can appreciate on a personal level. I can tell as each page glides through my fingers onto the next. The pages cultivated to become its own remarkable gem. Even the distinct placement of the photos have meaning. Chapter one "Original divas" paying homage to our modern beginning of trend setters and some of the originators like Grace Jones, Diana Ross and a young Angela Davis sporting a curly 1960s afro. Chapter three "Ebonics" highlights singers and hip-hop artists like Mary J Blige and MC Hammer. "Afro Chic" showcasing African prints, culture and the direct inspiration it serves in every day fashion to television and the big screen. "Manology" which completes chapter nine starting off the photo collage with a picture of Pharrell. Bringing respect to the men who drip in fashion, style and individuality.
Among the passages, a personal favorite is found in chapter ten "American Classics." The eloquent definition and characteristics of what creates a classic drew me in and allowed me to fantasize about what I considered timeless. There is nothing sweeter than thought provoking verbiage.
"Some of my favorite classics are people. Michelle Obama is a classic. Naomi Campbell is a classic. Lauryn Hill is a classic. Diahann Carroll is a classic. Billie Holiday is a classic. Muhammad Ali. A look or an accessory can be classic too. Kente-cloth and Holland-cloth prints are classics. The afro is classic. The baggy jean. Hip hop with its distinctive XXL sizing, casual style, gold chains, and big earrings are classics at this point. Drake isn't a classic (yet)- he's just dope. Iman's a classic. Ruby Dee, a classic.
An instant classic is oxymoronic. A classic takes time, like a good bouillabaisse. It has to simmer and sit and be tasted along the way."
I am not a classic (yet). Dare I must say to one day be considered a classic or timeless is the goal. I will categorize "How to slay" as a great read. A wonderful depiction of our fashion journey as black people and what we have contributed to the fashion industry and to society. A timeless edition for anyone's library or bookshelf. A keepsake. A fresh peak into what might come by strolling through our past. Inspiration. It is a classic of its own.
Published author, playwright and poet