Hey Black Business Owners!
Are you Looking for more customers for your business?
Have you been affected by the coronavirus pandemic?
Now more than ever it is important for the Black Community to support one another.
You may have tried everything to boost business during this COVID19 pandemic and yet nothing has worked…until now…
Nu Origins is pleased to announce the launch of the       Nu Origins: Black Business Network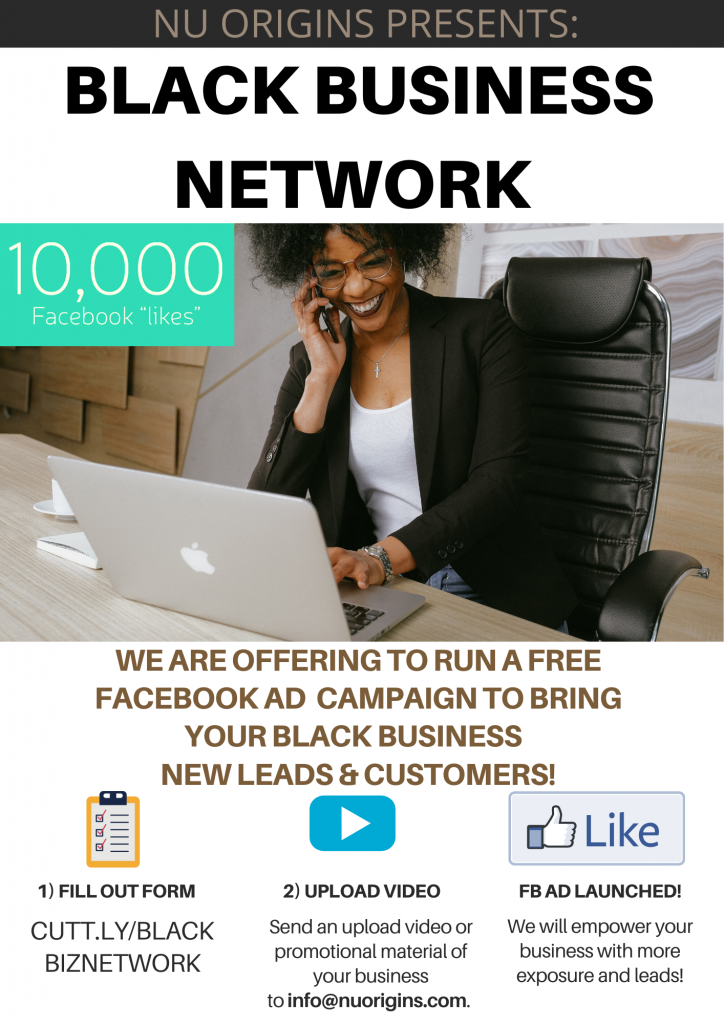 We are offering to run a Facebook Ad for your business for FREE to bring your business quality leads!
Sounds too good to be true?
Giving your business a highlight will educate our readers on phenomenal black businesses in their neighborhood and empower your business with more exposure and leads.
We know these are difficult financial times, so we are offering this service free of charge to the Black community.
All you have to do is complete the easy 2-step process:
 Complete the Form below
Send an upload video or promotional material of your business to info@nuorigins.com. The video can be a demonstration of your business services with contact information and promotions.

For example, Healthy Juice Cafe will record a video demonstration of them preparing smoothies and Healthy food to customers. They will also tell consumers about their 50%OFF Lunch Special and how they can order online with UberEats.