Candace Amos is a Black woman, mother and journalist; three distinct identities that lay the foundation of this powerhouse.
From afar, it would seem as though Amos has it all. Her personal and professional lives are in sync, contentment at home as a mom to a toddler and partner while similar fulfillment comes from being the weekend Social Media Editor at The Daily Beast and co-founder of the lifestyle platform 32Letter. Upon a closer look, the trained eye would see that she's come to this point of abundance after having been through it.
Amos reached an apex in her career last year when she was appointed to a leadership role at The New York Daily News, helming the social media team. She led the team for a year and a half but was laid off in July 2018. In total, she had spent three years at the paper. It was the first layoff for Amos after a decade as a reporter. Amos could've despaired. After all, she had a child at home and bills to be paid. Instead, she leaned into entrepreneurship.
One door closed and she bust down another by focusing on 32Letter.
"32Letter is a platform for women of color in their 30's who are pretty much trying to make it in their careers and just design their ideal lifestyles," Amos said.
"We have a collective of writers who write about everything from how to deal with the bad coworker to how to impress a boss on your first day of work to entertainment and celebrity topics that are kind of like buzzing. I want to touch upon everything because I feel all of these things matter to Black women."
Amos, a fan of podcasts, wanted to parlay her lived experiences in the hopes it would serve as a guide for others.
"I was working and having a job, being in my "career", that was all well and good. At the end of the day, I'm not building up my personal brand. I'm building up the Daily News brand so I felt like, 'You know what? I'm 32. This has been the most interesting year of my life and just navigating it all. Why not put a stamp on it and create something that other people can learn from?'" she said.
Christina Carrega, News Editor at ABC News, co-founded 32Letter with her friend whom she's known since their editorial assistance days at The New York Post. The site will be celebrating its one year anniversary this March. In the time that it's been live, it's strived to allow Black women to stand in their truth. Or at the very least, a space to make sense of it all. In many ways, that's how 32 came about; just two friends bouncing ideas off each other.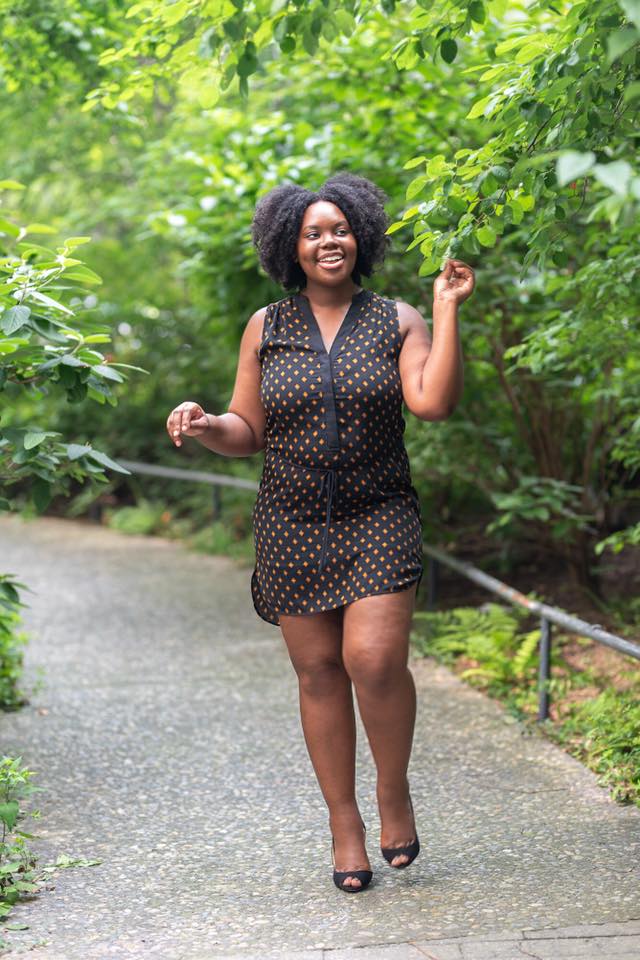 "I like to take notes, the old-fashioned way with paper and pen, so I went over to her apartment, armed with spiral notebooks. As we ordered Chinese food and had something on the TV as background noise, we came up with different ideas and strategies for this unnamed website," Carrega said.
"After coming up with different names and checking if the website names were taken, we came up with 32Letter. We were both 32-years-old at the time and at that point in our lives we had been through so much personally and professionally we wanted to share those anecdotes, failures and triumphs with others."
Imani Henderson has known Amos since they attended High School of Graphic Communication Arts. The two have gone from girls to women sharing their unfiltered stories.
"She's a powerhouse," Henderson, contributing writer for 32Letter, said.
"Being a woman of color in this industry is extremely hard but she decided to put herself out there and she built a platform for herself that's pretty much unreachable."
Henderson, who recently gave birth, detailed her pregnancy through the Maternity Diaries series on the site. There's little doubt that motherhood will serve as more of a muse. She's just fortunate for an outlet that allows her a canvas and camaraderie.
"It's kind of hard to find support, especially when people are in the same industry as you. It tends to get competitive, just catty and we've decided that doesn't exist. We're all just trying to make it and a win for one of us is a win for all of us," she said.
Amos is no stranger to being pitted against others journalists, especially those of color who often have to compete for the few spots in the newsroom. She's cut her teeth at so many places including The Post, Daily News and Us Weekly. Amos has stayed booked and that isn't by chance but sheer talent.
"I have always been a strong voice. I have always brought something to the table that no one else can bring and that's just being connected to my culture and who I am as a Black woman. I think of the time I have spent at tables and we're all pitching stories and ideas and I'm saying something that they can't say because number one, they aren't me , they don't have my skin and also they're just not in tune with that," she said.
"So, I think as Black reporters, I think you've got to fight your way in but once you're in there , it's like you're untouchable; can't nobody say anything about you because again, you're bringing something that they want; something they have no access to and I think that helped elevate me in my career."
Amos credited her 30's for helping to standing firm. The wisdom that has come with age has thickened the coating of her melanin skin.
"I was always warned when I was younger that your 30's are like your calm years in where you just stop caring about what people say about you and all of that and I would say that has been true for me. I remember in my 20's, my life was a little chaotic and crazy, romantic relationships and just uncertainly in my career and not knowing when to speak up and advocate for myself. I think I've learned that a lot in my 30's. Now, I'm just like from the jump, 'What are we doing?'"
"I say that 30's are years that you are truly becoming yourself. You realize looking back, like 'Wow, I came a long way. I worked hard.'"
It was as she entered this formative time in her life that Amos welcomed her first child. He will be two in August and has been a cherished gift to her in more ways than one.
"I made this choice because I felt I did so much. I did so much in my career. I've been working nonstop since I was 14 years old. I've been in the journalism space nonstop since the day I graduated from college," she said.
"So, I just felt, I've given so much to my career, I want to give something to myself and this to me was an opening gift."
If juggling a life, toddler and wading through social media seems like a lot, it is. Amos makes time for herself and her favorite TV show: The Real Housewives of Atlanta.
"Self-care for me, in a general sense, is just doing things I want to do. I don't really watch TV. There's one show. I watch the real housewives of Atlanta. I make sure I have my Sunday nights where I can sit on the couch with my ice cream and watching my show and that's it."
Amos is also aided by the support of good friends who are with and for her. They hold her hand and the bag. Honesty is a must.
"Starting 32 with Candace is a testament to our friendship and professionalism. There's been moments were I have writer's block and don't have anything to pitch or I'm burned out from working full-time and worrying about contributing to the website. I learned to speak up and tell Candace my concerns rather than faking the funk and thinking she won't notice," Carrega said.
"Doing that is dumb because we are a two-woman team, there's no hiding slacking or falling behind in contributing. I learned to become more honest with her in my shortcomings and she has done the same with me. Communication is key in any relationship especially in a business."
As the success of 32 expands, Amos wants to do all she can to take it to the next level. She wants to hire more staff to bring words that can be felt deep down in the bones and stir an audience. The imprint on journalism is not the only legacy she wants for herself.
"I notice that when people see it, they're impressed by it. So, for me it's about selling the product, selling the brand and getting people to actually engage with it to the point where they want to spend money on it. So, that's what I'm working on," Amos said.
Follow Candace Amos on social media and visit 32Letter.