After a short hiatus from live performances, Leyton Benta has returned with a myriad of scintillating live performances. On this occasion, readers will be pleased to know the performances will not be virtual. If you reside in London or are visiting the city when Benta is set to perform, then your destination needs to be the  London Borough of Westminster. The 'Secret Heaven' singer has recently begun his 'Take it to the Streets Tour' and is encouraging fans of soulful music to lend their listening ear to his captivating harmonies.
The 'Take it to the Streets Tour' commenced earlier this month; first in Leicester Square and then afterwards, Trafalgar Square on the same day. Due to popular demand, Benta returned to Trafalgar Square to entertain fans and keen shoppers.  Although Leyton began his tour during the early afternoon of a weekday, the R&B/Soul sensation said the session was fruitful. Initially, at his performance at Leicester Square, there was a degree of friction. ''Some people even tried to distract me and tried to interrupt my performance'' Benta remarked.  
Undeterred by some of the less favourable reactions from the audience, Leyton puts much of the dissonance that was on display to several individuals who were intoxicated. Despite having a 'very rocky start; not rocky for me because I kept it professional and did what I needed to do, but I mean in terms of how people were behaving'' Leyton was still besieged with an appreciation for his performance.
''There were people who approached [Leyton] afterward, who were impressed and of course, they followed the journey, they followed the social media because I had my banner up and I was selling my CD'S; physical CDs''
revealed the artist.  At Trafalgar Square, Leyton Benta was accompanied by his mom, his partner, and his father to offer support and to assist in ensuring everything was sounding top-notch sonically.
''When I was set up there [Trafalgar Square] as soon as I began to sing, they were listening. They even started filming, they were recording, they were cheering, they were interacting. They were actually very warm and it led to them buying my CD's'' confirmed Benta.  Spectators were even eager to be in the video that was filming the singer's performance. ''They wanted other people to hear and see what they received''
adds Benta. ''It was a very positive evening and it lifted me up. I was exhausted as hell because you know how much I put into what I do''. His intention has always been to elevate listeners with his message. ''You have that opportunity, I wouldn't say to change the world, but that is my intention, I want to do that.  To be the influence for people to be lifted because everybody's going through something and I want to be able to know that my purpose and my presence and my gift has actually expanded people' declares Benta.
Organising a tour during a pandemic has been an experience for Leyton. He chose not to hire equipment for his tour and instead opted to purchase his own equipment. The independent artist cites his reluctance to rely on others and argues that ''you can't put all your eggs in one basket''.  Although buying  equipment was a financial strain on the singer, he is pleased to have ''invested in the long-term''. ''I really didn't want to be tied to anybody, just in case they let me down. I can use the equipment for my own purposes as well. I can use it at any time I want and will not need anybody's permission. I mean I already have my licence and everything is all covered. So, when I go out there, I go out there without guessing or hinting that oh maybe this will be good. I go out there correctly; documents, sound, material, and all I have to do is show up, perform and make an impact'' says Benta.
''People were taken back and were impressed with my gift. When people say it was refreshing, it just goes to show furthermore that me taking it to the streets was the right thing to do at this time''.
The good news is that Leyton Benta's ''Take it to the Streets Tour' will continue throughout the London Borough of Westminster with further sessions expected to be announced soon.   If you are lucky enough to see the tour expect to enjoy live performances of songs, and tracks from his latest album 'Find Yourself'.  This multi-talented artists 'Take it to the Streets Tour' is a must-see event.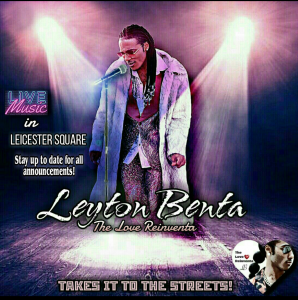 To purchase signed hard CD copies of the album 'Find Yourself' email: leytonbentabusiness@gmail.com
Official Website:
https://www.leytonbenta.com/music 
Check out Leyton's social media accounts for more information on
Leyton's forthcoming live performances.
https://www.facebook.com/LeytonBentalegacy
https://twitter.com/leytonblegacy
https://www.instagram.com/leytonbentalegacy
https://www.youtube.com/c/LeytonBentalegacy