Benjamin Busenze Balagadde is the new coordinator for Descendants, one of West London's longest-running Black Supplementary Schools and Youth Arts orientated charities. Balagadde was born in Stockholm, Sweden, and grew up in the capital city. Both his parents are from Uganda. The outspoken young man says, ''I have always considered myself Ugandan firstly and foremost'' and added ''I know the people I grew up around in Stockholm, Sweden be they Ugandan or East African.''
Relocating to the UK at the age of 9 or 10, Balagadde and his family settled in the Southern coastal cities of Southampton and Portsmouth. He attended school and college there before moving to London at 18. Before arriving in the UK from Stockholm, most of Balagadde's friends were either ''Black or Middle Eastern''. The relocation to Portsmouth and Southampton was challenging, ''everyone at school was White, everyone around me was White." There are Black people in Southampton and Portsmouth, but there is a large number of White people, after a while, you get used to it. I was one of a handful of Black people in my secondary school, that changed when I went to College. For some reason, that year, a lot of Black people in the area all ended up going to the same College. In Portsmouth and Southampton, there is a big Zimbabwean, Nigerian, and quite a few Caribbeans as well, says the current Londoner. 
Back to Black
It was during this time that ''those conversations started about being Black. Now that we were 16, 17 and I am again chilling with mainly Black people. Conversations about Black issues started to come up. But before then, maybe like 13, 14 when I was mainly in that school, in that environment, it was tough. I feel like you were oblivious to it for a bit, you are young, you get used to it, he adds.  Regularly going to Stockholm kept Balagadde rooted during this period. ''I would sometimes go for months at a time. I am still a citizen in Sweeden. A lot of my cousins are DJs there, so I would go there and spend some time there and make some money and come back. So, I spent a lot of time in Sweden. I still do now.''
 In 2016, the coordinator embarked on a degree in Sports Science at Brunel University for just a term. ''I always had an interest in African history, culture, and heritage, but not really to such an extent where I would be going out of my way to read about it, or to learn about it. It was more of a curiosity, up until university where I had the books and the resources right there in front of me'' declared Balagadde.
Although Balagadde does enjoy sports, when it came to studying the subject formally, he admitted 'I hated it''. Balagadden spent most of his time during his first term at Brunel satisfying his appetite for African history. Contemplating on that period Balagadde was keeping his hunger at bay by reading historians and scientists such as Carter G Woodson and Cheikh Anta Diop. ''My friends were telling me; you are reading all these books but you're doing Sports Science. What's the point? You might as well change course. And I didn't even think about it, but they were telling me about a course called Anthropology which I had never heard of until I went to University.'' Anthropology is the empirical inquiry of humanity; human biology, behavior, and cultures from antiquity to contemporary.
In his book 'The History of Anthropology, British Anthropologist and Ethnologist, Haddon quotes French Physician and Anthropologist, Topinard (1876) saying that ''Anthropology is the branch of natural history which treats of man and the races of man''. It should come as no surprise that Balagadde was unobservant of Anthropology until arriving at university as the subject is not available to formally study at school. During the short spell, the subject was available to study at A-Level between 2010 and 2015   the subject is said to have had only 500 students who took the course and the schools that taught A-Level Anthropology was limited to schools such as Heston Community School (West London) where Brunel University graduate, Tomislav Maric taught the subject and was a strong campaigner for the A-Level subject remaining available to students.  
After a meeting with his course tutor, Balagadde changed his course; to Anthropology; before the second term of his first year at university. ''I had to start the first year again because it was such a big jump from Sports Science and I ended up graduating last year ( summer 2020). Shortly afterwards, in November, I started working as a coordinator with Descendants.''
Descendants 
After completing his degree in June 2020, Balagadde continued working part-time in a bar, but amid covid, this terminated; he was uncertain of what the future held. 
''I always wanted to be involved in the Black community, especially history, but I didn't see how I could make a career or money out of it admits'' Benjamin Busenze Balagadde. With this in mind, he decided to participate in African history activities ''on the side, or when I had time.'' Landing a paid position at Descendants was accidental, yet was destined. Balagadde was typing into search engines positions related to African History. He found the majority were in locations such as New York. Until one day, he stumbled across a job position for a coordinator. The summary stated that the organisation was seeking a member of staff to coordinate a Supplementary School focusing on Art and African History, empowering young Black children; Benjamin was immediately in disbelief. His reaction was ''no way. And ''they are getting paid!'' I was thinking, okay, it is for charity, so it is voluntary. But it is a full-time, paid role.'' In the words of Malcolm X ''By any Means Necessary, I have to get this job.''  ''If I could create a job for myself, this would be it.''
Citing some of his inspirations that illuminated his inquisitiveness for African History, Balagadde is quick to mention UK Rapper, Spoken Word sensation, Author, and Social Commentator, Akala. ''He (Akala) used to do book recommendations. It was his book recommendations that put me onto a lot more. So, I discovered 'the Black Jacobins.''  Other notable influences cited were Senegalese Scientist, Anthropologist and Historian, Cheikh Anta Diop. Other individuals were centred around the Haitian revolution; Toussaint L'ouverture and Jean-Jacques Dessalines. ''I think that is when I broke through to the other side of the narrative. The stuff they would never tell you in school or even after school.  Even if they were going to talk about slavery you are not going to hear about Toussaint L'ouverture and Jean-Jacques Dessalines because it doesn't perpetuate the myth of the docile Black serving mentality'.'
Inspiring Youth
Since joining Descendants as a coordinator back in November 2020, Benjamin Busenze Balagadde has been an indispensable asset to the organisation. He has rolled up his sleeves and has successfully coordinated events such as 'Funky String-Art: Virtual String Art Session' 'The Week of Dance' and 'Lockdown Learning: The Musical.'  ''We hadn't done online events before, so I wasn't even that familiar with Zoom, or online events up until recently. Well, it was a learning curb for all of us. We realised that we really couldn't wait for the end of COVID, or the end of lockdown to do something'.'
Events were planned, and a curriculum was drafted and ready to be implemented. The curriculum was intended to be based on themes such as Black History – The Maroons, Drumming, and Story-telling. ''We thought, let's plan that properly and let's put that to the side for now and still engage the young people and still get them while they are at home because we don't know how long this thing (COVID) is going to last for.''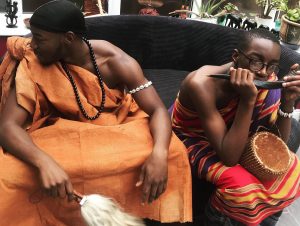 Keeping young people enthusiastic and attentive online would prove challenging. Innovative ideas made it possible. The Music sessions proved to be one of the most successful and ran for three weeks. The sessions were aimed at 5 – 11 and 12 and above. The first session was about beat making and instrumentals. ''My younger brother, he is seventeen and has got his little set-up in his room. He makes his own instrumentals. He makes good music! And we have a committee member who has a grandson who is an established producer and has worked with people like Ghetts and Wretch 32. I got all of them to come into that session.''
The producer gave the young people a brief insight into the music industry, how he got into the industry, his inspiration and also provided a Question-and-Answer session. Balagadde's brother used two forms of beat-making software that was suitable for each age group (5 – 11 and 12+) and gave an interactive presentation imparting knowledge about the process of making their beats, the correct instrumentals, the right BPM (Beats Per Minute). The young people were given the opportunity to demonstrate the skills learned by experimenting with what they had learned and to show off their own produced song the following week. The sessions were also kept energised with West London based rapper CRS who taught the young people how to construct lyrics, rhyming skills, and how to write a verse and chorus.
The concluding week was a showcase where the young people's parents; the Mayor of Ealing, Dr Councillor Abdullah Gulaid; founder of Descendants and Director Margaret Noel; Chair of Descendants, Denise Charles, and several other Descendants' Committee members were present and were entertained by the children's impressive musical skills. ''£15 Amazon vouchers were given'' for the Best Performance, Best lyrics Written and Best Instrumental. ''The aim was for the children to use the vouchers to buy music equipment because my brother who is only seventeen has his own set-up where he makes really good quality music that people buy off him and he has brought a lot of that set-up for £20, £30, £40 and £10 from Amazon. Things like his mics his cables and stuff like that. He (brother) was taking them (children) around (virtually) his little set-up showing what they could buy'' says Balagadde.
As usual, the annual Descendants' Week of Dance was well received. ''They have done the week of Dance over the years and it has always been successful and we didn't want to miss out on doing it this year. Now that we had the opportunity to do it online, we had the opportunity to expand it past West London. We had people from Trinidad teaching Soca, from India teaching Bhangra and Bollywood and we had instructors from Leeds (UK) teaching Afro-Beats. Some were teaching Jazz.'' This allowed Descendants to expand their projects to children who under conventional circumstances would likely not have participated in a Descendants' session. 'We had children from India joining these sessions, we had children from Essex (UK) and other parts of the UK and other parts of the world'' confirmed Balagadde.
For further information about Descendants, visit their brand-new website:
 https://www.descendants.org.uk/ 
Make sure you visit the 'Learning Hub' to access alluring education content for young people in mind. Content includes historical Black heroes and African Civilisations. Is your child inspired by a 12-year-old TV chef sensation, Omari McQueen? be sure to look at the recipe to make a flavoursome Caribbean curry and much more.