Goodloe Sutton, publisher of the Democrat-Reporter newspaper in Linden, Ala, wrote an editorial on February 14 calling for the return of the Ku Klux Klan to "ride again" in Washington.
In the editorial, Sutton advocated for the white supremacist group to attack Democrats in Washington.
"Democrats in the Republican Party and Democrats are plotting to raise taxes in Alabama. They do not understand how to eliminate expenses when money is needed in other areas. This socialist-communist ideology sounds good to the ignorant, the uneducated, and the simple-minded people," Sutton wrote.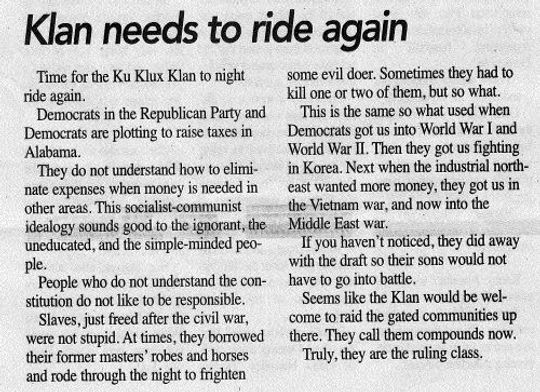 Sutton doubled down on his incendiary remarks to the Montgomery Advertiser on Monday.
"If we could get the Klan to go up there and clean out D.C., we'd all been better off," Sutton said.
Sutton also pledged his support of lynching for his proposed goals to be met.
"We'll get the hemp ropes out, loop them over a tall limb and hang all of them," Sutton said.
Sutton also downplayed the violent and racist history of the Klan. The hooded figures would terrorize minority populations and want the purification of American society. Many African Americans were lynched and murdered by the group. He further compared the Klan to the NAACP when questioned about their violence.
"A violent organization? Well, they didn't kill but a few people," Sutton said. "The Klan wasn't violent until they needed to be."
The Alabama Press Association, the state trade association for newspapers in the state, said they did not agree with the content of Sutton's editorial. However, they would also not hold him accountable for the comments and demand any apology.
"APA is not a policing agency. We simply have no authority over what our member newspapers publish," Felicia Mason, APA executive director, said.