The teaching of Black History in the UK is far too often restricted to the U.S and when the UK does get mentioned, the rich Black history dating back before the 1948 Windrush timescale is hideously absent. Even events during Black History Month in the UK that attract the most funding from local authorities tend to follow this trend.
Black History Month in the UK was first conceived by Ghanaian journalist and political activist, Akyaaba Addai Sebo after his educational journey found him in the U.S at a time when Negro History Week founded by Dr Carter G Wodson in the 1920s was metamorphosing into Black History Month in the 1970s. In October 1987 Black History Month in the UK was officially instituted.
Individuals, Black Supplementary Schools, and grassroots organisations such as the Alkebulan Revivalist Movement (ARM), Dr Femi Biko's African World Study courses, Black History Studies (BHS), Robin Walker, Prof Lez Henry, and Narrative Eye have centralised UK Black history as a pivotal component propelling our global understanding of Black/African History during October and beyond.
Black History Walks is no exception in helping realign UK Black History from the periphery of world history as a subject (but even Black history in general), to a more cardinal positioning. Black History Walks was founded by senior consultant and educator, Tony Warner as a response to his annoyance with conventional walks that were promoted to tourists or people new to the city.
''I always noticed that there was hardly any mention of Black people. I thought this is ridiculous, this can't be a two-and-a-half-hour walk and there is no mention of any Black history, or a black person, or any contribution to us. So, after finishing work I thought let me do our thing and we began doing our own walks in 2007'' said Warner.
Tony Warner's walks were inspired by ''people such as Steve Martin [S.I Martin] who was organising walks before I came on the scene" says the author.
Black History in the UK
Whether it was a session at the National gallery or a walk in Trafalgar Square I can recall Warner challenging the audience as to why children, or indeed adults are well versed in Rosa Parks and the Montgomery bus boycott between 1955 -1956 but are less aware of the Bristol bus boycott, just 8 years later in England. Or are very familiar with the Selma to Montgomery marches and the civil rights movements in the U.S, yet don't know who Dr Harold Moody was and his activities some twenty-five years before in England.
Why walks dedicated to Black people are needed
Throughout the years, of running Black History Walks, Warner has heard various comments in response to his walks. Perhaps one of the most catastrophic comments that he details in the introductory pages of his new book Black History Walks Vol. 1 is ''Why would I want to walk for two hours hearing about slavery?'' The notion that Black history is synonymous with slavery is unfortunately still a commonly held perception. But can one be surprised when a student just about to attend university said: ''I'm just about to go to university and in this two-hour walk in Trafalgar Square I've learned more about my history than in the 14 years of school. The only thing I was told about Black people is that they were slaves and came from Africa?''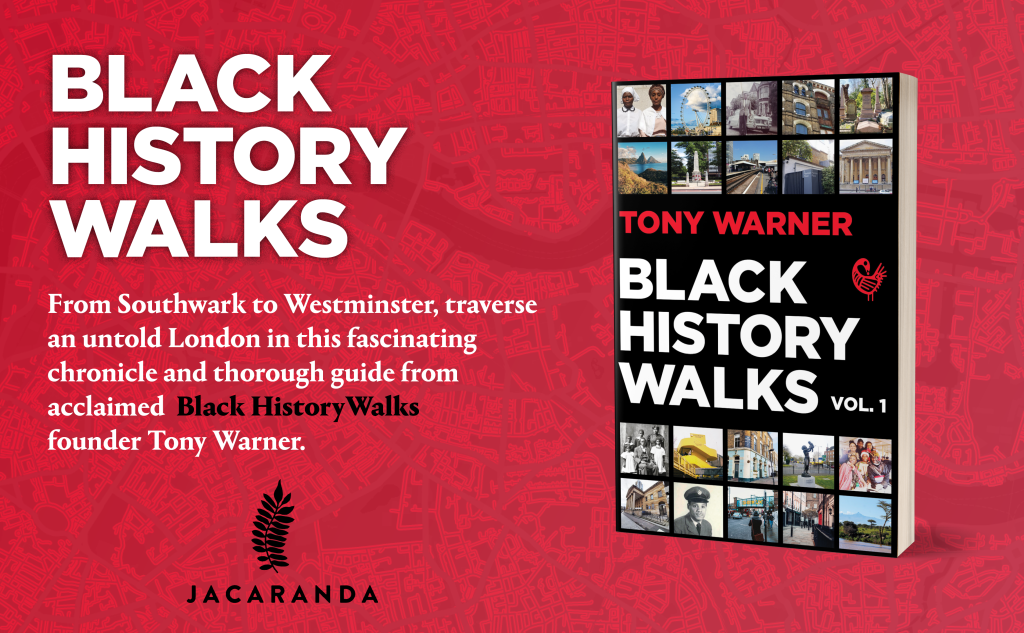 In Black History Walks Vol:1, Tony Warner disclosed that even a man in his mid-thirties proclaimed that ''We [Black people] should be grateful really, I mean if it wasn't for slavery where would we be?''  When one also recognises that a Black teacher in her early thirties also said: 'This is a bit radical! How can you say the ancient Egyptians were African? I am not really into this ''Black stuff'' – you can now fathom why Tony Warner is dedicated to decolonising the minds of not only young children but also grown adults from all demographics.
Black history is ubiquitous in London
After attending one of the Black History Walks or tours, many are left astounded at the myriad of monuments, buildings, and artefacts they have frequently passed on their way to work, or shopping in central London and were oblivious to its connection to Black history. A salient example is given in their Trafalgar Square walk in what is known as Cleopatra's Needle. It is the oldest example of architecture in London and pre-dates the creation of London as a city by over a thousand years.
The obelisk stretching over 68 feet was built by Africans and commissioned by Pharaoh Thutmose III. It is said to have been 'gifted' to Britain for 'rescuing' Egypt from Napoleon's France and was eventually erected in 1878, in London. Today the Tekken stands as one of the most revered landmarks in not only London but the world. It serves as an exemplary example of the scientific and engineering skills Africans perfected to build such a tourist attraction. Yet many are incognizant of this history.
From his school days, Tony Warner always took a keen interest in history. Working in the St Pauls/Bank locality for a decade also enhanced his knowledge of the presence of African history, which you could argue is ubiquitous.
The early days
''Back in the 90s I would go to people like Dr Lez's [Prof Lez Henry] lectures, The Black and Asian Studies Association conference seminars, Professor Hakim Adi, Robin Walker sometimes and learn stuff from them'' says the author. ''And also, I would talk to old people. I had a kind of kernel of knowledge which I had built on from speaking to older people and going to events by people who had been doing this long before I was around'' Warner adds.
Tony Warner was a member of 100 Black Men of London and served as the director of education from 2000. Every second week, they would mentor young black boys about becoming men and advise children on factors such as peer pressure and self-esteem. There was a historical aspect to the teaching and training of the programme. ''I was trying to hire a TV to show the kids some Black history videos because I had some really good DVDs on Black history.  I could never get a TV at the Marcus Garvey Centre [room above Marcus Garvey library in the sports centre] in Tottenham. It was just impossible just to get one'' admits Warner.
This led to Tony deciding to hire out the Rio cinema in Hackney. The film The Rosa Park Story starring Angela Basset was shown and his peers from the 100 Black Men mentoring group, including their mentees were granted free access. Fellow colleague, Ken Barnes came up with the ingenious idea for ''anyone to come in for free as long as they bring a kid with them'' said Warner. The response was exceptional and allowed him to develop an education film programme where Warner was able to show films at museums, galleries, and occasionally cinemas for approximately 7 years before establishing Black History Walks in 2007.
''The films came first, then came the walks and the walks gave rise to the talks because people wanted to get more information'' reveals Warner. At the time, he also used venues for various talks about topics such as World War 1 and 2 at the Imperial War Museum.
Black History Walks accomplishments
Over the 15 years since Black History Walks has been operating, Warner's organisation has produced a mini-documentary with Teacher TV in 2011, ran sessions concerning the Black image in the National Portrait Gallery, had numerous African Superheroes days, and ran the popular Queen Nzinga lectures where African Caribbean female academics and experts hosted sessions.
Deservingly, in the past, Black History Walks has been listed in the Guardian's top 10 walks and Conde Nast Traveller listed them in their top 15 walks. In recent years, Black History Walks also began holding Black History Bus Tours and Black History River Cruises across the Thames from Temple to Greenwich highlighting thousands of years of Black history on the double-decker journey. Black History Walks became the first activists in residence at University College London's (UCL) Sarah Parker Remond Centre where a series of lectures took place online in 2020.
Recent additions to their compelling and engaging history walk sessions include the Theatreland Black History Walk, which showcases Black performers and productions that have emblazoned west-end theatres, and this year, the Harlem in Mayfair Black History Walk which reveals disguised African and Caribbean histories from the 1920s to present day. These walks only add luminosity to the array of longstanding walks that Black History Walks continue to host in locations such as Dalston (Hackney), Trafalgar Square, Elephant & Castle, Notting Hill, Brixton, and St Pauls/Bank.
Black figures on blue plaques – A lack of diversity and self-reliance
Black History Walks has also collaborated with Nubian Jak with the intention to unveil 15 plaques between them. Currently, as a joint venture, Nubian Jak and Black History Walks have approximately 7 plaques and 3 more are pending permission before they can be unveiled. Tony Warner is eager to unveil at least 5 more plaques to acknowledge the 15 years and counting of Black History Walks.
The first plaque that both organisations unveiled together was back in 2011 for civil rights activist and owner of the Mangrove Nine restaurant in Notting Hill, Frank Crichlow who is featured in the Notting Hill Walk. ''When Jak [from Nubian Jak] said to me that there was a chance of having a plaque, I thought let me help. Let me sponsor. It is about giving Frank Crichlow the respect he deserves'' asserts Warner.
Known for their blue plaques, English Heritage in London have over 950 blue plaques. Startlingly, out of this 950, just 4% are said to be dedicated to black and Asian people. ''Actually, it is not even 4%. It is 2% [2.1%] because that 4% includes Black and Asian people together'' argues Warner. An analysis by the Guardian in 2021 confirmed these pitiful figures. There are evident disparities concerning the number of Black and Asian plaques in London considering their composition across the city. The Black population in London constitutes 13.3% of the city, while the Asian population stands at 18.5%.
The London Blue Plaque scheme can be traced back to 1866 and the organisation has a budget in the excess of £180 million. Remarkably with very much less than 1% of the budget that English Heritage has, the Nubian Jak foundation has managed to unveil over 75 plaques and two statues paying homage to Black people. It should also be noted that Nubian Jak was also founded twenty years after the English Heritage London Blue Plaque scheme came into fruition.
Earlier this year, the chairman of the English Heritage, Sir Timothy Laurence stressed that the calibre of the Blue Plaque scheme will not be lowered. Historian, David Olusoga who is one of the trustees for the English Heritage has in the past called for greater flexibility to increase diversity.
While I am sure many would not want standards to be lowered, one could become suspicious when they hear the rhetoric that Sir Laurence and co insinuate. It could be argued that notions of ''standards'' give the impression that there are insufficient people from Black or Asian backgrounds who are organically worthy of a plaque unless standards are compromised. Furthermore, it does leave one to question how the criteria to be considered worthy of a Blue Plaque is assessed and by whom. According to Ms Anna Eavis who looks after the Blue Plaque scheme, a panel of experts selects who should be eligible to have a plaque, but all new nominations are determined by the public initially.
''This is just wrong. They have got all that money and yet we have this massive underrepresentation of Black people. So, we figured Marcus Garvey style, let's do for self. So, I began to organise events for fundraising events to fund Black plaques for Harold Moody, Emma Clarke, Phillis Wheatley, and Darcus Howe. We just had a plaque for Darcus Howe this year in Brixton'' says Tony Warner.
The first school textbook of its kind in Britain
In 2021, Warner co-wrote a GCSE-approved history textbook for schools, produced by leading education publisher, Pearson Edexcel. The book History: Migrants in Britain, c800-present is a collaborative project with deputy head teacher of history, Joshua Garry and freelance history author and editor, Rosemary Rees.
Warner's section of the book is based on his Notting Hill Walk. ''The whole book covers migration from around 800AD to modern times. So, we're talking about a thousand, 200 years of movement of people around the world. My section [of the book] is looking at the 50s to '80s. Stuff we talk about in there are the [UK] Black Panthers, Frank Crichlow, Darcus Howe, the Mangrove Nine, police brutality is now in that GCSE book. For the first time ever, you have kids learning about Black civil rights, based on that whole Notting Hill, anti-racist Black power activism from just after World War Two to the 1980s. It's all in that book.'' states Warner.
''People were trying to get this history on board going back to the 1960s and 70s. Because you know there was a guy called Len Garrison doing this in schools back in the 70s and 80s, but he just didn't get it into mainstream schools because there was resistance. So, what happened with me is that I was I suppose fortunate to have this content available at a time when the powers that be saw it as acceptable to have this content in schools'' asserts Warner.
Modestly Warner argues that ''I can't really take credit for the whole thing because Len Garrison, Professor Hakim Adi, Marika Sherwood, Oku Ekpenyon were doing this long before I was around. Because of George Floyd, there was this open-mindedness, particularly with the history that had been avoided for seventy years or so.''
Black History Walks: the new book
Last month, Tony Warner's second book Black History Walks Vol:1 was released by an independent publisher, Jacaranda Books. In 2020, the publisher made an ambitious aim to publish twenty Black British titles in one year. The launch was known as #Twentyin2020. ''You have to understand that no other publisher has ever done that in history. All them big publishers that have like billions of pounds of assets etcetera like the ones that have those 500 staff and knock out like 500 books per year; they have never published twenty Black British authors in one year. And this small little company was able to do that in one year'' says Warner. Well technically, as Warner confesses ''19 books'' in one year as his book was delayed due to covid and Warner's determination to have a physical book launch.
Between the 7th of November – 21st November, Tony Warner will have various book launch events across London, including in Peckham; Hachette's HQ, Embankment; the University of London's Queens Mary; Finchley library; and Kings Cross library. More dates are likely to be announced. For further details, visit: eventbrite. 
Tony Warner's new book Black History Walks Vol:1 can be purchased from most independent bookstores and larger bookstores across the UK.
Shoppers will receive a massive 25% discount on their first order when purchased directly from the publisher:  Jacaranda Books U.K shoppers will receive FREE delivery when they spend more than £17 and U.S shoppers will receive FREE delivery when they spend more than $20.
GCSE (9-1) History: Migrants in Britain, c800-present can be purchased from: Pearsons and all leading book shops.