Black Men Teach was founded by secondary school teachers Albert Adeyemi and Johnoi Josephs in January 2021 to amplify the visible presence of Black teachers and encourage more Black men to consider teaching as a vocation.
The two educators became acquainted through social media.  Johnoi believes ''the right time of the pandemic'' steered the two to meet. ''Albert was doing some great stuff in his school on mentoring, and I followed him on Twitter'' recalls Johnoi. The pair formally meet virtually through the virtual possibilities of Zoom during the first pandemic and continued to stay in touch. A campaign video about Black male teachers was launched across the UK to high acclaim, and the duo quickly realised that there needs to be something more substantial for Black male educators.
In 2020 it was purported that 46% of English schools have no teachers from a global majority background and while teacher retention rates are alarming, with 44% of teachers planning an exodus in 5 years citing workloads in 52% of the 1,788 teachers surveyed; this figure surged to 65% for those planning to exit the profession within two years.  Numbers appear to be compounded by race.
The idea of being a teacher
Last year, research by the National Association of Schoolmasters Union of Women Teachers (NASUWT suggested that just under 3 in 4  global majority teachers in the UK planned to vacate from the profession.  And although the number of global heritage male teachers has increased since 2010,  the figure for Black male teachers stands at 2.9%, with pupils from a global majority background consisting of 34.4% of the population.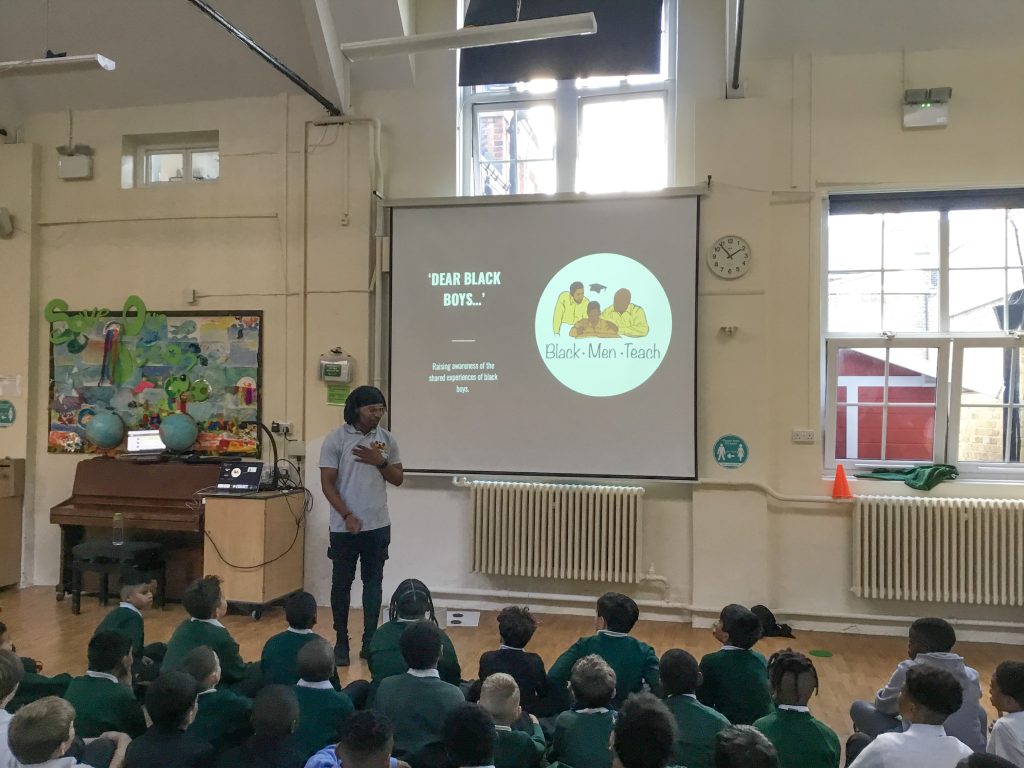 Co-founders of Black Men Teach, Albert teaches Physical Education (P.E) and Maths and Johnoi teaches Citizenship and Religious Studies. Both are heads of year 8 for behavioural pastoral needs. ''I didn't really have a perception of teaching. I was naïve because I was surrounded by quite a lot of Black educators. We had a Black female headteacher. So, I saw teaching as a job that anyone can do, but I didn't have aspirations to become a teacher until I started coaching'' said Albert.
Growing up, Albert had an aptitude for Maths and Science and had an eye on becoming a doctor. While in sixth form, his route took a different course when he began football coaching and working with young people.
Johnoi had a contrasting experience growing up and it was not until university that he viewed teaching as a viable vocation. Beguiled by making an abundance of money, qualifying as a teacher was the last consideration on his mind. On introspection, Johnoi believes various personal interactions with different people throughout his late teens and early twenties in his university environment altered his values and perception of generating money.
''The ambition to get money kind of got shifted or replaced with the idea of giving back'' says the Humanities teacher. Working with the organisation National Citizenship Service (NCS) unearthed Johnoi's devotion to teaching. ''Each year they [NCS] would take a group of kids, do some personal development work with them and then they would work on their community aspects of the programme which is interesting because it pretty much aligned to what I teach my students now'' said Johnoi.
Qualifying as a teacher
Albert embarked on a teaching degree for his undergraduate degree, opting for a BA in Physical Education with Qualified Teaching Status (QTS). Taking this route to qualify as a teacher meant Albert had 4 different school placements across the duration of his course. His initial placement was in Tollington (Bedfordshire). Despite being approximately 5 miles from Luton, Tollington is strikingly different in terms of demographics and atmosphere.  The area has an ambience that is quintessentially a village and the school itself was chiefly White British.
Albert's second placement was in cosmopolitan Westminster (London). ''They [Bedfordshire University] had an opportunity with a London school, Westminster Academy. It was the first year that they had it and that was probably the most diverse school that I worked at during my training'' says the teacher of five years. Albert's third school placement was akin to his first. The only distinct exception in this school was that the pupils were vastly from underprivileged backgrounds. ''They had their own challenges. That was a good experience'' he adds. The final placement, where Albert currently teaches is characterised as a ''diverse school'' and is said to consist of only 33% White British pupils, with the majority from Asian backgrounds.
''The experience is very dependent on the type of school you go to and also on your mentor'' – Albert.
Last year, a study by the National Foundation for Educational Research (NFER) revealed that applicants from mixed-race backgrounds in the UK were 9% less likely to be accepted into a postgraduate ITT (Initial Teacher Training) programme than their White peers. For applicants from Asian backgrounds, the figure rose to 13% less likely and then escalated further to 21% less likely for those classified as Black.
After completing a bachelor's degree in Politics, Johnoi pursued a PGCE (Post Graduate Certificate in Education). On recollection, most of Johnoi's school placements were described as diverse. ''The only difference was social economic backgrounds''. His first placement had pupils whose parents held occupations such as lecturers and politicians, while his succeeding placement was at a community school. ''I liked my first one [placement], hated my second'' he conceded. In both placements, Johnoi had female mentors, who he holds in high regard and is grateful for the variety of placements he had because it allowed him to know what type of school he wanted to work in once he qualified.
A school placement can profoundly impact a trainee teachers' confidence. ''The experience is very dependent on the type of school you go to and also on your mentor'' says Albert. During his first two placements, Albert was told by his mentors ''you are a promising, really good teacher and they had no issues with my teaching or anything. My third placement was probably my biggest challenge because the mentor put me on a cause for concern within about two weeks. I was so confused because I had never been in that predicament. My lesson was of a good standard, but when I went back to the university to tell them my concerns, the only thing they could tell me was you've just got to get through the placement'' reveals Albert.
A study from several years ago by Educational Researcher, Dr Christine Callender highlighted similar inconsistencies in the assessments of trainee teachers by their mentors. One trainee teacher was perturbed by the assertion that he was 'relaxed and informal' yet an earlier assessment commended his dexterity in managing classroom behaviour.
Reflecting on his conflicting feedback from his mentors, Albert believes ''that some educators will think I don't just want to get through this if I am not being accepted here and I am not feeling comfortable and I am being judged unfairly based on my teaching ability''.
ITT (Initial Teacher Training) Solutions
Black Men Teach established the initiative ITT Solutions to offer bespoke mentoring to those competing ITT. The initiative was launched after liaising with some ITT providers about how Black Men Teach can better support the provision of ITT to ensure that the experience of trainee teachers from global majority backgrounds, particularly Black men are adequately met during their teacher training. Trainee teachers are fortified with suitable Continued Professional Development (CPD) training and have a mentor who is relatable and is in a position to challenge them to harness their pedological competence.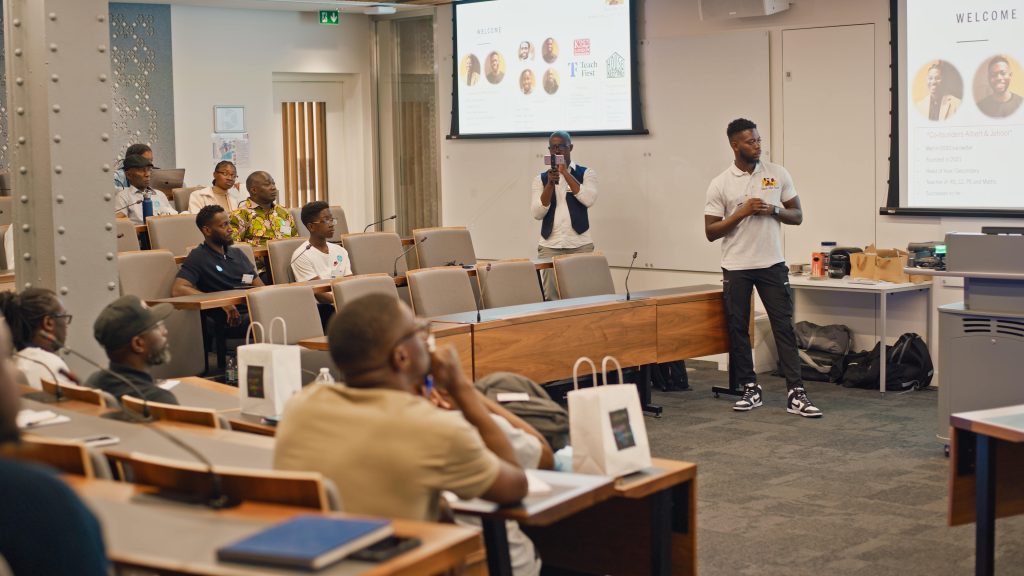 ''A lot of it does focus on the Black men that are training to be teachers. So CPD workshops for them, and monthly mentoring sessions in addition to what the universities are already providing. So, we are thinking about what is equitable, rather than just equality'' said Albert. The ITT Solutions programme is multifaceted in that the initiative provides CPD in-person seminars and workshops to the entire trainee teacher cohort at ITT institutions. This enables Black Men Teach to raise the profile of Black male educators, while simultaneously involving trainee teachers from all backgrounds to propel meaningful change in the sector. ''We are improving the racial literacy of all the educators that are in that cohort so that when they go into schools, they feel comfortable having discussions regarding race'' said Albert.
On February 25th February, Black Men Teach will be hosting Black Men Take The Stage. The event will provide Black male educators with the opportunity to deliver CPD sessions to their peers and the teaching sector. Albert said: ''Historically we have seen events where there is zero Black male representation on any of the panels and the speakers. There are various experienced Black male educators. People that inspire us and are doing fantastic things in the workforce''.
Johnoi and Albert are fully cognizant of the tendency to deduce Black men working within education to areas such as pastoral. Johnoi stressed that ''We want to make sure that with this event there is a variety of not only pastoral but there is also teaching and learning, SEND [Special Educational Needs and Disabilities] and showing the expertise that Black men have in these subject, not just behaviour''
While the event Black Men Take The Stage will be facilitated by Black men, the event is aimed at the entire population of the teaching workforce.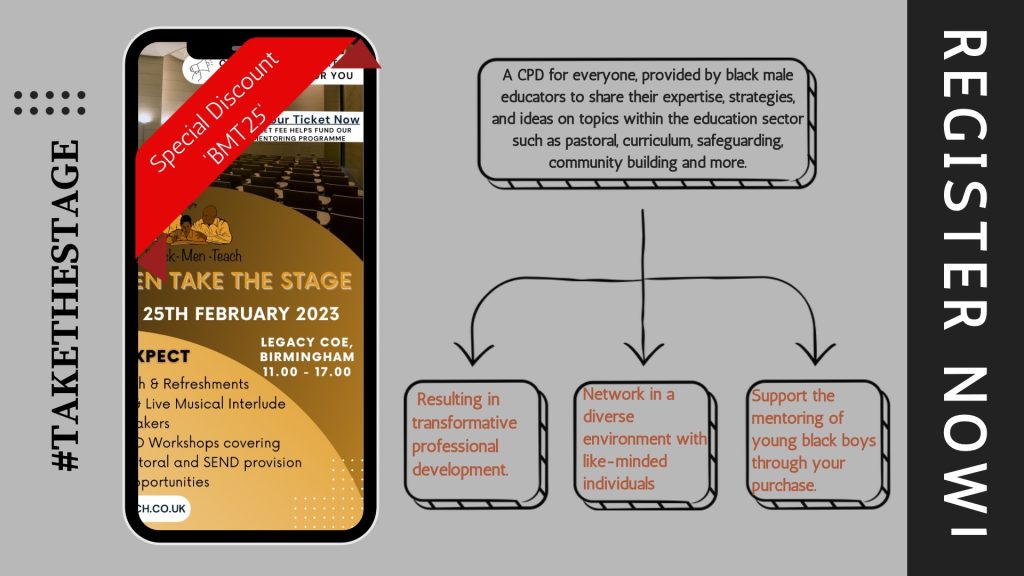 Black Men Take The Stage will be held at the Legacy of Excellence Centre – 144 Potters Lane, Aston B6 4UU, Birmingham on Saturday 25th February. To purchase tickets, click here.