OPINION ARTICLE:
The disgraceful, hateful, despicable George Zimmerman has filed a $100 million dollar law suit against family, Trayvon Martin. Eight years after our African American prince, Trayvon, was stolen from us because of racist stereotypes and hate, this despicable man is claiming that he was the victim of a conspiracy, along with malicious prosecution and defamation of character. Wait? This can't be real?  "Malicious Prosecution" of a teenage boy with a smoking gun? "Defamation of character" of man who racially profiled and murdered a teenage black boy? Are we living in the Twilight  Zone. This can't be?
This man who is suing for $100 million, can't be the same man that was acquitted of murdering innocent Trayvon at 17 years old. This can't be the same Zimmerman who was also arrested for aggravated assault and domestic violence battery against his then girlfriends in November 2013 and January 2015. This can't be the same Zimmerman who had the nerve to auction the gun that murdered Trayvon Martin?! "Defamation of character?"…
George Zimmerman, you are a murderer! In my opinion, You deserve to be in jail! You deserve to the same judgement you gave Trayvon, matter of fact… worse!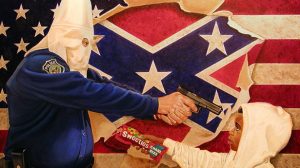 America has a history of Lynching, which is defined as a premeditated killing by a group without due processing from the law. A lynching is what you did to Trayvon Martin, an innocent 17 year old boy. Trayvon Martin should be a 25 graduate from college, a honest american making a living as a pilot but because of you he is DEAD! You murdered him and now you have the nerve to sue there family who still grieves for him to this day! You Lynched Trayvon with your gun because you hate Black people. You said yourself on that 991 phone where you snitched on Trayvon that all "These Black A**holes always get away!"
This mentally weak, pitiful, Hispanic man with an identity crisis, who thinks he is white, was so threatened by a 17 year old, unarmed, Black teenager who was"staring at him;" that he took Trayvon's life with his gun.
Now you want to sue their family and associates for $100 million dollars?
On behalf of Trayvon and his family… F**k You!
I pray that God in Heaven gives you your justice on Earth while you still draw breath.  The laws of AmeriKKKa have never been about protecting Black Americans, American law and its citizens have a history of casually standing on the side lines while innocent Black lives are taken. The fire department did it to Malcolm X family when his father was being lynched. And it continues to this day, like when Eric Garner was lynched and murdered by the police for allegedly selling cigarettes. EMT stood by and watched as Eric Garner was murdered by the same police that is suppose to "protect" the community. The AmeriKKKan justice system stood by and acquitted you of all charges of murder despite the undeniable truth that you racially profiled this boy and took his life away.
Black lives don't matter in the United States unless your wealthy or have powerful connections to back you. On the contrary to AmeriKKKan Lynchings, George Zimmerman you deserve what people in Africa and the Caribbean call; Jungle Justice. Jungle Justice is Street Justice where people take the law into their own hands and punish alleged offenders for perceived heinous crimes. Now, I am not for vigilante-ism but when your own government abandons you and let criminals roam free, I am ready to reconsider.
In the past recent years in Jamaica there has been high cases of kidnapping and  murders of young girls for what many believe to be is organ harvesting. Teenage girls and women were being found with their head, hands, chopped up and various limbs missing. Women were being abducted by abducting taxi drivers. Well some woman got away and when the community found out, everybody comes outside to beat him. The man in the video below begged for someone to call the police so he wouldn't be killed by the community.
This is what you deserve George Zimmerman! You have no type or respect or remorse for taking Trayvon Martin's life, in fact you even tried to auction the gun you murdered him with. You even try to dehumanize his character by launching a bogus film called "The Trayvon Hoax". And now to top it off, you want to sue their family for $100 million?! You must think its a joke, murdering black people and continuously trying to capitalize off their death. Your hateful crimes of racial profiling, aggravated assault, domestic violence, and murder of Trayvon Martin deserve a reckoning.
Fight the Power & Stop Zimmerman from his evil deeds.
Join the #MuteZimmerman Movement and Sign the Petition by
Check Out What Trayvon Family Lawyer has to say about Zimmerman suing for $100 million on the Rickey Smiley Show:
written by
Anonymous writer
---
Sources:
George Zimmerman sues Trayvon Martin's family for $100m. (2019, December 5). Retrieved from https://www.bbc.com/news/newsbeat-50671843.
Chappell, B. (2019, December 4). George Zimmerman Sues Trayvon Martin's Family For More Than $100 Million. Retrieved from https://www.npr.org/2019/12/04/784846004/george-zimmerman-sues-trayvon-martins-family-for-more-than-100-million.
McLaughlin, E. C. (2019, December 5). George Zimmerman sues Trayvon Martin's parents and others for $100 million. Retrieved from https://www.cnn.com/2019/12/04/us/george-zimmerman-lawsuit-trayvon-martin-mother/index.html.
---
The views and opinions expressed by this article are those of the authors and do not necessarily reflect the official policy or position of NuOrigins Magazine or any other entity mentioned in this article. Any content provided by our contirbutors, bloggers or authors are of their opinion, and are not intended to malign any religion, ethnic group, club, organization, company, individual or anyone or anything.