Another warm quarantine night sneaking into the city for a change of scenery, I see a sewing machine propped on a cart. Nearly bizarre, it sat there next to tools of thread hanging vertically. Obviously intri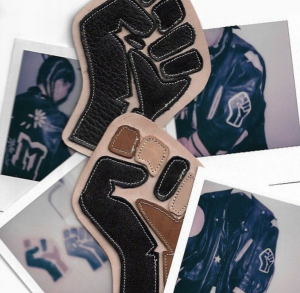 gued, I moved closer to the machine to see a glowing, bright face. Her hair standing tall atop her head, almost rendering an angelic mystique. Makayla Wray, or better known as @moomoomaw on Instagram. This young designer revolutionizes the idea of sustainability through her everyday practices. PedalMaw, her mobile sewing cart, specializes in customs and alterations. She sets up shop in Soho or Brooklyn, depending on the vibe of the day, and awaits many repairs of loved on clothes.
Through her repair mobile studio, she's not only been able to reimagine old favorites but bringing new life to those who are no longer with us. One of Wray's clients enlisted her to make a teddy bear from her husband's old flannels. Her husband has passed away due to Covid-19 complications and wanted to "honor his old clothing" instead of "disposing of them."  This touching reconstruction project is indicative of the communal relationship that is associated with ethical and sustainable practices of clothing. Wray moves with this ideology as she resizes jeans and adds powerful patches to jackets. She knows her work is more than a tweak or fix, but a labor of love and gratitude, shown from her customer success stories throughout her feed.
Wray is hands and feet in the community and has quite the accolades behind her belt. Her PedalMaw is only one notable on her resume. She's also a fashion designer.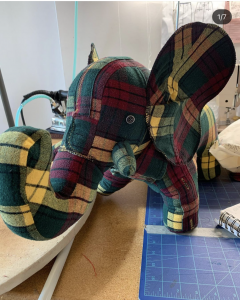 Maw studio, her design label, makes upscale streetwear featuring double flap leather pants and star embroidery. Her most recent drop was a limited leather, fist patches in support of the Black Lives Matter movement. She stated, "this is how I'll use my voice, to help those speak louder for us." Her technical skill caught the eyes of Nike summer of 2019, and with four other designers, were challenged to make five individual outfits constructed from jerseys.  The designs were on display for a short while at the Nike Soho location.
While the PedalMaw is out of commission for the winter season, we can be sure to anticipate all of the other homemade goods she'll create. This is to the return of spring and watching that sewing machine standout among the warm, unpredictable weather.