As the world continues its focus on police violence against Black bodies, in the UK, a memorial was unveiled for Dorothy 'Cherry' Groce  at Windrush Square, Brixton. Groce was an unarmed and unimpeachable woman who was fatally wounded after being shot by Metropolitan Police officer Inspector Douglas Lovelock in 1985. Groce who was just thirty-seven was left paralyzed after armed police officers raided her home in Brixton looking for her son Michael Groce. It would later be acknowledged at Southwark coroner's county, that police failed to practice due diligence and did not establish whether Michael Groce even lived at the house they consequently raided.
Anguish quickly erupted into the streets and led to the second Brixton Uprisings (commonly referred to as riots) in September 1981. At the time Cherry Groce was told she only had months to live but went on to exceed expectations and live for another 29 years. 
In 2011, Groce died prematurely. The agony and pain that was inflicted on Groce by gunshots stunted her physical living presence on earth, this was officially confirmed by a post-mortem carried out by Dr Robert Chapman. Metallic fragments from the bullet that was launched at Groce remained in her spine until her death and were said to be too dangerous to seek removal in case of causing greater injury.
Speaking at the memorial Cherry's sister said ''My sister would be very shy about all of this right now because she was just a private woman. She was like wah [what] you ah do?  Wah di fuss about? tap ih [stop it]. That's her''.  In the sentimental speech, Chery's sister added ''she is actually the blueprint of my life''. This was followed affectionately by a series of phrases and sayings that she remembers Chery expressing.
''I don't get picture. Me is a private woman. Me don't want no picture tek [take] and me don't want me face in no paper. Me just want to know that my children are warm and they are fed and they are safe''. 
Adding to the speech Cherry's sister quoted her stating
'The newspaper man banging down my door to make interview. Say they won't to pay me this and that to tell my side of the story. But if I was really to tell my side of the story, they would have to hear about my physical and mental pain that I am going through. They would have to hear sey [say] them take out every bone out of the bottom half of my body so that I can keep my legs. They would have to hear of the fifty-five different tablets that I have to take in order to function every morning''.
Listening to some of Cherry's quotes recited by her sister, it is understandable why Cherry was not keen on speaking with the press. The speech concluded humbly with the following quote
''that is not the kind of story they want to hear. Their headline sey [say] the woman who got shot by police. But I am just Dorothy Cherry Groce from Port Antonio [the capital of parish Portland in Jamaica]''.
Thanking all those in attendance, brother of Cherry Groce, Danny said ''Cherry was the kind of person that you could feel comfortable around. She was funny, free-spirited.''
A Fitting Memorial
Danny spoke of how much Cherry adored Brixton and asserted ''it is fitting that now she is commemorated here in Brixton for who she was and the injustice she suffered. Through the support of her son, Lee my nephew who I am so proud of, with the full support of our family, we are happy that this memorial is here to symbolise justice for all'. I had the pleasure of visiting Ghana recently and I saw an awesome building. The National Cathedral of Ghana and later discovered that it was one of the many worldwide architectural works of Sir David Adjaye. I would like to thank David, even though he is not here this morning, but no doubt he is here in spirit, for the building, the memorial''.  
Demonstrating his gratitude, Danny told the audience ''he [David Adjaye] displayed a commitment to the cause and provided so much more than a contract. We are honoured and grateful. With strong words of resilience and determination, the brother of Cherry said ''I hope you will be encouraged, everyone, to never give up on your cause because sometimes after your darkest night, comes your brightest morning. So, keep fighting for justice''.
The son of Cherry Groce, Lee Lawrence who witnessed such a callous fatality inflicted on his mom at just 
11 years 
old said ''1985 when my mum was shot by police in front of me; the response by the police officer when I  screamed hysterically was someone better shut this f-ing kid up
".
The former DJ (under the name of Brandy Lee) on popular Brixton-based radio station, 
Lightning Radio  
90.8 FM (London) continued 
"
two years later there was a criminal trial and the officer who shot my mum was acquitted and there was no justice
".
Great words about the Cherry Groce memorial from her son @MrLeeLawrence You can hear more on #InsideCulture, and from the designer @dadjaye Friday BBC2 7.30 pic.twitter.com/uXVTe8EAiL

— mary beard (@wmarybeard) May 13, 2021
The Louder I will sing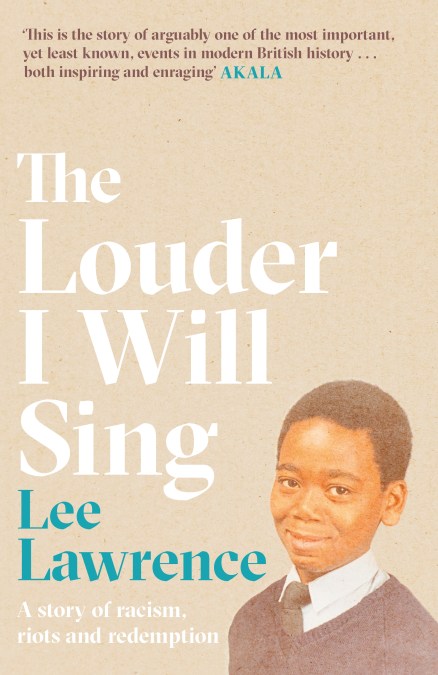 Lee Lawrence wrote the book 'The Louder I Will Sing'  to document the events and the aftermath of the events surrounding the shooting of his mother Cherry Groce. The book has received numerous accolades including  the Costa Biography Prize 2020. Akala the poet's notable review acknowledges the importance of  Cherry Groce.
'This is the story of arguably one of the most important, yet least known, events in modern British history. Lee's journey and fight for justice are both inspiring and enraging' 
The title was inspired by Labi Siffre who released a song called 'Something Inside So Strong'. The song was originally inspired by a TV documentary when Siffre saw a South African soldier shooting indiscriminately at young Black people. It is a song about injustice and discrimination. About the fact that no matter what might be thrown at you, you can rise to the challenge said the author.
''In the second verse, Labi sings 'the more you refuse to hear my voice, the louder I will sing'. Sometimes it takes 30 years, sometimes it takes pain, suffering, and heartache. Sometimes it takes legal battles and 130,00 signatures and MPs, but sing loud enough and one day you will be heard''. 
During the memorial, Lee Lawrence revealed an initiative in collaboration with himself and his publisher, Little Brown.
''We will be donating free books to every secondary school in London'' said the CEO of Mobility Taxi's, arguably the first wheelchair-accessible taxi company in the UK.
'The Louder I Will Sing' can be purchased from all good major and independent book-stores across the UK.
Readers in North America can purchase on Amazon
Contact details Chery Groce Foundation