A child is a child of everyone – Sudanese Proverb
Hope for Education and Development (H.E.D) is a non-governmental organisation based in the Nasir County/Kiechkuon- Malow Payam in South Sudan. The aim of the organisation is to improve access to education in the world's youngest country. In 2015 Hope Primary School for both young girls and young boys aged 8 – 17 was established to solidify this objective.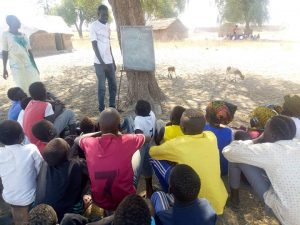 Hope Primary School,  is funded by tuition fees made by parents desperately needs educational resources such as textbooks, blackboards, and stationery. ''In South Sudan, we teach all subjects from Science, English, Mathematics, Social Studies, CRE – Christian Religious Studies, Composition and Arabic. The school is also accepting donated textbooks, but due to specific curricula content being set by South Sudan's education minister their preference is to purchase textbooks themselves. ''But if you intend to help us to have a small library, textbooks from worldwide are welcome'' says headteacher, Tang Kuach Ruei.
''We also have a lack of text (books) and exercise books. Maybe you (readers) can bring that from the UK (U.S/worldwide)''. Ruei also revealed that Hope Primary School has nearly fourteen dedicated teachers. Being the only school for miles, staff are eager to expand the number of children and young people who attend the school. Consequently, Hope Primary are seeking more teachers to aid the teaching of an already overwhelming 5,000 pupils.
Additionally, the teachers require counter books to record information. Catering to such a large number of students, laptops would tremendously reduce the administrative duties that are required for activities such as examinations.
 Monitoring students' attendance can be tedious, but Ruei and his team of staff ensure that every morning students write their names in a log booklet. With over 5,000 students this procedure is not only unconducive to the environment but ideally requires office space to store administrative records. There is also the potential for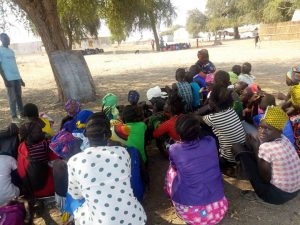 administrative details to get lost. Having a centralised database helps mitigate such risks.  ''None of us (teachers) have any laptops. I am just writing things down with paper'' admits Ruei.
 Determined not to allow anything to deter the organisation's pursuits, the teaching staff teach students under a tree. ''We need a building to enable us to facilitate lessons more smoothly, so any help in this area is greatly appreciated'' confirmed Ruei.  
Access to the supply of functional electricity is a concern in South Sudan. In 2019, the country with an average age of nineteen was said to have more than 90 percent of its population without electricity. It has been suggested that over 70 percent of businesses in the country rely on diesel-powered generators, while families routinely opt for cheaper resources such as kerosene to ensure they have lighting.  It is no surprise then, that Ruei told Nu Origins Magazine via a phone conversation that ''We need Solaris and batteries to have lighting'' for activities such as reading.  Amid COVID-19, Hope Primary School has hindered their usual routine. ''We can't provide facemasks to our teachers and students. When in lockdown, we don't have any alternative to the way we teach or assess our learners'' Ruei confessed.
To support Hope for Education and Development (H.E.D) call Tang Kuach Ruei in South Sudan 
on 011 (U.S.A & Canada) 211 928876706 or 00 (UK) 211 928876706. Should you experience
problems, please call the following Kenyan number on 011 (U.S.A & Canada) 254708056310 
or 00 (UK) 254708056310. Readers from outside North America and the UK are advised to use
the relevant exit code for your country followed by 928876706 for South Sudan and 
254708056310 for Kenya.




Callers are advised that due to limited consistent access to electricity to charge 
devices such as cellular phones there may be times when callers are unable to get through.




Readers can also email Tang Kuach Rue: tangkuach@gmail.com