The first Presidential debate seems a lifetime away, in between the first and final debate, there has been a whirlwind of activity. Trump (the Covid denier President) tested positive for  Coronavirus; was admitted into the Walter Reed Medical Centre and nursed back to health by pioneering cutting edge medication and doctors and hosted a photoshoot maskless whilst shedding the virus.  Trump's federal tax returns were detailed in the New York Times showing his paltry $750 tax payments in 2016 & 2017 and his hidden Chinese bank account, detailing tax payments of over $188,561 to the Chinese government between 2013 to 2015. Biden, on the other hand, kept out of the news cycle. Although, another Biden –  Hunter Biden was in the news thanks to what looks like a conservative dirty tricks campaign. 
With this kind of lead up to the final debate, the public did not know what to expect. Memories of Trump's aggressive, bullying behaviour at the first debate led to the Commission on Presidential Debates introducing a mute button. Questions like – would we witness a reformed Trump? How would the moderator fare? Would the mute button work? As it turned out the combination of a no-nonsense Kristen Walker and the mute button enabled us to see the candidates more clearly and to take a closer look at their policies. We look at five key moments from the debate and give our verdict on their responses.
On  Coronavirus 
The debate began with  Kristen Walker, the host asking a  question about the COVID 19 pandemic. She asked both candidates how they would bring the COVID 19 pandemic under control, allowing both Biden and Trump to speak directly to the American people on one of the most pressing issues of our time. Currently, 1 in 1,000 African Americans has died as a result of the COVID 19 pandemic. This figure is forecast to rise to 1 in 500 without more robust government response.
Kristen Welker: 
President Trump, the first question is for you. The country is heading into a dangerous new phase. More than 40,000 Americans are in the hospital tonight with COVID, including record numbers here in Tennessee…Please be specific: how would you leave the country during this next stage of the coronavirus crisis?
Donald Trump:
So as you know, 2.2 million people modelled out, were expected to die. We closed up the greatest economy in the world in order to fight this horrible disease that came from China. It's a worldwide pandemic. It's all over  the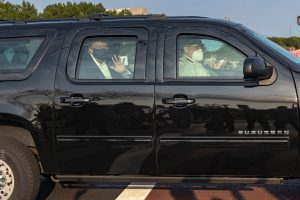 world…There was a very big spike in Texas. It's now gone. There was a very big spike in Arizona. It's now gone. And there was some spikes and surges and other places, they will soon be gone. We have a vaccine that's coming. It's ready. It's going to be announced within weeks. And it's going to be delivered. We have Operation Warp Speed, which the military is going to distribute the vaccine.
I can tell you from personal experience, I was in the hospital. I had it and I got better. And I will tell you that I had something that they gave me, a therapeutic, I guess they would call it. Some people could say it was a cure, but I was in for a short period of time. And I got better very fast or I wouldn't be here tonight. And now they say I'm immune. Whether it's four months or a lifetime, nobody's been able to say that, but I'm immune. 
Kristen Welker: 
Okay. Former Vice President Biden to you. How would you lead the country out of this crisis? You have two minutes uninterrupted.
Joe Biden: 
220,000 Americans dead. You hear nothing else I say tonight, hear this. Anyone who is responsible for not taking control. In fact, not saying I take no responsibility initially. Anyone is responsible for that many deaths should not remain as president of the United States of America. We're in a situation where there are a thousand deaths a day now. A thousand deaths a day. And there are over 70,000 new cases per day……And we're in a circumstance where the president thus far and still has no plan, no comprehensive plan. What I would do is make sure we have everyone encouraged to wear a mask all the time. I would make sure we move into the direction of rapid testing, investing in rapid testing. I would make sure that we set up national standards as to how to open up schools and open up businesses so they can be safe and give them the wherewithal, the financial resources to be able to do that.
We're in a situation now where the New England Medical Journal, one of the serious, most serious journals in the whole world said for the first time ever that the way this president has responded to this crisis has been absolutely tragic. And so folks, I will take care of this. I will end this. I will make sure we have a plan.
Why has the United States handled this pandemic so badly? The Editors note that although we came into this crisis with enormous advantages, our current political leaders have demonstrated that they are dangerously incompetent.

— NEJM (@NEJM) October 7, 2020
Verdict
 If one phrase sums Donald Trump up it is the 'I take full responsibility, it is not my fault" sentence uttered by him during the debate. Donald Trump is never responsible for anything that goes wrong. During the first phase of the COVID 19 outbreak, Trump passed the responsibility for containing the virus on to the states to avoid taking responsibility. When he did intervene, he saw it as an act of benevolence and demanded thanks. 
Donald J Trump response to the question confirms that he is empathy deficient; he is unable to pretend to care about the 220,000 plus Americans that have died as a result of his mismanagement of the COVID 19 pandemic. When faced with his own incompetence, he lies for the win and in too many instances it works.  Biden showed a willingness to work with scientists, only time will tell if a Biden presidency will bring the virus under control, but his answer suggests that he will try and that is important. 
On Health Care
Health care ranks as one of the most important issues for the American electorate. The Trump administration attacks on Obamacare has succeeded in dismantling parts of the legislation. The addition of Amy Coney Barrett to The Supreme Court will spell the end of Obama Care and the protection it affords those with pre-existing conditions. Kristen Walker challenged both candidates to explain their approach to healthcare. 
Kristen Welker:
Okay, let's move on to American families and the economy. One of the issues that are most important to them is healthcare, as you both know. Today, there was a key vote on a new Supreme Court Justice, Amy Coney Barrett, and healthcare is at the center of her confirmation fight. Over 20 million Americans get their health insurance through the Affordable Care Act. It's headed to the Supreme Court and your administration, Mr. President, is advocating for the court to overturn it. If the Supreme Court does overturn that law, there's 20 million Americans could lose their health insurance almost overnight. So what would you do if those people have their health insurance taken away? You have two minutes uninterrupted.
Donald Trump: 
First of all, I've already done something that nobody thought was possible. Through the legislature, I terminated the individual mandate. That is the worst part of Obamacare, as we call it. The individual mandate where you have to pay a fortune for the privilege of not having to pay for bad health insurance, I terminated. It's gone. Now, it's in court, because Obamacare is no good. But then I made a decision, run it as well as you can, to my people, great people, run it as well as you can. I could have gone the other route and made everybody very unhappy. They ran it. Premiums are down. Everything's down. Here's the problem. No matter how well you run it, it's no good. What we'd like to do is terminate it. We have the individual mandate done. I don't know that it's going to work. If we don't win, we will have to run it and we'll have Obamacare, but it'll be better run. But it no longer is Obamacare, because, without the individual mandate, it's much different.
Pre-existing conditions will always stay. What I would like to do is much better healthcare, much better. We'll always protect people with pre-existing. So I'd like to terminate Obamacare, come up with a brand new, beautiful healthcare…  
Kristen Welker: 
Okay. Vice President Biden, yes, this is for you. Your healthcare plan calls for building on Obamacare. So my question is, what is your plan if the law is ruled unconstitutional by the Supreme Court? You have two minutes uninterrupted.
Joe Biden: 
What I'm going to do is pass Obamacare with a public option, and become Bidencare. A public option is an option that says that if you in fact do not have the wherewithal if you qualify for Medicaid and you do not have the wherewithal in your state to get Medicaid, you automatically are enrolled, providing competition for insurance companies. That's what's going to happen. Secondly, we're going to make sure we reduce the premiums and reduce drug prices by making sure that there's competition, that doesn't exist now, by allowing Medicare to negotiate drug prices with the insurance companies. Thirdly, the idea that I want to eliminate private insurance, the reason why I had such a fight with 20 candidates for the nomination was I support private insurance.
Lastly, we're going to make sure we're in a situation that we actually protect pre-existing. There's no way he can protect pre-existing conditions. None, zero. You can't do it in the ether. He's been talking about this for a long time. He's never come up with a plan. I guess we're going to get the pre-existing condition plan the same time we got the infrastructure plan that we waited for since '17, '18, '19, and 20. I still have a few more minutes. I know you're getting anxious. The fact is that he's already cost the American people, because of his terrible handling of the COVID virus and economic spillover. 10 million people have lost their private insurance, and he wants to take away 22 million more people who have it under Obamacare and over 110 million people with pre-existing conditions. And all the people from COVID are going to have pre-existing conditions, what are they going to do?
Verdict
If you have a preexisting condition or are the parent of children with a preexisting condition this is a no brainer. Biden wins. If you have the money to cope with your healthcare whatever happens Trump wins.
On immigration
Trump's approach to immigration has been denounced as racist. Trump did little to dispel the notion but his response to questions on immigration still managed to shock many. Kristen challenged Trump to explain how his administration will reunite the 500 plus children's whose parents can no longer be located as a result of his child separation policy.
Kristen Walker
We're going to talk about immigration now, gentlemen. And we're going to talk about families within this context. Mr. President, your administration separated children from their parents at the border, at least 4,000 kids. You've since reversed your zero-tolerance policy, but the United States can't locate the parents of more than 500 children. So how will these families ever be reunited?
Biden visibly winced at this POS and you could hear audible gasps. All I could think was: "A MAJORITY of white voters thought this man should be in charge of their country."

America is NOT better than this. pic.twitter.com/KIl1Db8up4

— michaelharriot (@michaelharriot) October 23, 2020
Donald Trump: 
Children are brought here by coyotes and lots of bad people, cartels and they're brought here and they used to use them to get into our country. We now have as strong a border as we've ever had. We're over 400 miles of brand new wall. You see the numbers. And we let people in, but they have to come in legally and they come in through 
Kristen Welker: 
But how will you reunite these kids with their families, Mr. President?
Donald Trump: 
But let me just tell you. Let me just tell you. They built cages. They used to say I built the cages, and then they had a picture in a certain newspaper, and it was the picture of these horrible cages and they said, "Look at these cages. President Trump built them." And then it was determined they were built in 2014. That was him. They built cages.
Kristen Welker: 
Do you have a plan to reunite the kids with their families?
Donald Trump: 
Yes. We're working on it very… We're trying very hard. But a lot of these kids come out without the parents. They come over through cartels and through coyotes and through gangs.
Kristen Welker: 
Vice President Biden, let me bring you into this conversation. Quick response, and then another question to you.
Joe Biden: 
These 500-plus kids came with parents. They separated them at the border to make it a disincentive to come to begin with. "Be real tough. We're really strong." And guess what? They cannot… Coyotes didn't bring them over. Their parents were with them. They got separated from their parents. And it makes us a laughingstock and violates every notion of who we are as a nation.
Kristen Welker: 
Vice President Biden, your response.
Joe Biden: 
The catch and release, you know what he's talking about there? If in fact you had a family came across and they were arrested, they in fact were given a date to show up for their hearing. They were released. And guess what? They showed up for a hearing. And this is the first President in the history of the United States of America that anybody seeking asylum has to do it in another country. That's never happened before in America. That's never happened before in America. You come to the United States and you make your case that, "I seek asylum based on the following premise, why I deserve it under American law." They're sitting in squalor on the other side of the river.
Kristen Welker:
President Trump, your response. 30 seconds. And then we'll move on.
Donald Trump: 
So important. It just shows that he has no understanding of immigration, of the laws. Catch and release is a disaster. A murderer would come in. A rapist would come in. A very bad person would come in. We would take their name. We have to release them into our country. And then you say they come back. Less than 1% of people come back. We have to send ICE out and Border Patrol out to find them. We would say, "Come back in two years, three years. We're going to give you a court case. You did Perry Mason. We're going to give you a court case." When you say they come back, they don't come back, Joe. They never come back. Only the really… I hate to say this, but those with the lowest IQ, they might come back, but there are very, very few.
On Race in America 
Black lives matter protests across America after the killing of George Floyd formed a backdrop to the discussions on race. Kristen invited both candidates to reflect on the fact that Black parents across the socioeconomic spectrum give their children 'the talk' to prepare them to respond to racial profiling by the police. 
Kristen Welker: 
I want to talk about the way Black and Brown Americans experience race in this country. Part of that experience is something called the talk. It happens regardless of class and income, parents who feel they have no choice, but to prepare their children for the chance that they could be targeted, including by the police, for no reason other than the color of their skin. Mr. Vice President, in the next two minutes, I want you to speak directly to these families. Do you understand why these parents fear for their children?
Joe Biden: 
…I never had to tell my daughter if she's pulled over, make sure she puts… For a traffic stop. "Put both hands on top of the wheel and don't reach for the glove box because someone may shoot you." But a Black parent, no matter how wealthy or how poor they are, has to teach their child, "When you're walking down the street, don't have a hoodie on when you go across the street. Making sure that you, in fact, if you get pulled over just, yes, sir, no, sir. Hands-on top of the wheel. Because you are in fact, the victim, whether you're a person making 300,000 … child of a $300,000 a year person or someone who's on food stamps. The fact of the matter is, there is institutional racism in America. And we have always said, we've never lived up to it, that we hold these truths to be self-evident, all men and women are created equal. Well, guess what, we have never, ever lived up to it. But we've always constantly been moving the needle further and further to inclusion, not exclusion. This is the first president to come along and says, that's the end of that. We're not going to do that anymore. We have to provide for economic opportunity, better education, better healthcare, better access to schooling, better access to the opportunity to borrow money to start businesses, all the things we can do. 
And I've laid out a clear plan as to how to do those things just to give people a shot. It's about accumulating the ability to have wealth as well as it is to be free from violence.
Kristen Welker: 
President Trump, same question to you, and let me remind you of the question. I would like you to speak directly to these families, do you understand why these parents fear for their children?
Donald Trump: 
Yes, I do. And again, he's been in government 47 years, he never did a thing, except in 1994, when he did such harm to the black community, and they were called … and he called them superpredators. And he said that, he said it, superpredators. And they never lived that down. 1994, your crime bill, the superpredators. Nobody has done more for the black community than Donald Trump. And if you look, with the exception of Abraham Lincoln, possible exception, but the exception of Abraham Lincoln, nobody has done what I've done. Criminal justice reform, Obama and Joe didn't do it. I don't even think they tried because they had no chance at doing it. They might've wanted to do it. But if you had to see the arms I had to twist to get that done, it was not a pretty picture. And everybody knows it, including some very liberal people that cried in my office. They cried in the Oval Office.
Kristen Welker: Okay, and we're going to talk about both of your records, but your response to that Vice President.
Joe Biden: 
My response to that is I never ever said what he accused me of saying. The fact of the matter is in 2000 though, after the crime bill had been in the law for a while, this is a guy who said, "The problem with the crime bill, there's not enough people in jail. There are not enough people in jail." And go on my website, get the quote, the date when he said it, "not enough people." He talked about marauding gangs, young gangs, and the people who are going to maraud our cities. This is a guy who in the Central Park Five, five innocent black kids, he continued to push for making sure that they got the death penalty. None of them were guilty of the crimes they were suggested. Look and granted, he did in fact, let 20 people … he commuted 20 people's sentences.
Joe Biden: 
We commuted over 1,000 people's sentences, over 1,000. The very law he's talking about is a law that in fact, was initiated by Barack Obama. And secondly, we're in a situation here where the federal prison system was reduced by 38,000 people under our administration. And one of those things we should be doing, there should be no, no minimum mandatories in the law. That's why I'm offering $20 billion to states to change their state laws to eliminate minimum mandatories and set up drug courts. No one should be going to jail because they have a drug problem. They should be going to rehabilitation, not to jail. We should fundamentally change the system and that's what I'm going to do.
Donald Trump: 
But why didn't he do it four years ago? Why didn't you do that four years ago? Even less than that. Why didn't you when you vice president? You keep talking about all these things you're going to do, and you're going to do this, but you were there just a short time ago and you guys did nothing.
Joe Biden: We did
Donald Trump: 
You know Joe, I ran because of you. I ran because of Barack Obama because you did a poor job. If I thought you did a good job, I would've never run. I would've never run. 
Kristen
Mr. President you've described the Black Lives Matter movement as a symbol of hate. You've shared a video of a man chanting white power to millions of your supporters. You've said that black professional athletes exercising their First Amendment rights should be fired. What do you say to Americans who say that kind of language from a president is contributing to a climate of hate and racial strife?
Trump responds to a question about egging on white supremacy by attacking Black Lives Matter and then claiming he's 'the least racist person in this room'#Debates2020 pic.twitter.com/r1T8r3dxtS

— NowThis (@nowthisnews) October 23, 2020
Donald Trump:
Well, you have to understand the first time I ever heard of Black Lives Matter, they were chanting, "Pigs in a blanket," talking about police, pigs, pigs, talking about our police. "Pigs in a blanket, fry them like bacon." I said, "That's a horrible thing." And they were marching down the street. And that was my first glimpse of Black Lives Matter, I thought it was a terrible thing. As far as my relationships with all people, I think I have great relationships with all people. I am the least racist person in this room.
… I got criminal justice reform done, and prison reform, and Opportunity Zones, I took care of Black colleges and universities, I don't know what to say, they can say anything, I mean, they can say anything. It's a very… Makes me sad, because I am the least racist person, I can't even see the audience because it's so dark, but I don't care who's in the audience, I'm the least racist person in this room.
Kristen Welker: 
Okay. Vice President Biden, let me ask you very quickly and then I have a follow-up question for you.
Joe Biden: 
Abraham Lincoln here is one of the most racist presidents we've had in modern history, he pours fuel on every single racist fire, every single one. Started off his campaign coming down the escalator saying he's getting rid of those Mexican rapists, he's ban Muslims because they're Muslims, he has moved around and made everything worse across the board. He says to… About the Proud Boys, last time we were on stage here he said, "I tell them to stand down and stand ready." Come on, this guy has a dog whistle about as big as a foghorn.
Donald Trump: 
No, he made a reference to Abraham Lincoln, where did that come in? I mean-
Joe Biden: 
You said you're Abraham Lincoln.
Donald Trump: 
I didn't say, "I'm Abraham Lincoln," I said, "Not since Abraham Lincoln has anybody done what I've done for the Black community." Now, you have done nothing other than the Crime Bill, which put-
Kristen Welker:
All right, let me ask Vice President Biden a question.
Donald Trump:
And you know what? They remember it because if you look at what's happening with the voting right now, they remember that you treated them very, very badly, just take a look at what's happening out there.
Kristen Welker:
Let me ask Vice President Biden about… Vice President Biden, let me give you a chance to respond within this context, crime bills that you supported in the '80s and '90s contributed to the incarceration of tens of thousands of young Black men who had small amounts of drugs in their possession, they are sons, they are brothers, they are fathers, they are uncles, whose families are still to this day, some of them suffering the consequences. So, speak to those families, why should they vote for you?
Joe Biden: 
One of the things is that in the '80s we passed 100 percent, all 100 senators voted for a bill on drugs and how to deal with drugs, it was a mistake. I've been trying to change since then particularly the portion on cocaine. That's why I've been arguing that in fact we should not send anyone to jail for a pure drug offense, they should be going into treatment across the board, that's what we should be spending money. And that's why I set up drug courts which were never funded by our Republican friends. They should not be going to jail for a drug or an alcohol problem, they should be going into treatment. That's what we've been trying to do, that's what I'm going to get done because I think the American people have now seen that in fact, it was a mistake to pass those laws relating to drugs, but they were not in the Crime Bill.
Donald Trump: 
But, why didn't he get it done? See, it's all talk, no action with these politicians, why didn't he get it? "That's what I'm going to do when I become president…
Joe Biden: 
We got a lot of it done. We released 38,000
Donald Trump: 
You didn't get anything done.
Joe Biden:
38,000 prisoners were released from federal prison, we have… There were over a thousand people who were given clemency.  In fact, we are the ones that put in the legislation saying we could look at pattern and practice of police departments and what they were doing, how they're conducting themselves. I could go on, but we began the process, we lost an election, that's why I'm running to win back that election and change his terrible policy.
Our Verdict 
The mute button and Kristen Walker combined to briefly disrupt Trump's ecosystem. His bellicosity always seemed to be an attempt to drown out the reality of his failure. Trump's debating style is noisy, lazy, repetitive, and uninformed, just like his style of governance. Challenges about his record are met with a litany of lies and superlatives. On the vaccine, Trump moved from its coming soon to its ready in seconds. On policing, Trump boasted that every police department in America supports him, whilst chiding Biden for his support of the crime bill (a bill Trump noted at the time did not go far enough). Trump it seems has already forgotten this summer. Trump demanded that the Army quell Black lives matter protests, routinely describing Black lives matter as thugs and anarchists.  Trump's ability to recall when he first heard of Black lives matter was in stark contrast to his inability to recall any white supremacist organisations a fact that was not lost on many who watched the debate. 
Trump hasn't heard of David Duke, white supremacy or the Proud Boys but has a distinct memory of when he first became aware of Black Lives Matter 🙃

— Bree Newsome Bass (@BreeNewsome) October 23, 2020
Overall Biden clearly performed better than Trump on issues of race,  demonstrating an understanding of the inherent racism that Black people face in America. Biden acknowledged that he never had to give 'the talk' to his children. Biden showed a willingness to discuss issues of race in an empathetic manner.  Of course, it helped that he was standing opposite a race hustler like Trump. We learnt nothing new from the debate, Trump shared more of his racism whilst Biden chose the part of redemption (acknowledge wrongdoing and begin the process of correcting your misdeeds).   
Trump is the ultimate do-nothing President. On health care, Trump's response amounts to 'soon come.' In 2016, Trump promised a new healthcare plan to replace Obamacare, 2017, the same, and now in 2020, he is still promising a new healthcare plan, at the same his administration is in the supreme court trying to strip people of their healthcare during a pandemic. Trump was too lazy to get a replacement for Obamacare in place.  Black unemployment is over 17%. On racial justice, not a single promise made or kept- there are some winning sound bites that Trump has perfected which he repeats ad hominem to a lazy electorate who get their information from a Facebook algorithm that favours extreme right-wing propaganda.
Trump is all noise. The few policies he has enacted are anti Black. Trump issued an executive order to end all diversity training. Attorney general Jeff Sessions limited federal oversight of consent decrees (court enforced arrangements ) that were aimed at curtailing police abuse of power.  They also committed to never signing new consent decrees.  The Trump administration instituted a policy of family separation at the border only used it for people of color.
Trump's empathy gap was on full display from the victims of racism to the 220,00 dead Americans Trump was unable to muster any empathy. Instead, he portrayed himself as the hapless billionaire victim.
Trump understands America, he is turning up at the election with nothing but racism and he is betting that racism will still be enough. That Amerca is not tired of the carnage, that white voters will vote for his race first agenda. and whatever happens, over 50% of white voters will do just that.  Biden is right about one thing America's character is on the ballot.