The dangers of pregnancy and pregnancy-related issues in the United States is a topic that is being readily discussed in the hope to prevent any more harm to mothers and children. The Center For Disease Control released a report stating how high the maternal mortality rate for women in the U.S. is compared to other developed countries. Within that report, they state how black women are three to four times more likely to die from pregnancy-related complications than white women with racism being the main cause for the disparity. 
In a report covering maternal mortality in the United States by the American Action Forum in September of 2019, many of these deaths could have been prevented "had the mothers better understood the importance of and been able to access more easily quality prenatal and postpartum care." The U.S. has steadily become one of the most unsafe places for women giving birth. 
Along with reports and statistics like these, black women are also saying stories in the news of black mothers having serious, sometimes deadly, complications in the news. Famous professional tennis player Serena Williams almost died after giving birth to her daughter in 2017 due to a pulmonary embolism that set off a chain of medical problems. 
"I'm so grateful I had access to such an incredible medical team of doctors and nurses at a hospital with state-of-the-art equipment," she told CNN when explaining her experience. 
Others have not been so lucky. Widower Charles Johnson is suing a hospital in Los Angeles whose mistakes in a routine C-section left Kira, his wife and mother of his now three-year-old son Lagnston, dead. Johnson reported that the staff repeatedly ignored him and his wife pleads for assistance, with someone even stating that his wife was "not a priority."  When Kira was eventually taken back to surgery ten hours later, her abdomen was filled with blood and she died almost instantly. 
Stories like these have left black women looking at other alternatives to birth. Whether it is an at-home birth, water birth, with or without meds, or with the help of doulas and midwives. Black women no longer want to simply trust the system, and they are taking matters into their own hands. 
With black women eager for ways to have the safest births possible, Nu Origins decided to reach out to black women who have experienced these types of births and work with these women. The choices for black women are out there and we want our readers to be informed when they are deciding how they want to handle giving birth. 
To start off, we spoke with Amya who was 19 years old and living in New Orleans when she became pregnant. It was her first child and she did not have much knowledge of giving birth. After doing some research she chose a natural birth option with a midwife and later delivered at the age of 20. 
NU ORIGINS: How did you hear about natural birth options? 
AMAYA: When I first found out I was pregnant with my first baby  I didn't know what my options were when it came to giving birth. I was terrified of the idea of a big needle in my back, having to get a catheter inserted, and losing function in my legs. At the beginning of my pregnancy, I was seeing a regular doctor and I hated it. I was just a number of many different people and the hospital I was at initially pushed for medicated births, this is what made me start to research. I learned about another hospital in New Orleans that had a birthing floor dedicated to midwives and I made an appointment.
NU ORIGINS: What did the birthing floor consist of? 
AMAYA: The birthing floor was all midwives, the rooms were huge, and they felt more like little hotel rooms than a hospital room. They gave me warm blankets and whateverI asked for. They also have a water birthing floor with big heated tubs and beds in the rooms. The midwives catered to whatever kind of birth you wanted, whether medicated or not.
What made you decide a natural birth was the right birth for you? 
I felt at home right away (as corny as that sounds haha) although the midwives rotated everyone was so friendly and welcoming and wanted to make sure I was able to birth how I wanted to give birth.  I was determined to have a natural birth and my midwives were very supportive as well as my family and the child's father. 
Can you explain your labor experience? 
I was in labor for about 23 hours. During the beginning stages of labor, I let my contractions happen at home while staying in constant contact with my midwife (it started at 5pm on August 15th).  I progressed as much as I could at home and went to the hospital at 4 am on August 16th my midwife talked me through all my painful contractions and when we realized my body was exhausted she quite literally held my hand through it all and told me that even if I did decide to get the medication she would be right there beside me every step of the way. I decided to get the epidural about 16 hours into labor and my midwife held onto me as I let them give me the epidural. It felt like my mom was always right there with me which was super comforting. When it was time to push I didn't feel rushed or like a number, my midwife talked me through every push and made sure that I wasn't hurting myself, when I told her I felt like I was gonna pass out she immediately stopped and got me some oxygen. 
What made you switch to an epidural?
I switched to an epidural because my body was completely exhausted. I made the mistake of not sleeping through my slight contractions in the beginning.
If you have another child, would you make the same choice?
I know for a fact that the next baby I have I will be using a midwife. 
Gabrielle Horton decided to start a docu-series entitled "NATAL" about pregnancy and childbirth for black people in the U.S. after seeing the dangers personally affect her childhood best friend. Her friend had to have an emergency induced labor eight weeks before her original due date. Doctors discovered her blood pressure was extremely high and she had developed preeclampsia. After looking into the issue, Gabrielle realized that these pregnancy complications are frequent amongst black women across the country.
Can you explain what preeclampsia and the risk is carried in your own words? 
It's a pregnancy complication that develops either before or during childbirth that typically has symptoms such as high blood pressure, swelling and rapid weight gain, protein in the urine. While preeclampsia isn't a death sentence, if left untreated, it can have fatal consequences for laboring parents and babies. (Yes, postpartum eclampsia is a thing and has many of the same symptoms!) 
What are some things that have stood out to you while interviewing these women?
Our NATAL parents are powerful and the stories they've decided to share with the world are no different. Perhaps one of the most breathtaking parts of producing this series is witnessing firsthand parents' sheer generosity and willingness to tell their full truth — and not just the pretty version. Some of them are telling their stories for the very first time, and each of our parents beautifully reflects on the joy, the pain, and the triumph of bringing life into this world. I think a lot of that has to do with the fact that Black people and especially Black birthing people rarely are extended space to be the experts of their own stories, bodies, or lived experiences. But that's what makes NATAL unique. We're handing the mic over to Black parents, to share their stories, in their own words. And by doing so, NATAL becomes a space where not only are we chronicling Black life, but we're also centering the full humanity of Black birthing parents in the process.
Do you interview only black women? Or medical professionals as well? Government officials? 
NATAL shares the stories of self-identified Black birthing parents — a term that honors the fact that not all parents who give birth identify as women. Stories will come from heterosexual, queer, and trans parents across the African diaspora living across the socioeconomic spectrum in all four regions of the country. And this season, we're also talking to advocates — like birth workers (midwives, doulas), medical and public health professionals, researchers, and reproductive justice activists — folks who are on the front lines of this fight alongside families. We hope to feature several government officials who have been working closely on the topic of Black perinatal health both locally and nationally. 
Do you have any advice for women who are considering alternative birthing options? 
As a media professional — and not a medical provider — I've learned a lot about the path to alternative birthing from our NATAL parents: contacting insurance provider to learn about coverage and costs; Google searching for Black doulas and midwives, birthing classes in their local cities; and talking with other parents they know or on social media about their path to alternative birthing. Given that Black Mamas Matter Alliance is NATAL's official thought partner, I'd definitely encourage readers to visit their website to stay abreast of the latest research and to learn about their national network of organizations, many of which provide alternative birthing care and resources.
What can we expect from Natal ?
 The first season explores what care currently looks like — and what it could look like for Black birthing parents across the US. Over the course of the 8-episode season, we'll explore topics like reproductive mental health, midwifery and doula care, and birth spacing options.  While our live community listening events are currently on hiatus due to COVID-19, be sure to sign up for updates at www.natalstories.com and follow @natalstories on Twitter and Instagram to stay connected with us and learn about exciting virtual events we'll be hosting this spring. 
What has been the response to the docuseries so far?
It's been extremely positive! From the very beginning, our team has been really focused on creating a storytelling platform that reached medical professionals and activists and researchers and policymakers; but at the end of the day, we knew that having the stamp of approval from parents is really important to us. So far, parents have been very enthusiastic and supportive of what we are trying to build at NATAL — and how they can fully participate in that building. 
Jania, a 21-year- old living in North Carolina has worked with children her whole life, even becoming a preschool teacher. After realizing that her love was more for the children than teaching she wanted a change. She accidentally discovered doulas and midwives and has been extremely interested ever since. 
Can you tell me how you came across natural births, doulas, and midwives? 
I came across an Instagram page all about home births and doulas and midwives and that instantly excited my heart. Ever since I've been researching the difference between the two and what schooling I will need to become one. 
This wouldn't really allow you to spend a lot of time with kids. What attracted you to it?
I realized it's not just kids I love but youth and the idea of raising them to be the best, and that starts with loving and making sure the mothers are treated the best.
Can you explain the difference between a doula and a midwife? 
Doula is more there for emotional support of the mother while a midwife is trained medically and can deliver babies.
What are the differences in the education or training of doula or midwife? 
To be a midwife you need to have your average 4-year nursing degree, pass the national council license exam and have a certain number of hours with various live births. After your nursing degree, it would take roughly a year or two depending on your availability with schooling and outside classes. Doulas only need 7-12 hours of childbirth education, 16 hours of doula training, and 2-5 births.  
Do midwives and doulas work out of various agencies or more on a freelance basis? 
Both! You can do an agency or become freelance. I prefer to freelance. I like the idea of being free to do it the way I deem fit and unique for each case rather than a set standard for all. 
Anything else you would like to share about becoming a midwife or doula? 
Just that it's important that black women and men are in health care. And that there other things than being a doctor and a nurse! Opportunities are everywhere but we were never introduced to them at a young age so we have to actually search for them but it's so worth it!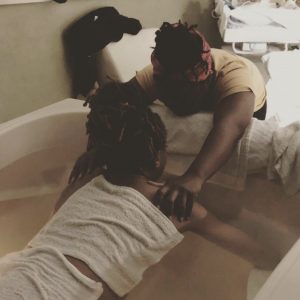 Angelica is a twenty-eight-year-old certified doula and graphic designer in New Jersey. Her website wearekarsi.org works to provide affirmations, creative healing tools and accessible doula care to black, indigenous and women of color.
What inspired you to become a doula? Did you have a natural birth as well?
I became a doula because I am dedicated to inspiring and empowering women, especially black and WOC. This was just another way I found to serve the community in a way that I felt I could make a difference. The maternal mortality rate in this country is appalling, especially amongst black women and doulas have been proven as a way to help. I didn't know what a doula was two years ago, but after learning more and seeing what a doula can do, I knew it was something I needed to pursue. 
I'm not a mother so I have not had any births. But in my opinion, all birth is natural birth. Whether vaginally or via c-section. Birth is birth. I think when we use terms like "natural birth" we can make some people feel like they failed because they chose to have interventions or needed a c-section.  
What was the training/education process?
I personally certified with Doula Trainings International. Each certifying body has its own process and set of requirements. For me, there were classes and required readings then I had to do fieldwork which included shadowing a childbirth education class, getting certified in infant CPR, attending a certain number of births as the primary birth doula and serving a family as a postpartum doula. 
How long have you been doing this?
I have been a doula for a little over a year. 
What services do you offer? 
I provide ongoing support from the day I am hired to a few months postpartum (unless I am hired as a postpartum doula as well but I take it you're only asking about birth doula services). This looks like providing non-judgmental, evidence-based information and compassionate care as they move through your pregnancy and the birth of your child. I provide resources and education, comfort measures during labor such as counter-pressure, massage and affirmation. I go over things that the partner can do to help/support and make sure they feel safe and confident as well. 
Have you seen an increase in black women looking for alternative birthing methods?
I wouldn't consider a doula an alternative birthing method but I have seen an increase in black women learning and educating themselves on all their options and trying to stay as safe and informed as possible. This may be why some women are opting for home births or birthing centers because they want to feel safer and respected. 
What would you say is the most beneficial part of natural birth?
When you introduce medical interventions you may be putting yourself at risk for more complications which can lead to needing a c-section or lasting effects after delivery. 
What would you say to women considering natural births?
Do your research on your options to cope and manage pain, take a childbirth education class, hire a doula, ask questions at every doctor's appointment. The more prepared you are, the more likely you will have a positive experience no matter how your birth goes. 
Do you work with a midwife?
Doulas work with midwives and OBGYNs it just depends on where the birthing person is delivering. 
Are water-births preferential?
Not for everyone, every person is different and has different needs. Water births have many benefits though. They may be less painful and more relaxing.  
What have been women's reactions post natural birth?
They feel relieved and happy to have accomplished a safe delivery of their child. But I think I can say that for any of my clients whether they delivered vaginally or via c-section and whether they did with or without an epidural. 
What would you say to women considering becoming doulas? 
Do it, it's very rewarding. 
These women are just a small peek into the world of alternative birthing. Rather you want to be at a hospital, birthing center, or at home. Have a full hospital staff, a doula, a midwife, or all of the above the options readily becoming available. If you're considering joining the medical field or becoming a doula or midwife, you will be playing a significant role in ensuring that black women and children remain safe during such a sacred process.