On April 20, 2021, the verdict was given for Derek Chauvin. The former Minneapolis police officer who stood accused of defiantly placing his knee for over 8 minutes on 46-year-old George's Floyd's neck awaited his fate. Chauvin was ultimately found guilty of second-degree murder, third-degree murder, and second-degree manslaughter.
Having family members, acquaintances, and friends in various locations in North America has meant that in the 8 weeks or so, I have been inundated at erratic times of the day, (or should I say night? Particularly as locations in States such as California have an 8-hour time difference) communicating updates of the trial, their thoughts on how irrelevant factors concerning George Floyd were being mentioned in the trial in a pathetic and somewhat predicable tactic to character assassinate a man who has already been scornfully, yet casually killed by a law enforcement officer.
The response from those that I communicate regularly with and who permanently reside in the U.S varied greatly. Most saw the verdict as a landmark, you could argue the U.S was on trial. The world was watching! Though to be candid, at times it didn't even seem like Derek Chauvin was on trial, it appeared to many that George Floyd was posthumously put on trial. Even some of the media outlets participated in what can only be called biased reporting, referring to the trial as 'the George Floyd trial' which is very telling. Anyway, I digress, whilst we can acknowledge victories in a fight for justice and feel a sense of elation we must not be complacent.
In his song 'Licence For Kill' legendary Jamaican-UK Dub-Poet Linton Kwesi Johnson emphatically said '' Yu [You] can't awsk [ask] Clinton McCurbin about hm asphyxiation, and yu [you] can't awsk [ask] Joy Gardner about her suffocation, yu [you cyann awsk [can't ask] Colin Roach if him really shoot imself [himself], and yu [you] can't awsk [ask] Vincent Graham if him stab imself [himself]''
Britain is not innocent
I recall attending several Black Live Mattes in 2020 and was startled to see children as young as thirteen, fourteen, and fifteen with placards that read 'Britain is not innocent'. I was even more astonished to see names of people such as Sean Riggs, Joy Gardner, Christopher Alder, Sarah Reed, and what seems like just yesterday, Kingsley Burrell. Just some of the names of Black people who have been killed by the London Metropolitan Police, West Midlands Police, and South Yorkshire Police. I was not startled because I was cognizant of the deaths in custody in the UK, but my amazement was more related to the fact that these were children who were thirteen who were aware that Britain is not innocent when it comes to deaths in custody. Yet trained journalists at media giants such as Sky News were postulating the idea that such police killings only occur in the U.S, or elsewhere.
The trial of Pc Mary Ellen Bettley-Smith, 31 and Pc Benjamin Monk, 42 has recently begun. Except for several local West Midlands newspapers, the British media has generally remained conspicuously silent on the days before the trial commenced on April 26. And I don't think this can be explained away because the Derek Chauvin trial, which occurred for approximately two months took precedence.
The former West Midlands player was pronounced dead after being tasered by officers visiting his father's home in Telford, Shropshire (West Midlands), over 4 years and a half years ago.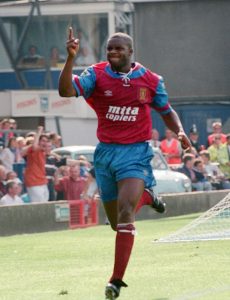 Two serving police officers were consequently suspended in November 2019. Pc Benjamin Monk was charged with murder and an alternative charge for manslaughter. Pc Mary Ellen Bettley-Smith pleaded not guilty to assault. Though, the serving officers were briefly suspended in 2018 with some restricted duties; family members of striker Dalian Atkinson, who joined Aston Villa in 1991 were said to be confounded that the serving officers were only suspended in 2019, for the incident which occurred on August 15, 2016, 
Pc Mary Ellen Bettley-Smith, 31, and Pc Benjamin Monk, 42 are being tried. The former for a count of assault occasioning actual bodily harm and the latter for murder and an alternative charge of manslaughter of the ex-professional footballer.
Mr Atkinson was 48 at the time of his death.