Today marks July 6, 2020. The original date for the start of New York City's Summer Youth Employment Program. Today thousands of youth across New York City should be starting their first day of work. They should be excited about getting out of the house since being quarantined all spring. They should be excited about earning an income to help save up money for essential goods for the fall school year. However, for the first time ever since 1963 Summer Youth Employment Program was allegedly cancelled.
In April, Mayor De Blasio made an unexpected announcement that Summer Youth would be cancelled this year, the extreme measures were taken due to the Coronavirus pandemic. Social distancing was enforced to keep our city healthier but it has economically devastated many communities of our youth.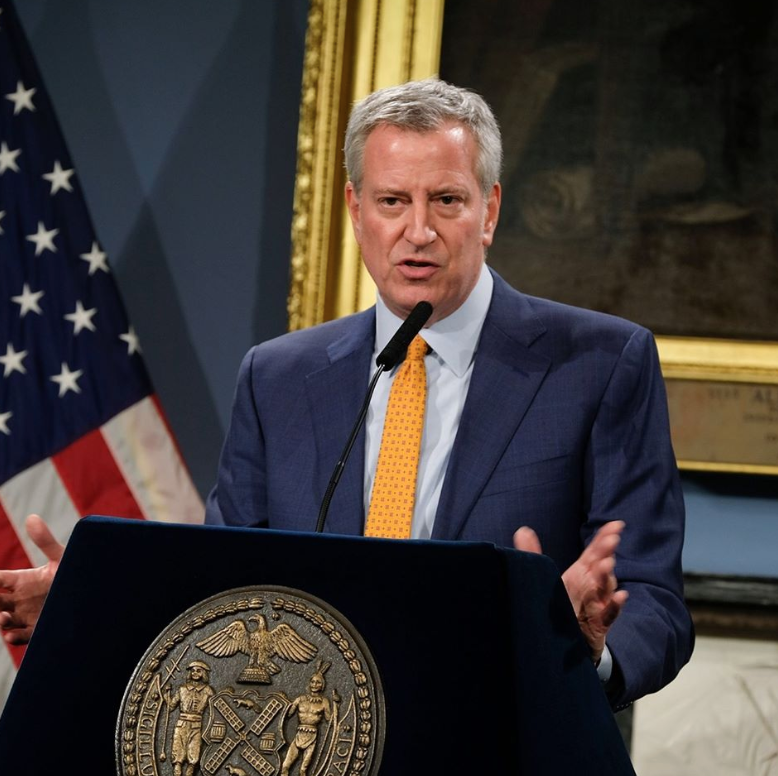 Thankfully, we have a generation of leaders. This generation of youth have refused to comply with the Mayor's orders. Our teens are fully aware that there is a health crisis. Yet, if millions of adults can shift to working virtually at home, then why can't the city pivot and provide virtual work opportunities to our teens?
New York City youth have already experienced working virtually from home academically. They spent half of their spring semester learning through a laptop during the Coronavirus. In addition, the youth are more acclimated to using technology than many adults. If we entrusted them with the ability to earn an education, why not empower them with the ability to earn income and gain professional experience?
Getting ready to go! 💪💪 If you're at #OccupyCityHall head on over. #SaveSYEP #DefundNYPD pic.twitter.com/6l9wvY2rf6

— Teens Take Charge (@TeensTakeCharge) June 29, 2020
Thankfully, the protest, petitions, and pressure led by our youth, TeensTakeCharge and other supporters have impacted the policies of Mayor De Blasio's budget for New York City. TeensTakeCharge led marches in June to bring attention to the SYEP budget cut. They have been supported by elected officials like Brooklyn Borough President- Eric Adams, Brooklyn Public Advocate- Jummane Williams and City Councilman- Corey Johnson. 
Brooklyn Borough President Eric Adams praised young people for fighting for the SYEP program. Here is what he had to say about the challenges young people face. 
"When we harness the energy and creativity of our young people, we can find solutions to even the most daunting of challenges. COVID-19 is unlike anything we have ever faced as a city, and it has forced us to make difficult choices about what and who we choose to prioritize in times of crisis. It has also exposed many of the entrenched inequities that still plague our city, from health outcomes to employment opportunities. For years, SYEP has been a vital lifeline for many youth throughout our city, especially those in underserved communities. These thoughtful submissions lay out ideas the City could implement immediately to save the program and ensure that young people throughout our city have real opportunities this summer," said Brooklyn Borough President Eric Adams.
According to BKLYN publication, "on May 26th, Borough President Adams sent a letter to Mayor De Blasio and City Council Speaker Corey Johnson urging them to invest in youth by 'safely adapting SYEP to the current needs of society.' He cited several examples of jobs that could employ youth to mobilize them in the fight against COVID-19, including manufacturing personal protective equipment (PPE), scheduling diagnostic tests, preparing and delivering food to seniors, assisting with testing and tracing efforts now underway throughout the city, and much more."
Last week Tuesday Mayor De Blasio announced a budget agreement to partially restore the SYEP budget to $115 million in the forms of online classes, online internships, and summer camps. According to The Gothamist, "De Blasio said that $430 million in 'cuts' to the NYPD would go to summer youth programming, education, and family and social services, while another $530 million in NYPD 'capital' will go to NYCHA and parks rec centers, and a broadband expansion in public housing." 
So although, community groups like TeenTakeCharge and Justice Committee called for the $1 billion budget cut from NYPD, only about half of their demands were fulfilled. The agreement would restore a $115 million budget for Summer Youth. This year, 35,000 teens will have the opportunity to learn skills like coding and customer service online, and another 80,000 teens will have the opportunity to work in summer camps. In contrast to 2019, SYEP gave 75,000 youth summer internships and 100,000 summer camp jobs funded by the city. Although, the goal for all SYEP applicants to gain employment has not been met, this victory deserves a celebration. 
In response to the resistance to cancel Summer Youth, Mayor De Blasio and DYCD have launched the SYEP Summer Bridge 2020 program. The SYEP Bridge program will give youth the unique opportunity to explore their interests and discover new ones through; online paid-internship, career exploration, skill building activities, professional mentorship, and community building. Depending on age youth between the ages of 14- 24 will receive a stipend of $700 and $1,000 based on their age and participation.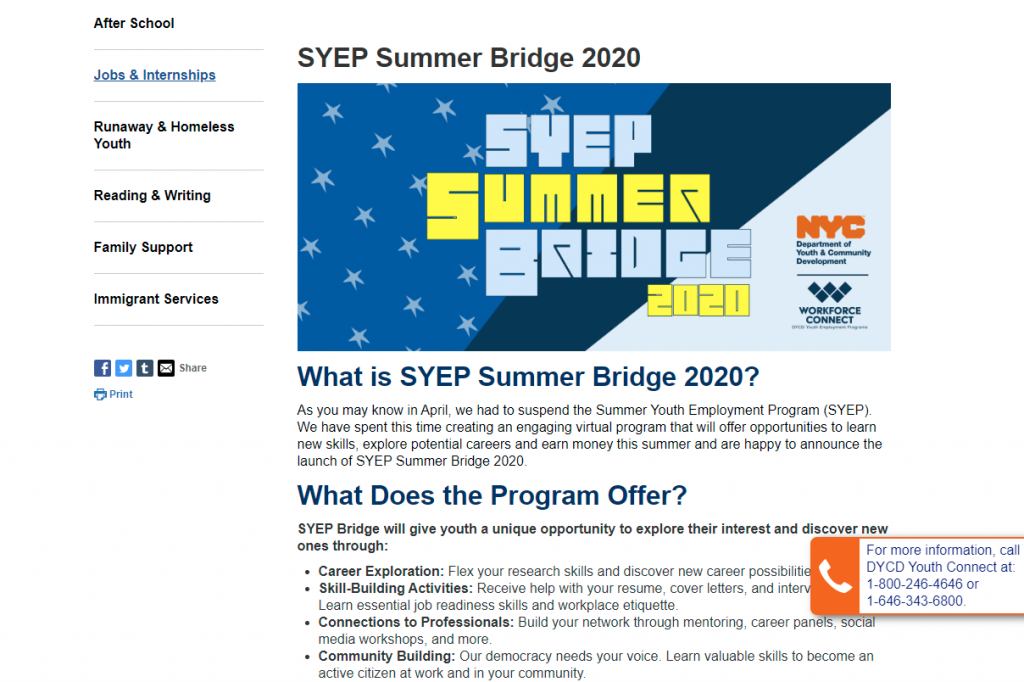 SYEP Summer Bridge Applications will be open from July 9th, 2020 to July 15th, 2020. 14-15 year olds will have the opportunity to work for up to 12 a week and earn a $700 stipend upon completing their internship. 16-24 year old will be able to work up to 18 hours a week  and earn a $1000 stipend. The program will last for 5 weeks throughout the months of July and August. Click on these links for more info on the SYEP Bridge Info: 14-15 year olds and 16-24 year olds.  Scroll Down to the bottom of the page for more details on SYEP Bridge Program.
However big questions still remain like how to get an effective program up and running? Many of the non-profits and summer camps have already laid off much of their staff due to COVID19.
What if there was already an online coding program that could teach our youth skills in web-development. Web development skills that can empower our youth to earn income long after the SYEP Bridge Program is over. Our youth could work as freelance web developers and empower thousands of the businesses that have been negatively affected by the coronavirus. 
Well, a dynamic online coding program is a possibility made by YEN-VIP (Youth Empowerment Network- Virtual Internship Program). The YEN-VIP is a coalition for youth by Unlock Academy and Borough President Eric Adams and others, who are on a mission to empower  10,000 New York City youth with the power to code. 
CEO of Unlocked Academy, Antione Digital, has taught over 10,000 people how to code and launch their own business. Check out Antione Digital on The Steve Harvey Show.  Antione Digital has agreed to partner with YEN-VIP by providing his online coding program for New York City youth. Borough President Eric Adams is also in support of YEN-VIP Program.
If you believe that NYC youth deserve the right to code Leave a comment and sign TeenForChange #SaveSYEP Petition.
SYEP Applications are available
July 9- 15th, 2020.
We only have a few days left to get jobs for our youth!
---
SYEP Summer Bridge Program FAQs
(16-24 years of age) 
SYEP Summer Bridge Program FAQs
(14-15 years of age)