Ru by Rupal 
Colorful, textured, and androgyny are the best words, to sum up, the recent collection of Ru by Rupal. Started by Rupal Banerjee, the unsung designer uses her clothing line to give light to the strength of femininity and the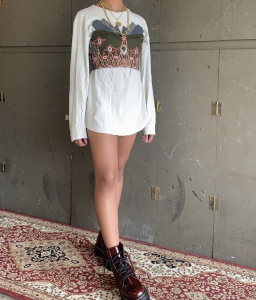 decadent silhouettes of masculinity. This is clearly apparent in her choice of designs for tapered, cargo pants and a unique bustier. She states "If you just try, you can even fly. I feel like we can really reach for the skies if we believe in ourselves. As a designer, I think it's important to invest in yourself physically and mentally and understand how strong you are. If you put in the time and hard work, you can really get anywhere." Primarily through her choice earth tones and meticulous fabrics, her famed 'Commander Pant' feature slim-fitting cargos with multiple adjustable straps ono the legs and waist. Distinctly unisex, her website showcases women and men rocking the garments. My other faves, neck in neck with my absolute admiration, the 'Tiger Bralette' and the 'Cross Checkered Bustier Top.' 



https://rupalbrand.com/
IG: rupal.official
Reeyah Swim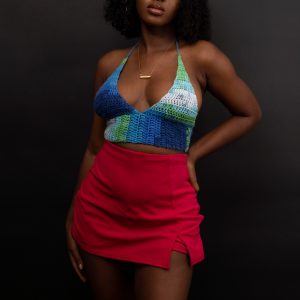 Stumbling across this page was a lucky penny for the day. Reeyah Swim is crochet, woman's wear brand that features kini's and special-edition tops. While the Instagram page drums slowly, her depop is fully set up with an arrangement of different styles and colors. Her depop shows the range her design skills have featuring scrunchies and handmade bags as well. Based in Ghana, the garments find life on brown curves snuggling between soft lavenders, bright yellows, and opaque greens. My favorite piece of hers listed is a mosaic blue-green halter top. The different shades, going from light to dark and overlapping with white feels reminiscent of the stary night's color palette. This connection has only deepened my appreciation of her color theory displayed within her work.
IG: @reeyahswim




www.depop.com/reeyahswim/
ALX
A long-time favorite, ALX brand has just about conquered the world of custom, streetwear accessories. Alex Mah, designer and founder grabbed attention with her 'Monogram $lim' sunglasses.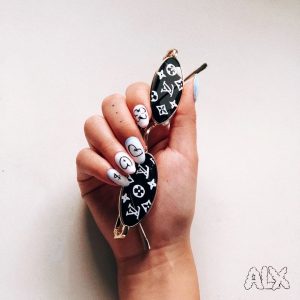 She describes her brand as unique, stating:
 "ALX has a blend of streetwear, vintage and designer influences that embraces handmade and DIY culture. With a focus on custom 'Monogram $lims', I've also experimented in various other glasses styles and custom clothing (usually 1/1 made to order pieces). I love the idea of customization, so all items are made to order and I work with the client to make all pieces unique and special to them."
These slick almond eyeglasses are individually handpainted by Miss Mah herself with varying customizable design options. Her creations aren't limited to sunnies. She has made custom jeans, bags, necklaces, and masks. Don't wait too long to dm to her, influencers and stylists already have her on their go-to list. Names like @Wuzg00d, Wolf Tyla, StefflonDon, Rosalia and Miss Nikki Baby have already shown love to the brand.
 IG: @alx_brand
Or Die Fly Apparel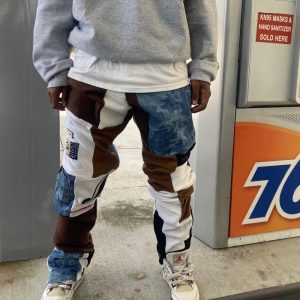 The roots of this brand's clothing are in 1-of-1's, never to be repeated or remade, making the anticipation to be in time for his drops even thicker. Quamay George, the electric designer of Or Die Fly Apparel. His niche is patchwork pants, deconstructing old pieces and fabrics into new, jaw-dropping bottoms. There is no pinpointing a color palate for him because each pant takes on a new vibe and tone. Another unisex brand, he has women and men all over his feed in the 1-of-1's. His most recent post features a more distressed look, with cheetah print, paisley, and pinstripes connecting in a baggy flair. My favorite pair, by far, is with his recent collaboration with the New Project. The 'South Pole' pants with patches of denim camo and brown and cream velour. I mean come on!
IG: @ ordieflyapparel




https://ordieflyapparel.bigcartel.com/
Spice Wear
The girls are obsessed with Y2k aesthetics and Spice Wear is making a promise to deliver! Trucker ha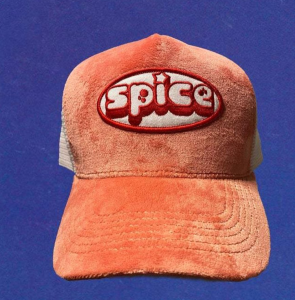 ts have been creeping back into trends in the last couple of years, on top of low-rise jeans and chunky sandals. Spice has found a way to take these beloveds yet wretched styles and flip them into something you'd actually wear consistently through the next few decades. Their trucker hats have the classic white fisher net backing with a peach velvet cap. Their logo is sprouted across the front in red bubble letters, a play on the Powerpuff Girl's famous logo. The hats are not what made me stop and write this today. No, it was the Black vinyl pants that laced on the sides with their logo embroidered on the front panel. I saw those pants and literally almost died. The definition of allure and fantasy. Right up any self-proclaimed It girl's alley. 
IG: @spicewearstore




www.spicewear.store/