Two-time Grammy-Award nominee Eric Roberson has been described as one of the hardest working independent artists in the music business.  Amid the predicament of COVID-19, the Neo-Soul sensation recorded 10 buoyant songs in less than a month. The songs were made available on the album 'Hear From Here' and includes 'Already Knew You' and the hypnotic 'Road To Recovery' which has a groove akin to the anthem 'Tainted' by Slum Village and Dwele from back in 2002.
 Musical History 
 Roberson's musical knowledge of the past is exemplary.  I learned my history from my father's tracks'' on the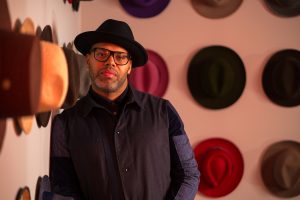 devoted track 'For The Love of The Game' with DJ Jazzy Jeff, Raheem DeVaughn, and V, he was totally serious. ''My dad used to come home; I feel like it was every other day, but it was a lot. I need to ask him, but he had this little blue car. The blue car was actually called a Toyota Corona. I just found this out the other day, I thought it was a Corolla. How crazy is that? '' the Howard graduate remarks.
''So I would see him (Father) filling up this little blue car and he had a brown bag and I knew whenever I saw that brown bag I was in for a treat because he would come home with an album, or a track, which were cassettes. I remember him walking in with the tracks from Curtis Blow, or with what's it? You need to know how to hold up, know when to fold, like country music (Kenny Rogers – The Gambler). He would come in with Earth Wind and Fire one day, Stevie Wonder the next day, the Doran Brothers the next day, Elton John the next day, Grandmaster Flash the next day, or Richard Pryor comedy albums. I just knew that when he showed up, there would be some great music to learn from. And of course, as you get older, you would start going to the record crate and you would be like alright, what is all this? I would just delve into it and there were a lot of lessons to learn'' says Roberson.
After retiring from a day's work, Roberson's father would typically be found playing his guitar. ''He would just play and sing all day and night. On Saturday, when he was home and if we didn't have soccer practice or my sister didn't have some dance rehearsal or something like that; whatever room you would walk in there would be a guitar sitting there. If you went into the kitchen there was a guitar there. If you went into the dining room, there was a guitar there. If you went into the living room, there was a guitar there. He just loved music; you know. Great singing voice and a great spirit'' remarks the singer.
The 'Rock With It' hitmaker has shared the stage with his father on several occasions and has tremendously shaped his outlook on life. ''My dad did what he needed to do to take care of the family. He worked hard to make sure that there was food on the table. At the same time, he was supporting my mom and her endeavors and her business so that she could bring food to the table as well. But guess what? He still fulfilled his passion because when he did have breaks when he knew that we were taking care of, that he had taken care of his fatherly duties, his husband duties, and working duties, he picked up that guitar. So that was just the soundtrack of my life''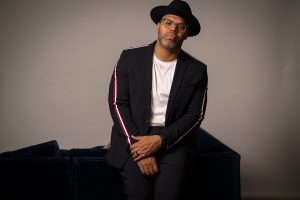 Time at Howard University well spent – '' I became a man there. I learned how to hustle. I learned how to really find who I am there''
Eric Roberson also unreservedly credits his time at Historically Black College University (HBCU) Howard as a key influence on his musical journey and for his versatile songs, particularly in terms of his more socially political songs. ''Donny Hathaway and Roberta Flack went to Howard. When you realize that you are walking down hallways, or walking on a yard that someone else that is a legend was walking down while they were trying to figure it out too, there is a level of legacy there. I had Donny Hathaway's English teacher and as soon as she said that, I don't know if I learned any English from her. I just know I took Donny Hathaway as a student 101 and asked her every question that I could possibly think of about how he was as a student. The same thing goes for Richard Smallwood or even P. Diddy, however, you want to look at it''.
''I showed up at Howard with some recording equipment and I met amazing producers and other artists that we are still playing and working together to this day. I became a man there. I learned how to hustle. I learned how to really find who I am there. When I got there, Marlon Wayans from the Wayans family had already done a movie called 'Mo Money'. He was back in school after the movie. One of my professors Al Freeman had shot Malcolm X. He played Elijah Muhammad. He was back teaching. Cockroach from The Cosby show was in the theatre department. So, when you see people that were working and still back here, it showed you there was still something to learn here. So, it gave you more patience. Even when I started with Warner Bros, I was still hungry to learn what was still at Howard. In the classrooms and in the dorm rooms, there was a lot to learn. So, I took all of that and applied it to my art'' notes the Neo-Soul giant.
Being a sophomore student while R&B group, Shai's 'If I Ever Fall In Love' was taking the world by storm, peaking at number one on the U.S R&B charts and spending 2 months at number two on the Billboard Hot 100 in 1992, had a profound impact on Roberson. ''It showed me that this is bigger than singing around here. That we can do this. So, I gave them (Shai) my demo tape and said when you get to LA, you can pass this to someone and I am really thankful that they did that'' remarks the proud Howard graduate. ''That just started the ball rolling. Whereas if I went to Grambling State University or Virginia State University (both also HBCU's), it might have been dope and I might have still been doing music, but you and I wouldn't be talking right now. It would be something different. I don't know whether I would have had the Warner Bros deal''.
Considering the impact of HBCU's it is arguably shocking that there are few songs about such institutions. Over 11 years ago, with assistance from Geno Young, Aaron Abernathy, and Brandon Hines, Roberson recorded 'Howard Girls' in praise of his former place of study. The married father of three young boys is optimistic about the current change of the U.S government but is void of naivety and how divided the U.S is. Reflecting on his children, the singer says ''In their lifetime, they have had a Black president and a female Black vice president. I thought every president had to be an old white man, so it is great to see the potential that growing up that there are other options''.
Near to his home, Roberson talks about Trump flags being on display and stated that although he is not pleased, he at least knows where he stands in such circumstances. ''I would rather know where you stand than I sit next to you and you secretly hate me. So, we're at a point where at least I know you have got that flag up that whether or not you know where you stand or where I stand hopefully, we can have a conversation one day that will lead to some clarity''.
Family influence, historical Black leaders, and campaigning
In addition to his father, the New Jersey native is keen to also cite his Mom who was in the fashion industry (stylist), and his older sister as key influencers on his musical endeavors. ''My parents were very open about where the world was at. I don't think we were super protected, but nevertheless, when you start becoming a young adult and you start learning about Marcus Garvey and you are learning more about Malcolm X. It's funny I am reading the Autobiography of Malcolm X again as an adult. I read it when I was in college and it reads differently now. I remember it like just opening my mind. And at the same time, I remember the Rodney King beating in my freshman year. It happened in LA where the cops, were filmed beating Rodney King. It created huge riots. It was a really horrific moment, but guess what? That was always happening. It's just that someone happened to have a camera at that point. Technology caught up to capture it'' says the joint 2008 BET J Virtual Award winner for 'Underground Artist of the Year'.
Roberson is no stranger to championing causes.  In 2016, his song 'I have A Song' was chosen to be used as the fundraising song for Nubian Jak's permanent installation to honor African and Caribbean servicemen and women of both the first and second world wars. The memorial marked the first Commonwealth memorial in honor of Black servicemen in the UK. ''I am a history buff, so I am always open to hearing the stories. As he was telling me (Jak Beula, founder of Nubian Jak) about these Black brothers who fought in the wars over there, I related to it. I understood it. He really connected with a song I have called 'I Have A Song' and wanted to know whether he could use it for the ceremony and I was like man, I think it is a great cause. And I think I am kind of open to that, just in general. Something comes about that is impactful and helpful and I can add my name and sow into that, I am all for that''
'The Pen Just Cries Away' – Eric's songwriting
Eric Roberson, sometimes just referred to as Erro has written for numerous artists; most notably Philadelphian Neo-Soul artists such as Jill Scott, Musiq Soulchild, Vivian Green and artists such as 112, Case and Charlie Wilson.
When provoked to choose the most inspirational song that he has written for another artist, understandably Erro has to contemplate for a while ''Oh, that's tricky. They all hold special themes, each one of them. I think 'Mary Go Round' or 'Previous Cats' from Musiq, those are some special songs. Initially, I wrote 'Mary Go Round'  for Omar. Mind you, I didn't know Omar or anything like that but I was like if I can write a song for Omar, this is what I would write, and then Musiq heard it and he was like nope. I mean it was all good. I am really happy that he used it'' declares the musician. The singer spoke fondly of 'What Is Love' written for Vivian Green. ''I wrote 'What Is Love' specifically for Vivian Green and where she was at in her time in her life and what she was talking about. So, if I kind of talked about how she was living and made it into a song and it worked out. It's tough to pick just one song, but if I have to, I would say 'Previous Cats' because it was an impactful song that I wrote that got a lot of attention and helped my career as a songwriter''.
Eric Roberson has hinted that 'Here From Here' may be available on vinyl and CD at some point. In the meantime, though, the 2020 album is available to purchase digitally from the singer's website https://ericrobersonmusic.com/
Before COVID, Eric Roberson worked on the R&B Opera film Hail King which is now streaming on platforms such as Amazon, iTunes, and Video on Demand.
In April 2021, The Food For Soul Experience (FFSE) LLC Presents: The Living Chronicles 
with Eric Roberson. For further details and to gain access to the experience. 
Please visit: https://www.facebook.com/events/261135885395071