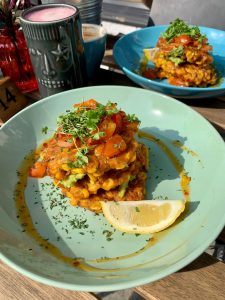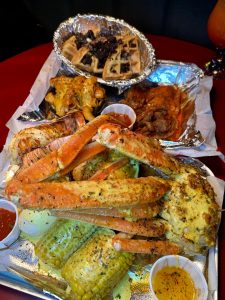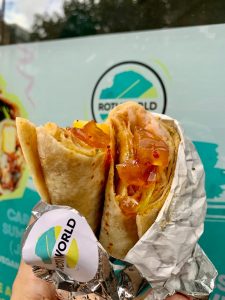 Words are sweet, but they never take the place of food. – Ibo Proverb
Black Eats London is a directory of Black-owned restaurants that are primarily based across the city of London's thirty-two boroughs. The founder, I.T and Business Graduate (now working in Marketing) Jackson said ''The inspiration of the website came from my own passion and my skills as well''. 
Jackson who is a keen diner is known to frequent different restaurants across London. ''On my personal Instagram, I was always going out to eat at places; not necessary black restaurants, but just generally restaurants and posting photos, people would always say 'oh my god the photos look so good, why don't you create a food blog?' and I was kind of thinking yeah maybe I should, but then it is just another food page with no unique selling point'' he explains.  
Jackson's devotion to exploring cuisines materialised into an App and website, Black Eats London but with a specific purpose; to raise the profile of Black-owned restaurants. Marrying pictures of food on his Instagram with Black restaurants became Jackson's niche. The website came to fruition just over two months ago after a laborious month of carrying out research and planning. A key motivation behind the Black Eats London stems from the Governments Help To Eat Out Scheme where diners across the UK on Mondays, Tuesdays and Wednesdays were granted a 50% discount at participating outlets on food and non-alcoholic beverages for orders totalling £10. The scheme which ran from the 3rd August until the 31st August exposed a gap to be seized. Through the means of the government website, the Help Out To Eat Scheme allowed users to view which establishments were engaging in the scheme. Typing his postcode address into the search section, prompted Jackson to unreservedly ask ''which restaurants are Black-owned?''. ''Obviously, on the government's website, it is not going to give you that information'' argues Jackson.
Deciphering which restaurants are Black-owned has not been a linear process.
''From my own experience, I probably only knew about ten black-owned restaurants in London''
he admits. Astonishingly, though perhaps not particularly surprisingly Jackson confesses that ''there were even some that I thought were Black-owned, but until I investigated the ownership via Companies House, etc.. I realised they weren't''.  Ensuring that the directory of restaurants listed on the Black Eats London directory is Black-owned requires meticulous inspection as clearly solely relying on assumptions, or recommendations from others was not going to be sufficient. When Black Eats London initially launched there were at least one hundred Black restaurants displayed. Black Eats London has been received tremendously well.
''In the first week that it launched it was getting 1,500 hits per day,'' Jackson remarks. ''Now I am averaging between 500 and 1,500 depending on what day it is''
the I.T graduate adds. Recognising the way information is consumed and how this is closely influenced by different demographics, Jackson was determined to ensure that there he has a traditional website for Black Eats London.
''The reason why I didn't just want it to be Instagram alone is because I understand that the older generation is more interested in having a website to actually browse, as well as it being more interactive and having the full list there''.  
Authenticity is a key element of what Black Eats London encapsulates. ''We don't post images which aren't ours, we don't give reviews that aren't ours, so it is all a very personable experience'' reveals Jackson.
Presently, Black Eats London is prioritising their directory with London based restaurants and are also in the process of establishing a directory that is dedicated to delivery and collections take-away services. Black-owned restaurants outside of London are encouraged to submit their details via the website. There are several restaurants listed in the directory that are based in cities such as Bristol and Birmingham and this is set to expand.
Working full-time in the Marketing industry whilst devoting time to Black Eat London can be challenging and costly. Jackson visits at least two or three restaurants a week and the reviews he provides are all done voluntarily. ''The reason for setting it up (Black Eats London) wasn't really for a profit, it was more to support these businesses and help grow the black pound'' states Jackson. 
Jackson is exploring the idea of placing adverts on the Black Eats website as a method to generate money to cover the expenses of factors such as website fees and the cost of dining at restaurants to give sincere restaurant reviews. Another viable trajectory to generate money is to establish pop-up events. ''I would make money from renting the space, re-renting and then leasing it to the different places that are popping up and then obviously charge entry fees, but with corona (COVID-19) at the moment it is not the right time''
The Black Eats London conveniently uses filters to enable users to locate outlets that cater to their specific dietary, or religious needs such as halal, vegetarian or vegan establishments.
To find a Black restaurant near you, visit: https://www.blackeatsldn.com/
Instagram: https://www.instagram.com/blackeatsldn/