The month of March is all about women's appreciation, celebration of feminine power and successful women who are pushing the envelope to make it all happen on their own.
Women's History Month highlights the importance of recognizing women in our everyday lives for all that they have accomplished breaking barriers in a male dominated society. From celebrities to entrepreneurs, girl bosses are on the rise this year.
In the words of Beyoncé, they are indeed "running the world." Here are 15 black women under 30 to watch in 2020.
And if you didn't know, now you know. 
Lady London
This upcoming female rapper is taking the new generation of women in hip hop by storm! With the stage name Lady London, this independent artist's wit and rhymes have been acknowledged by vets in the game such as Joe Budden, Meek Mill, Fabolous and more.
She has gone viral on social media with over 7 million views for her freestyles and has just been featured on the freestyle segment for the syndicated hip hop show, "Sway in the Morning." 
Chloe and Halle Bailey
You might recognize this dynamic duo as Jazlyn and Sky on Freeform's hit show "Grown-ish." These sisters are on the rise!
Chloe and Halle started as YouTube singing sensations in 2013 and were recognized by Beyoncé for the cover of her song, "Pretty Hurts." Years later, they were signed to Knowles-Carter's record label Parkwood and were the opening acts for her On the Run Tour.
 Now Halle will be starring as the first African American female playing Ariel in the live action movie of "The Little Mermaid." 
Summer Walker
The ATL-raised singer and songwriter signed to Interscope Records in 2018 and the rest was history! Summer Walker released her first mixtape called "Last Day of Summer" that year which featured her lead single "Girls Need Love" which skyrocketed her career.
In 2019 she released her first album "Over It" produced by London on da Track that catered to her sensual, but savage side that everyone could relate to. Recent cancellations of Summer's First and Last Tour allowed the singer to use her platform to bring light to issues many artists don't acknowledge such as the pressures of the industry, dealing with social anxiety and mental health. 
H.E.R.
H.E.R. isn't new to the game but definitely surprises her audience with her many talents every time she steps on stage. The R&B artist who has the ability to play five instruments and has been compared to the late musician Prince got signed when she was 12, before she rebranded herself years later.
Named after the acronym "Having Everything Revealed,"the musician who put  all of her vulnerable emotions in her music has won her two Grammys from her two EPs and has been shown support by Usher, Alicia Keys, Bryson Tiller and more.
Marsai Martin
The youngest producer in the game is now someone girls are taking fashion tips from these days. Marsai Martin is best known for her role on ABC's "Black-ish" but became the youngest film producer at 14-years-old years later.
Last year Martin produced her first film "Little," starring Regina Hall, Issa Rae and herself that made $49 million and hit No. 2 at the box office. Recently, she has been making a statement in the world of fashion and setting trends that the media is taking note of.
Megan Thee Stallion
Megan Thee Stallion has quickly become a household name in just three years! The original "hot girl"  released her first EP in 2018, Tina Snow.
Then her career took off. "Hot girl summer" and "driving the boat" are just a few viral sayings that stemmed from her brand creating summer anthems.
She has won BET and MTV awards and filed a trademark on the term "hot girl summer." Recently, she has used her huge platform to share her experience with contracts and labels that many artists go through.
She had issues releasing her latest album "SUGA" because of her label, but she didn't allow it to stop her from releasing new music. The Stallion is undefeated!
Keke Palmer
The "Akeelah and the Bee" actress is all grown up! Actress and T.V. personality Keke Palmer entered the industry with her groundbreaking lead film role as Akeelah, which boosted her career.
She released her debut album "So Uncool" in 2007 and was signed by Atlantic Records. Since then Keke became a Nickelodeon phenom, starred in 28 movies, produced her own talk show and film.
She continues to spread her positive bubbly message on her platform and encourage her fans to unapologetically be themselves at all times. Keke has just been added as a permanent host on "Strahan, Sara, and Keke," the daytime talk show that changed their original name to include her on the program. 
Kyemah Mcentyre
Remember the Afrocentric prom dress that went viral four years ago? That was Kyemah Mcentyre, the fashion designer from East Orange, New Jersey, who sketched and designed her own gown for her senior prom.
She was accepted in and attended The Parsons School of Design in New York and has created custom designs for celebrities such as Janet Jackson, Naturi Naughton, Danai Gurira and more. Her statement dress has inspired other prom dresses, young fashion designers and the support of her hometown.
She plans to open a clothing store called "Hueman" with affordable items for the community. Mcentyre has been recognized by Buzzfeed, Teen Vogue and other publications.
After recently graduating, she held a street exhibition and fashion show to showcase her designs. 
Ari Lennox
Singer and Songwriter Ari Lennox, was the first woman to be signed to J. Cole's record label, Dreamville Records in 2015. The DMV native released her first album "Shea Butter Baby" in 2019 and made it to the top 10 on the R&B Charts.
Lennox has always been open with her fans and never afraid to speak her mind on social issues. She takes to Instagram live to speak on these topics including a recent controversial tweet from someone disrespecting her black features that stirred conversation.
Her message of self-empowerment and Neo-Soul sound continues to make a statement.
Lizzo
Lizzo is a true advocate of loving the skin you're in and not apologizing for it. The musician broke onto the scene when she released her first major-label EP, "Coconut Oil" when she signed to Atlantic Records.
Lizzo quickly went mainstream as her singles like "Good As Hell" and "Truth Hurts" climbed the charts in 2016 to the Billboard 100. She has won three Grammys and her music has been featured in film soundtracks such as "Barbershop: The Next Cut" and "Someone Great."
She often shows off her talented background of playing the flute in her performances and has plus size backup dancers with her. After dealing with body image issues, Lizzo became a huge promoter of self-love, body positivity, and diversity to represent women of all shapes and sizes. 
In recent news, Lizzo publicly led a mass meditation  to help ease Coronavirus fears. 
Allyson Felix
Becoming a mother shouldn't be the end of your story, but a part of your journey! Track and field sprinter, Allyson Felix is a 6-time Olympic gold medalist and 11-time World Champion.
While being in an athletic partnership with Nike, she has recently spoken up about her experience with pay and pregnancy. Nike's policy for sponsored athletes while pregnant put many female athletes in fear of getting their pay cut and career declining.
She shared her pregnancy story and how Nike cut her pay down 70%. Felix's experience of being declined by the company she signed with and seeing other female athletes go through a similar situation encouraged her to share her disappointment and unseen issues that they have to go through.
Since she drew attention to this situation, Nike has announced their new policy that ensures athletes receive pay and bonuses that won't cause women to rush their recovery period. 
Ryan Destiny
Ryan Destiny's path to fame came from a girl group called "Love Dollhouse" in 2013. Years later, Destiny snagged one of the main roles as Alexandra on the Fox musical hit drama, "Star" that jumpstarted her career.
After the show ended, she started creating her own music and has recently appeared on Freeform's "Grown-ish" as a new recurring character this season. Destiny continues to shine light on the representation of black beauty, colorism and black love that is recognized by her relationship with actor, Keith Powers. 
Jamila Mustafa
This HBCU graduate went from Miss Delaware State to television media host. Jamila Mustafa comes from a background of dance, karate and beauty pageants and now has working with major T.V. networks under her belt!
Mustafa worked her way to the big time after graduating from Delaware State University in 2015 with a degree in mass communications. She made meaningful connections and used resources that granted her the opportunities to work with ESPN, BET, MTV, TRL and more.
The entertainment journalist and host is best known for BET's "BET Breaks" news segment and going viral with artist Ciara, for a dance battle clip on TRL. She has written, produced, and acted in several programs, commercials and red carpet events.
Her next steps for the future are producing her own talk show and to continue to inspire young, black, HBCU grads to achieve any level of success as long as they work hard. 
Normani
Normani's journey started with her solo audition for the television series, "The X Factor" in 2012. On the show, she was put into a girl group called "Fifth Harmony" that eventually won the entire show.
After the group split in 2018, she embarked on her solo career and released her first solo single in 2019 called "Motivation" that made it to Billboard's Top 40. Her 2000's-inspired music video and dance-trained background was recognized by other supportive celebrities and many fans.
Since then, the singer has worked with various artists such as Megan Thee Stallion and Calvin Harris. Having dealt with racial and colorism issues as a part of "Fifth Harmony," she opened up about the racial comments her former groupmate, Camila Cabello, posted that has resurfaced.
Normani revealed the hardships she faced in the group and how she felt outcast often because of her skin tone and race, which many fans could relate to.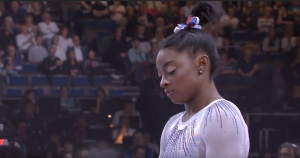 Simone Biles
Olympic gold and World Champion medalist Simon Biles proves time and time again that there is nothing that she can't do. The gymnast is America's most decorated and the world's third most decorated gymnast of all time.
Over the years Biles has fought for justice with other gymnast survivors, against the sexual abuse caused by doctor Larry Nassar. After USA Gymnastics took the settlement for the investigation, she stood firmly with her fellow gymnasts to speak out about their abuse and support those who have been brave enough to come forward.
Biles continues to speak about beauty standards and being a role model for other young women. In recent news, she has been training to attempt a groundbreaking Yurchenko double pike on the vault that no female gymnast has ever performed in a competition.