This year marks 75 years since the first large calibre of post-war Caribbean settlers arrived on British shores in Tilbury, Essex. The ship HMT Empire Windrush is said to have brought 1,027 people to Britain.
To commemorate three-quarters of a century since this historic occasion occurred, Everything D&I (EDI) is offering Black undergraduate students and 2023 graduates from the UK and Barbados a short but illustrious work experience opportunity with Microsoft.
The project known as the Windrush I Accelerator Limited Edition is in collaboration with The University of the West Indies (UWI) Cave Hill (Barbados campus) and Microsoft Embrace Employee Resource Group (ERG) will offer undergraduate students studying any discipline and those that have graduated in 2023 to work on a 5-day live project brief developed by Microsoft.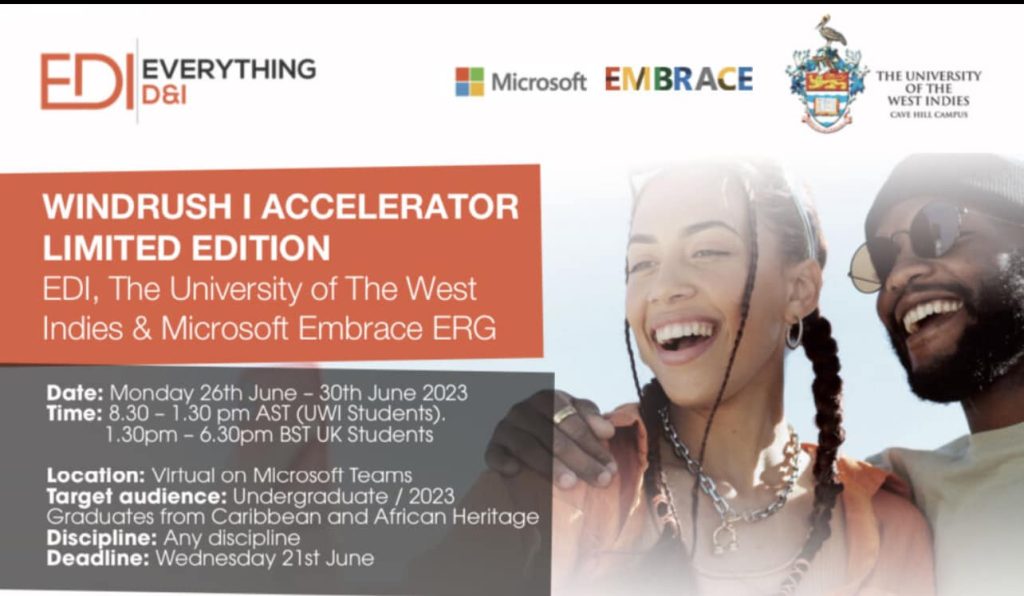 Founder of Everything D&I Ltd, Frances Trought said: "At EDI (Everything D&I) we are excited to collaborate with The University of the West Indies and Microsoft Embrace ERG*. This is a fantastic opportunity to celebrate Windrush 75, by connecting UK and Barbados students to work on a live project from Microsoft".
For 2023, the project will be virtual, but there is a possibility that in successive years, the project will be in person. The 5-day project aims to draw on a myriad of skills from subjects such as technology, the humanities and business, and as a result, will appeal to people with assorted skill sets and those seeking to broaden their interdisciplinary knowledge. 
Interested applicants will need to apply by Wednesday 21st June. For further details, visit: Windrush I Accelerator