When it comes to holistic well-being, Max Wallace appears to tick all the boxes. He is a trained fitness instructor, ex-professional boxer, and runs his own business called 'Health Defence' which uses non-contact boxing and kickboxing to not only maintain health but to get people on a healthy trajectory irrespective of their initial level of fitness. Currently, Wallace is exploring the idea of establishing his own well-being centre which will incorporate his fitness programmes, vegan food, massaging and sports injury services. Counselling services are also intended for use in the centre.
Max Wallace attended a predominantly white school in Sheen (Richmond). During his time at the school, he was involved in athletics. The sports consisted of 100 metres, shot-puts, discus, and javelin. Speaking generally about the sports he played Wallace notes that he had little competition. As a result, he was entered into the borough (London Borough of Richmond) sports and impressively broke three borough records in one afternoon. The records were for 100 metres, discus, and shot-puts. After such monumental victories, Wallace was placed into the county sports, which was based in Crystal Palace.
''I was with under twenty ones [age group]. So, I am fifteen with all these people under twenty ones and was humiliated for two years on the trot''. Being used to finishing first, in this instance with everyone being older than Wallace and speeding past him in a 100-metre race, he was left feeling despondent. In retrospect, he says ''They were twenty and twenty-one and I was only fifteen''.  The successive year was even more humiliating for Wallace. Looking back at his spell doing shot-puts, Wallace recalls ''…This guy; he was massive, he was wide and tall. And I remember him just warming up and throwing the shot-put from behind and getting it further than when I was putting effort in. From that obviously I didn't get anywhere. For me, that was an experience".
Because of his experience athletics, Wallace was still seeking to fill the void. Boxing would be the substitute. ''The first night I was hooked'' proclaims Wallace after he attended a boxing session in the Hammersmith fraternity.  Despite winning his first fight and having the best amateur record, Wallace left the club. At twenty-one, Wallace was left feeling empty after the death of his daughter Sherise. The now father of two rebounded with his ex-boxing trainer in Ealing Northern Sports Centre (Ealing/Harrow). 
Within several months and still only twenty-two, his trainer encouraged him to go straight into professional boxing after a few years without boxing. His debut professional fight was competing against a man called Stan King in Holborn." His second fight in Bethnal Green was a success. ''I think I stopped the guy in two minutes in the first round'' says the outreach worker. As a light middleweight boxer, Wallace was so good that he was ranked in the super middleweight category and often would win. ''I think I was focused. I was trying to get my mind over the death of my daughter,'' states Wallace. Though after an absence from boxing for two years, he admits that he could have done with a couple of amateur rights, prior to being admitted into professional boxing.
Wallace's talents are eclectic and one of his many other talents include art. ''My passion is art. From a young age, I have always been picking up a pen, or pencil, and a bit of paper and doing drawings'' he remarks. Reciting a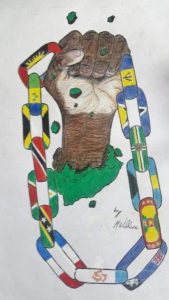 time in his childhood, Wallace spoke about his Dad's friend visiting their house. Both were conversing and abruptly his father stopped the conversation and said
''See him. He is always in the corner doing drawings.''
While his brothers and sisters were outdoors playing, Wallace could often be confined to a designated space to perfect his craft. His dedication was not in vain. In 1996, the entrepreneur was able to form his own company. ''I invented a jacket, based on a boxing glove'' admits Wallace. Looking at the jacket, he soon realised that it could potentially be a good idea (and wanted material to make the jacket out of). Wallace was referred to people in the East End of London who were able to transform his drawing into a leather jacket.  At this stage, Wallace still had no idea that this jacket would turn into a business.
Reflecting on the beginning, Wallace declares the whole experience as ''surreal''.  ''I was walking across the road and this guy was looking at me. I thought, what are you looking at me like that for? So both of us were looking at each other. I thought, well he is a fit guy, so he is looking for trouble''. The man hastily ran towards him and asked ''Where did you get your jacket?''. After making a jacket for this stranger who was so astounded by his jacket, a business was formed. However, there was another strong motivating factor behind the formation of the company, which was greatly influenced by Wallace's pride.  ''At that time, I wasn't even working and I didn't want to get on the dole''.
While selling jackets (including the jackets that he designed), Wallace successfully completed a business course which enabled him to access funding which ultimately helped birth a shop in Shepherds Bush Market. Initially, Wallace was selling various leather jackets/garments. Because of his innovative ideas and aptitude for designing jackets, inquisitive people passing by would ask him to draw ideas of their own.  ''Just from the drawings, I was able to make garments''.  This venture led to Wallace being in a position to generate work for others. ''A tailor came in who was looking for work and I was able to give him work'' he reveals. According to Wallace, the tailor was so industrious that ''If you gave him something out of a magazine, he could basically copy what you gave him'."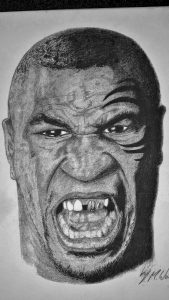 The leather jackets were seasonal, which meant Wallace had little to sell during the summer period. Consequently, this led to him drawing designs that could be imprinted onto T-shirts. Being an ex-
professional boxer and knowledgeable fan of the sport, one of his T-shirt designs was of Mike Tyson when he first entered the boxing industry. ''The T-shirt sold out'' recalls Wallace elatedly. The popularity of Wallace's drawings continued to intensify which put him in a position to supply T-shirts to people that were involved in the Carnival (Notting Hill Carnival) for two years.  Someone had visited Wallace hoping he would be able to turn the words 'Caribbean Unionism' into a design.  ''When I thought of unison, I thought of togetherness. And then when I thought of togetherness, I thought of linking together. When I thought of a link, I thought of a chain and then that's when I created this drawing of links of a chain being West Indian flags and that is how that was born''.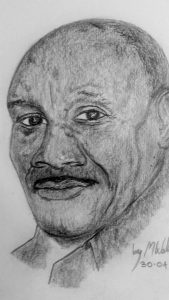 Due to the prevailing physical violence that black people are suffering globally, particularly overtly in the U.S; Max Wallace has been inspired to resurrect his drawing and design that was used at the Notting Hill Carnival.  ''Recently, with everything that is going on with Black Lives Matters and just basically trying to get people to come together; I brought it out again and I've titled it 'Linked Together For Change''.
To contact Max Wallace about fitness training, non-contact boxing sessions visit:
https://www.descendants.org.uk/
For information about Max Wallace's art or his boxing sessions, contact him directly on: +447931626061 or email; box2themax@yahoo.co.uk